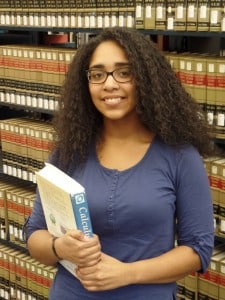 The state Department of Higher Education will recognize top students from across Massachusetts during the sixth annual "29 Who Shine" award ceremony on Monday, May 9 at noon at the Grand Staircase of the Massachusetts Statehouse.
The ceremony honors an outstanding graduating student from each of the state's 29 public colleges and universities, as well as each award recipients' faculty or staff mentor. The honorees, chosen because of their academic achievements and record of student leadership and community service, contribute greatly to the civic life and economic well-being of the state, whether furthering their education or entering careers in Massachusetts in fields as diverse as education, public policy, medicine, creative arts and engineering.
This year's MWCC recipient is Bella Ballin, a Liberal Arts: Chemical Science major who is enrolled in the Pathways Early College Innovation School. Ballin began her academic studies two years ago at age 16 as a dual enrollment student.
While the Worcester resident enjoyed high school, she chose to tap into the opportunities available through MWCC's unique Pathways Early College Innovation School, which has allowed her to simultaneously earn her high school diploma and an associate degree at no cost through school choice funding.
"I wanted to get ahead. Not for ambitious reasons, but because through experience, I learned that good health and time are not things that should be taken for granted," said Ballin, who was diagnosed at age 15 with Multiple Sclerosis. "When I learned about the Mount's Pathway's Early College Innovation School, I knew it was an opportunity I couldn't pass up."
A member of the Commonwealth Honors Program, Ballin is a 2015 recipient of the Massachusetts Department of Higher Education's prestigious Christian A. Herter Memorial Scholarship. After earning her associate degree, she will transfer to a four-year school this fall to pursue a bachelor's degree in science.
At MWCC, she has been named to the President's List every semester for maintaining a perfect 4.0 grade point average, and this year was named to Who's Who Among Students in American Universities and Colleges. A mentor to her two younger brothers, she plans to build a career in science in Massachusetts, and at some point in her future, would like to become a teacher.
She enjoys helping peers as a math and chemistry tutor within MWCC's Academic Support Center, serves as president of the student Math Club, and has volunteered at the Boys & Girls Club of Fitchburg and Leominster. Additionally, she participated in MWCC's Leadership Camp, Leadership Retreat, and Women in Leadership Forum.
She chose Natalie J. Mercier, Academic Counselor in MWCC's Division of Access & Transition, as her staff mentor.
"I can come to Natalie at any time with anything. I know I can always count on her."
The 29 Who Shine honorees "represent our future citizenry and workforce and have already made substantial contributions to the Commonwealth," said Carlos E. Santiago, Commissioner of Higher Education. "I am so proud of what they have achieved and look forward to seeing how they continue to put their talents to work on behalf of our local communities."