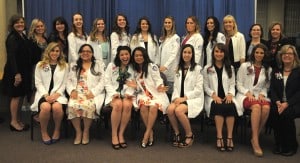 Graduates of MWCC's Dental Hygiene and Dental Assisting programs were welcomed into the profession during the department's 10th annual pinning ceremony on May 13 in the South Café.
Executive Vice President Ann McDonald and Cynthia Cadoret, chair of the Dental Programs department were joined by guest speaker Dr. Peter Billia, dental director for Community Health Connections, and program faculty in congratulating the graduates on their achievement.
Over the past year, the dental hygiene and dental assisting students treated more than 800 patients through the college's partnership with the Community Health Center.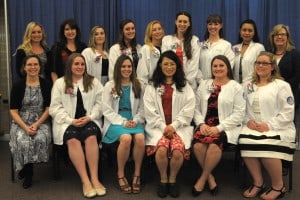 Several students were recognized with awards. Caitlin Riendeau received the Johnson & Johnson Award, Paulette Hachey receive the Hu-Friedy Award, Monica Kwan and Wendy Uribe received the Dental Hygiene Department Award; Alyssa Adoretti received the Dental Hygiene Curriculum Award and the Massachusetts Dental Hygienists' Association Academic Scholarship; Amanda Melanson received the Dental Assisting Department Award, and first-year students Leah Trudeau and Casey Bedingfield received the Ellen Daly Scholarship.