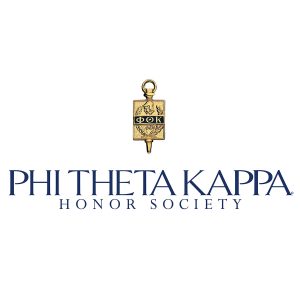 The Phi Theta Kappa Honor Society, Phi Delta Chapter at MWCC became a Five Start Chapter and won three awards at the New England Regional Convention and Awards Gala. PTK Phi Delta President Paige Landry, Recording Secretary Jennifer Gariepy, and Advisors Tami Morin and Fagan Forhan were on hand for the virtual Regional Hallmark Awards Gala and accepted the awards on behalf of the chapter.
The Rising Star Award is given to the PTK chapter which has shown the most progress over the past year. This was the first Rising Star Award for the MWCC chapter after they achieved five stars in evaluation criteria including membership growth and engagement in projects. Projects included the Virtual Learning Survival Guide for students, a Self-care Relaxation Yoga Event, and the Parachute Project making masks for residents and staff of local disabled adult homes.
PTK Treasurer Kasey Colon was awarded the Distinguished Officer Award for her work with the chapter, on projects, volunteering without hesitation, and her support of chapter president Paige Landry and Vice President Madison Faneuf.
The PTK Phi Delta Chapter won three awards. They were the third-place finisher the Honors in Action Award for their "Disability is not an Inability" project. The Honors in Action Award recognizes academic research, problem solving, and action-oriented service to address real-world challenges in our communities.  Students who participate gain job-related experience while creating lasting impacts in their communities.
"We are so proud of the efforts of our PTK chapter," notes PTK Advisor Tami Morin. "The success of this PTK Charter has truly been a team effort and would not have been possible without the work of the officers, advisors, and members who volunteered their time in support of chapter projects."
About Phi Theta Kappa International Honor Society
Phi Theta Kappa is the largest honor society in American higher education with more than 2.5 million members and 1,275 chapters located in 50 United States, U.S. Territories, Canada, Germany, Peru, the British Virgin Islands, the Republic of Palau, the Federated States of Micronesia, the Republic of the Marshall Islands and the United Arab Emirates. In 1929, the American Association of Community Colleges recognized Phi Theta Kappa as the official honor society for two-year colleges.