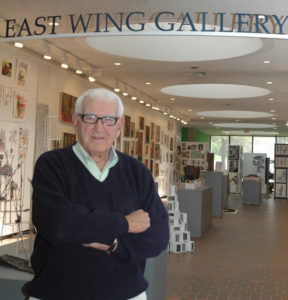 Central Massachusetts and especially Gardner recently lost a long-time advocate and friend with the passing of Raymond LaFontaine.
During his nearly 20 years in the Massachusetts House of Representatives, Mr. LaFontaine's efforts assisted in the construction of a new courthouse, a new skating rink, a new high school, and a 114-unit housing project for the elderly in Gardner. His commitment to the region also resulted in an appropriation of over $25 million for the construction of Mount Wachusett Community College's first campus. With 29 proposed sites, four of which were free, Mr. LaFontaine played an important role in ensuring the college was located on the former site of Heywood Farm here in Gardner.
His commitment to the school extended beyond the creation of the Gardner campus. Mr. LaFontaine served as Vice Chairperson of the Mount Wachusett Community College Board of Trustees and was heavily involved with guiding the college during its early years. Even after that role, Mr. LaFontaine was a frequent visitor to the school. This ongoing support and involvement was acknowledged with the dedication of the Fine Arts Center in his name.
Mr. LaFontaine's influence continues to this day through everything he helped establish in the region. MWCC now serves thousands of students every year. These students can choose from over 70 different degrees at three different campuses. But all of these offerings grew out of the hard work of people like Mr. LaFontaine who had a vision for higher education in Central Massachusetts and strived to secure the resources to make it a reality. Every student who goes on to start a career as a result of their experiences here, faculty member who is able to pass knowledge to a new generation, or staff member supporting their family stands on the shoulders of Mr. LaFontaine. Nothing we have today at the Mount would have been possible without the monumental effort that cemented our college here in Central Massachusetts.
So it is with a sad heart that I encourage you to not just remember the deeds of Raymond LaFontaine, but the current opportunity those deeds have created. Central Massachusetts would not have the educational opportunity currently available without Mr. LaFontaine's hard work and there are generations of students who have bettered their lives as a result of his tenacity.
James Vander Hooven, Ed.D.
President Mount Wachusett Community College