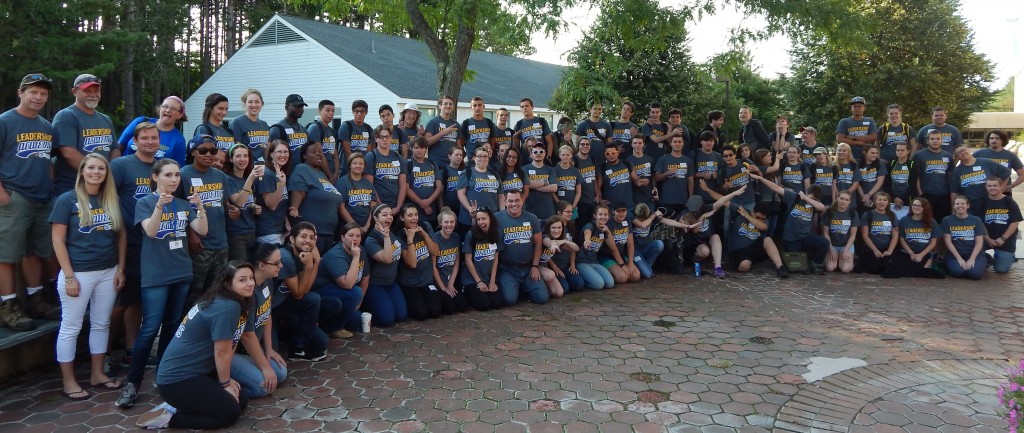 MWCC's 12th annual Summer Leadership Academy is one for the records.
Sponsored by the office of Student Life, the two-day event for incoming students saw a record number of participants, a record number of service projects and a record number of backpacks donated to children in need, said Associate Dean of Students Greg Clement, who coordinates the annual event with campus-wide support from college faculty, staff and administrators.
Nearly 80 incoming students participated this year, up from 47 a year ago. The Leadership Academy helps prepare students for the start of the new academic year and provides a half-day of volunteerism on campus and in the community. Held on Aug. 23 and 24 this year, the program offered team building activities, educational workshops and civic engagement projects completed in collaboration with the college's Center for Civic Learning and Community Engagement.
Service projects included the annual backpack drive to benefit Massachusetts schoolchildren living in foster care; landscaping at the Montachusett Veterans Outreach Center and MWCC's Gardner campus; maintenance and painting benefiting Heywood Hospital's wellness trail; vegetable harvesting at the Many Hands organic farm in Barre; and sorting and organizing household and construction supplies at the Habitat for Humanity ReStore in Leominster.
Through the generosity of the new students and members of the college community, the backpack drive resulted in 138 new backpacks filled with school supplies for children in need.
The Leadership Academy is designed to give new students a jump start on their first semester at MWCC. The success of the program relies on dedicated faculty, staff, alumni, current students and other community members who participate in the program, Clement said.
"We started with 12 students the first year. It's an amazing program that becomes stronger each year," Clement said. "We're starting to see the legacy of children and siblings of past participants now attending. Many of our group and club leaders are born from this event. Over the past 12 years, many of our Student Government Association members and nine of our Student Trustees were Leadership Academy participants," he said.
"I've met a lot of people. Everyone is so welcoming and helpful," said Jammie Mascitti, who attended with her twin sister, Jessie. The Rindge, N.H. residents also participate in MWCC's STEM Starter Academy this summer.
Zac Tancrell of Hubbardston, a student enrolled in MWCC's Gateway to College program, and recent Nashoba Regional High School graduate Trevor Sicard of Leominster said they appreciated the opportunity to get to know fellow students and college staff prior to the start of the school year.
"It was a nice jumpstart and introduction to what college is like," Tancrell said.