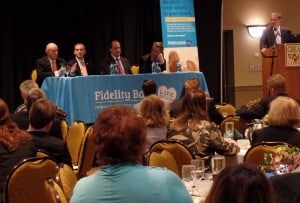 On the evening of April 7, the current and three immediate past chairs of the U.S. Federal Reserve held a summit and declared the nation's economy is on a steady growth path. The following morning in Fitchburg, North Central Massachusetts business leaders were happy to provide a similar assessment for the region during the fifth annual Economic Forecast Breakfast.
MWCC President Daniel M. Asquino was among the featured speakers, sharing the podium with Jeff Fuhrer, executive vice president and senior policy advisory at the Federal Reserve Bank of Boston, Chris McCarthy, President and COO of Fidelity Bank, and former Worcester city manager Mike O'Brien, now with Winn Development.
Fidelity's 2016 economic outlook survey of 200 consumers/employees and 200 CEOs or CFOs showed that more than half of the businesses and nearly three-quarters of the consumers said they are confident the state's economy will improve over the next year. Seventy percent of the consumers deemed the best way for the region to retain skilled workers is by strengthening public colleges and universities and connecting the schools with area companies.
Businesses cited the availability of finding and retaining a skilled workforce as one of the most challenging issues they are facing, up from 8 percent a year ago.
In his presentation, President Asquino focused on several key issues, including the growing divide between the country's rich and poor, the shrinking middle class, workforce training, and the importance of civic engagement in building strong communities.
"We talk about STEM careers, we talk about technology, and this training and education is essential to our economic growth. However, unless we have a citizen and a worker who cares for his or her community and his or her neighbors, and values public service, we have missed the opportunity and the key ingredient in our ability to sustain our democracy," he said.
The event, held at Great Wolf Lodge, was sponsored by Fidelity Bank and presented by the North Central Massachusetts, Greater Gardner and Nashoba Valley Chambers of Commerce. Ed Manzi, chairman and CEO of Fidelity Bank served as moderator, and Roy Nascimento, President and CEO of the North Central Massachusetts Chamber, provided welcoming remarks.