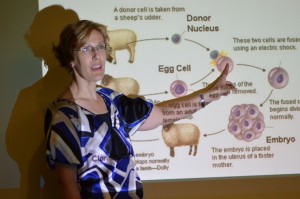 The ethics of cloning humans, genetically modified food on our dinner tables and an Italian surgeon's claim he'll perform the first human head transplantation in 2017 were among the topics raised during "Frankenscience? The Myths and Realities of Contemporary Science," a free presentation led by MWCC science professors on Oct. 14 in the Levi Heywood Memorial Library.
Dr. Lara Dowland, chair of MWCC's biotechnology/biomanufacturing program presented on cloning. Dr. Thomas Montagno, Professor of Biology, presented on genetically modified food, Carrie Arnold presented on transplantation, and Heather Conn presented on the history of prosthetics, beginning 3,000 years ago with an artificial toe invented in Egypt.
Mount Wachusett Community College Humanities Project,  continues with a free panel presentation and discussion on contemporary science.
The second year of the Humanities Project, "Myths, Monsters, and Modern Science: Frankenstein's Legacy," takes an in-depth look at Mary Shelley's 1818 novel Frankenstein, and its relevance in today's world. Throughout the year, free events are taking place at the college's Gardner campus and in the community at public libraries and other venues. The MWCC Humanities Project is funded through a matching $500,000 grant the college received from the National Endowment for the Humanities to deepen and sustain quality humanities programming and curriculum throughout North Central Massachusetts.
For more information about upcoming events, visit https://mwcc.edu/humanitiesproject.