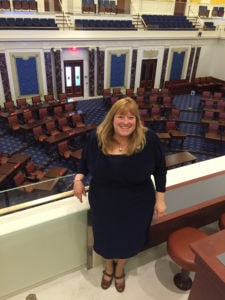 State Representative Susannah Whipps has been named Mount Wachusett Community College's 2017 Alumna of the Year. She will be recognized during the college's 52nd Commencement on Wednesday, May 17.
"We are proud to honor State Representative Susannah Whipps as our 2016 Alumna of the Year," said President James Vander Hooven, Ed. D. "Whipps is an example of how students from our graduating class can continue the community connection and engagement that is stressed here at Mount Wachusett Community College. She has exemplified this in both her business ventures, community service and positions in local and state government."
Created in 1989, the award recognizes a Mount Wachusett Community College graduate who has exhibited exceptional career leadership, service to community and commitment to the college.
"I'm honored to be named Alumna of the Year from MWCC. I enjoyed my time as a student and left with skills which, to this day, help me both professionally and personally," State Rep. Susannah Whipps said.
Whipps' connection to the college continued on after her own education. She has used the college as a training resource for employees at her businesses. Additionally, she has several nieces and nephews that have attended MWCC and one is currently enrolled.
Whipps is a seventh generation Athol resident. She attended Athol schools and after earning her Associate's Degree from MWCC she went on to get her Bachelor's of Science in Interdisciplinary Studies from Fitchburg State University and an A.O.S. in Culinary Arts from Johnson & Wales University.
By age 25, she had opened two successful restaurants. Whipps joined her parents at their family business, Whipps, Inc., in 2000. She is now co-owner of the company that currently employs 70 people, designs and manufactures high-quality equipment for the water and wastewater industry.
Whipps was first elected to the Athol Board of Selectman in 2005 and was elected as State Rep. in 2015 for the Second Franklin District that consists of Erving, Gill, New Salem, Orange, Warwick, Wendell, Belchertown: Precinct A, Athol; Petersham; Phillipston, Royalston, and Templeton. She currently serves on the Joint Committee on Higher Education, Joint Committee on Mental Health, Substance Use and Recovery as well as the House Committee on Ethics.
Throughout her life, she has been active in her community as a volunteer for American Cancer Society, Salvation Army, Athol Memorial Hospital, Athol Historical Society, American Red Cross, United Way and many other charitable organizations. She has been the president of the Athol Historical Society for the last 14 years and prior to joining the legislature was a member of the Heywood Hospital Community Investment Committee.