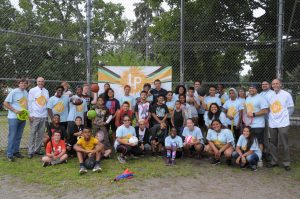 Doug Petersen, president and CEO of Workers' Credit Union, and Mount Wachusett Community College President James Vander Hooven joined Summer UP participants and staff at Lowe Park in Fitchburg in the last week of July.
Petersen, whose company is one of the donors that makes Summer UP possible, stopped by to meet with the participants. Both Petersen and Vander Hooven were given shirts signed by the participants. It mirrors the tradition many participants undertake of signing each other's shirts every year.  After being presented with the shirts, both Petersen and Vander Hooven participated in a pick-up frisbee game.
The Summer UP camps are safe spaces for elementary and middle school students from Leominster, Fitchburg and Gardner to spend their summer hours. With five different locations, many of the participants can even walk to the locations that provide activities and meals for free. Summer UP has locations in Fitchburg at Park Hill Park and Lowe Park, in Gardner at Jackson Park and Olde English Village, and in Leominster at Allencrest Apartments.