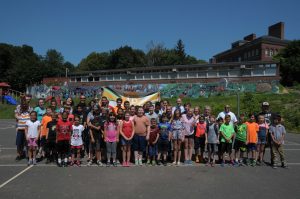 Gardner Mayor Mark Hawke and members of the Gardner Women's Circle of Giving visited the Summer UP Jackson Park site last week along with Mount Wachusett Community College President James Vander Hooven.
Both the City of Gardner and the Women's Circle were instrumental in helping to fund Summer UP. The program, coordinated by Mount Wachusett Community College, operates five sites where meals and activities were provided to elementary and middle school students throughout the summer. At the Jackson Park site in Gardner, approximately 75 students made use of the program daily.
The Women's Circle contributed to Summer UP this year with a donation of $6,100. At Jackson Park on Wednesday, Women's Circle members Deb Hubbard, Tina Sbrega, and Darlene Morrilly presented MWCC President James Vander Hooven with the donation.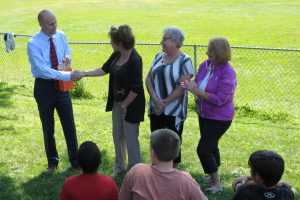 The Summer UP locations are safe spaces for elementary and middle school students from Leominster, Fitchburg and Gardner to spend their summer hours. With five different locations, many of the participants can even walk to the locations that provide activities and meals for free. Summer UP has locations in Fitchburg at Park Hill Park and Lowe Park, in Gardner at Jackson Park and Olde English Village, and in Leominster at Allencrest Apartments.