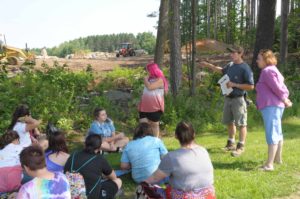 Students participating in the Mount Wachusett Community College Summer Program, an extension of North Central Massachusetts Talent Search, learned about landscaping and composting last week and then used that knowledge to map out their ideas for a new section of landscaping at the college.
The students from communities that include Gardner, Clinton, Winchendon, Athol and Orange were educated about composting by Adam Jankauskas, the founder of City Compost in Gardner. Jankauskas spoke about how composting can have a positive impact on the environment while transforming the landscape.
"Composting is a great way to protect the environment… a small pile at home is a great start," said Jankauskas. "Not only does it cut down on waste, but it makes for a more sustainable future."
Composting can be a major component in gardening, whether you are doing so on a large or small scale, he said.
"A lot of people think you need a huge field to grow food," said Jankauskas. "But you really don't if you just mix things in."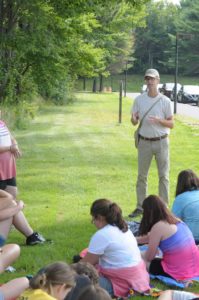 Students also heard from MWCC's Forester Alan Cummings who oversees the grounds of the college. He spoke about a project that is underway behind the college's Garrison Center for Early Childhood Education. A number of pine trees have been cleared and the open space is now undergoing a landscaping project.
Cummings explained the planning and preparation that goes into a project like this. He told students that these projects require imagination. There is an opportunity to lay things out in interesting ways to create an attractive space that is also functional.
After the presentations, the students mapped out how they would lay out the new space using graph paper and measurements they took. A group of those students then painted their ideas.
This activity is an example of the focus of the Summer Program to create fun ways for students to continue their education throughout the summer.