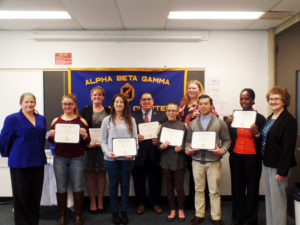 Ten students from Mount Wachusett Community College were inducted into the Chi Gamma Chapter of the Alpha Beta Gamma international business honor society recently.
The honor society recognized the hard work and effort of the students at an induction ceremony on Friday, April 21.
"This is our 27th year on campus. We find the very best business students at the college and give them the honor they deserve," said Professor Linda Bolduc, the chapter's longstanding advisor.
Alpha Beta Gamma was established in 1970 to recognize and encourage scholarship among students at two-year colleges, provide leadership training opportunities and career assistance to members. To be eligible for membership into the honor society, students must be enrolled in a business curriculum, have completed 15 academic credit hours in a specific degree program and demonstrate academic excellence by attaining a grade point average of 3.0 or above. At MWCC, the programs include business administration, paralegal studies, computer information systems, graphic & interactive design and medical assisting.
"I am honored to have been involved in bringing these distinguished people not only into ABG but also into our communities and businesses. I hope that they will carry on their hard work and dedication to high standards in all of their future endeavors," said ABG Chi Gamma Chapter President Tammy Goodgion.
Also present for the ceremony were MWCC's Executive Vice President and Senior Student Affairs Officer Ann McDonald and honorary inductee and MWCC Associate Professor Geraldo Maldonado.
The Alpha Beta Gamma inductees for 2017 are:
Fitchburg:
Trevor Leger
Franklin:
Jennifer Churchill
Gardner:
Elizabeth LaPan
Leominster:
Rachael Adams
Sarah Costa
Brandi Newberg
Leatitia Sagwe
Dawn Veino
Orange:
Cynthia Doyle
Worcester:
Jasson Alvarado Gomez