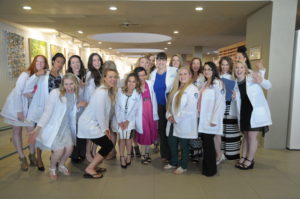 Twenty students graduating on May 17 with their Dental Assisting or Dental Hygiene degrees were honored Friday night during a special pinning ceremony.
The ceremony is a time to recognize the hard work of the students and welcome them into the dental professions, according to Cindy Cadoret, the director of the dental education programs at Mount Wachusett Community College.
That commitment to their studies and the work they will be doing in the community were recognized during the ceremony by State Senator Harriette Chandler.
"Your jobs are so important. You are going to make a difference," said Senator Chandler. "These jobs are life changing jobs."
Special awards were presented to students who showed exemplary skill within their discipline. April Quirk was presented The Hu-Friedy Award for excellent clinical skills and competence and the willingness to always go above and beyond in the clinical setting. The Dental Hygiene Department Award was presented to Christina Knox for her overall strong academic achievement, clinic excellence, leadership, and making the dental setting team-oriented. The Dental Assisting Department Award was presented to Victoria Cummings for her overall excellence in academic achievement and clinical skill. In a new award, Brittany Hutchinson was recognized for her work promoting oral health with the Oral Health Promotion Award.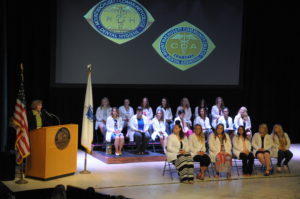 The students honored from the dental programs were:
Dental Assisting
Ashby: Victoria E. Cummings
Fitchburg: Meghgan A. Beauvais
Leominster: Felicia G. Freel
Shirley: Julie Henderson
Worcester: Faviola Flores
Greenville, NH: Brianna M. McDougal
Dental Hygiene
Ashby: Kimberly M. Grieg
Ashburnham: April Quirk
Athol: Cassondra Lavigne, Hannah Pachalis
Clinton: Brittany A. Hutchinson
Fitchburg: Eunices Gonzalez
Leominster: Ellen Smith
Lunenburg: Christina Bernatchez
Marlborough: Christina Knox
Ware: Leah Trudeau
Winchendon: Stephanie J. Goodwin
Worcester: Mailoan Nguyen, Nga Pham
Fitzwilliam, NH: Casey R. Bedingfield