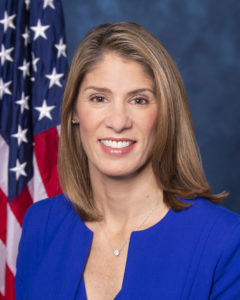 United States Congresswoman Lori Trahan will deliver the keynote address during Mount Wachusett Community College's Commencement on Thursday, May 23, 2019.
"We are honored to welcome Congresswoman Lori Trahan to our campus as this year's commencement speaker," said MWCC President James Vander Hooven. "I am excited to have Mount Wachusett Community College graduates hear her story and words of encouragement at our commencement ceremony. Her commitment to education and its support of local industry resonates with the mission of our college as much as I know she will resonate with our graduates."
Trahan was elected last November to Massachusetts's 3rd Congressional District, which includes Fitchburg, Gardner, Haverhill, Lowell, Marlborough, and Worcester. She was born and raised in Lowell and has a strong political and business background. The Congresswoman said that she was looking forward to celebrating with Mount Wachusett Community College's graduating class.
"Mount Wachusett Community College is an indispensable asset to the 29 cities and towns in North Central Massachusetts that it serves. With over 70 associate degree and certificate programs covering everything from nursing, to criminal justice, to biotechnology there's no doubt that MWCC is on the front lines of educating the next generation of the American workforce. As the global economy grows more competitive, institutions like MWCC are playing an integral role in ensuring that the American workforce remains the most skilled and productive that the world has ever seen. I am proud to represent this school and its faculty, staff, and students. I look forward to celebrating their commencement with them this coming May, and seeing the impact these MWCC graduates have on our community in the years to come," said Congresswoman Lori Trahan (MA-03).