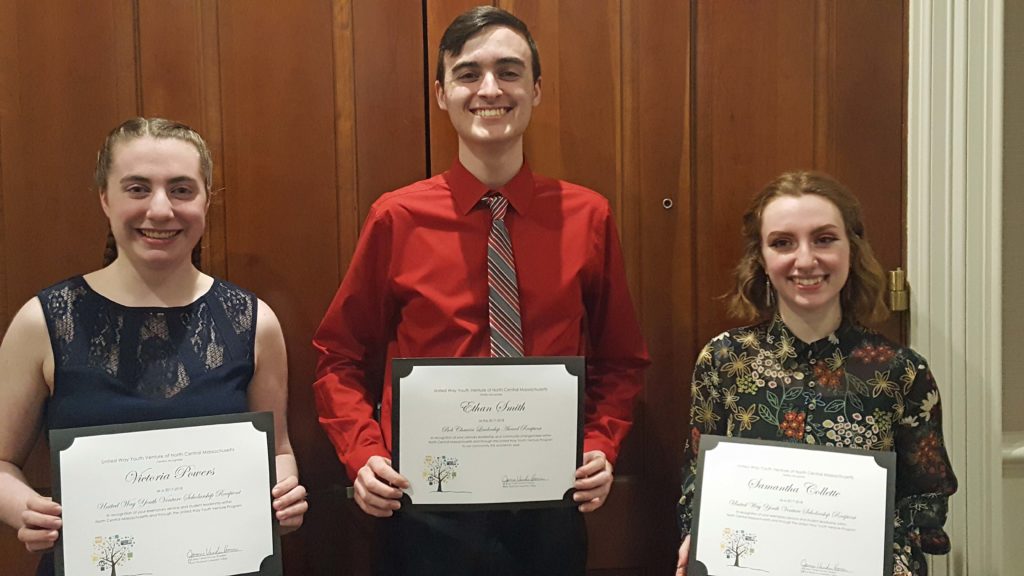 Three local high school seniors have received scholarships from the United Way Youth Venture program for their involvement in their communities.
Ethan Smith, from Leominster High School, was the recipient of the Bob Chauvin Leadership Award. Victoria Powers, from Oakmont Regional High School, and Samantha Collette, from Montachusett Regional Vocational Technical School were each awarded the United Way Youth Venture Scholarship.
"These three Venturers impressed us with their leadership, ambition and dedication. The scholarships could not have gone to more deserving students and we are proud to have had the opportunity to collaborate with them on making our community a better place." said Lauren Mountain, UWYV Director, at the annual United Way Thank You event, held at the Double Tree hotel in Leominster on April 19, 2018.
The Bob Chauvin Leadership award recognizes the UWYV participant who most exemplifies visionary leadership as a community changemaker through dedication to and support of the community. The scholarship provides $2,000 to support post-secondary learning.
The UWYV Scholarship was established to recognize outstanding seniors and current college students who are actively involved with the UWYV program. These students exhibit a commitment to not only the UWYV program, but also maintain a deep understanding of community service and civic leadership. The scholarship is awarded in amounts of $1,000.
Ethan plans to attend the University of Massachusetts in Amherst studying neurological medicine. Samantha plans to attend Framingham State University majoring in Fashion Design and Retailing, with a concentration in merchandising. Victoria will attend the University of New England to pursue a degree in Applied Exercise Science.
The UWYV program is a partnership between the United Way of North Central Massachusetts, Mount Wachusett Community College and Ashoka's Youth Venture. The program exists to empower youth through support for innovative, community outreach proposals and help them gain essential experience that will help them to become the future leaders and innovators of our community. Throughout the past year, almost 8,000 students have been actively engaged in the UWYV program.