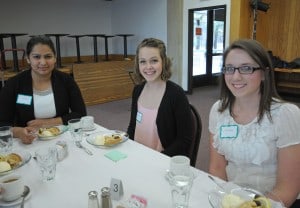 In today's job market, it is becoming more common for employers to seek ideal candidates through a series of interviews. One of these interviews could be over lunch or dinner with one or more members of the search committee. This type of environment can be extremely stressful for a candidate who is trying to put his or her best foot forward.
To provide MWCC students with tips on which fork to use, where to place their bread plate, and reminders to keep their elbows – and their smart phones – off the table, the college's Visions and Rx programs recently hosted an Etiquette Luncheon for Rising Professionals.
Carol McGuiggan (aka Ms. Manners), a professional in business protocol and dining etiquette, provided instruction on proper interview dining to a group of students and staff. Business faculty Linda Bolduc and Elmer Eubanks- Archbold also attended.
Students learned how to properly shake hands, seat themselves at a table, engage in appropriate table conversation and comport themselves in other table manners.
The federally-funded TRIO programs provide academic and personal support to first generation and low-income students as well as students with documented disabilities. Students who meet at least one of these criteria are eligible to apply to the programs.
The Etiquette Luncheon is just one of the many activities and events which introduce students to new experiences and life lessons.