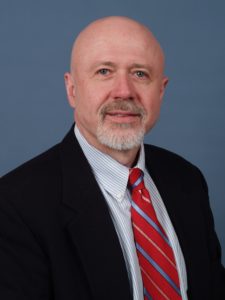 Business leader and community volunteer Wayne Canty will be the recipient of Mount Wachusett Community College's 2017 Service Above Self Award at the college's graduation.
Canty, CEO and owner of Heat Trace Products and MWCC Foundation member, will be recognized during the college's 52nd commencement ceremony on May 17. The award recognizes individuals who have made significant contributions within the 29 cities and towns that make up the college's service area.
"Wayne Canty has made North Central Massachusetts the home of not only his business but many of his volunteer efforts. A multitude of organizations in the region have benefited from his experience, time and energy. I am pleased to recognize him with this year's Service Above Self Award," said President James Vander Hooven.
"I was just dumbfounded and humbled when I was informed of this award. I can honestly say that out of any of the recognitions and awards I've received up to this point in my career and my life, this one is the most meaningful," said Canty.
Canty acquired Heat Trace Products in 2004, relocating the company's factory from Clinton to Leominster. The company manufactures a line of self-regulating heat trace cables and products for freeze protection and process temperature maintenance for a wide range of industrial, commercial and residential applications.
Since establishing his company in North Central Massachusetts, Canty has become an active member of the business and charitable community in the region. He currently serves on the boards of the North Central MA Chamber of Commerce, and is the Vice Chair of the Boys & Girls Club of Fitchburg and Leominster.
Canty has been a member of the Mount Wachusett Community College Foundation since 2013, after forming a strong working relationship with previous President Daniel Asquino, and he served as a member of the college's Presidential Search Committee in 2016.
"It's important for me to give back to the community and support the community as best I can both with my time and with my money," said Canty. "I've been successful and I feel an obligation to give back to the community, whether it's my hometown or where my business is established."
He has also been involved in statewide and national business organizations, including being a board member of the Massachusetts Marketing Partnership, AIM International Business Council and the MA District Export Council (US Department of Commerce). Canty was appointed by Governor Deval Patrick to the Massachusetts Marketing Partnership Board of Directors in 2011 and accompanied him to Brazil on a trade mission that year. He was appointed by Governor Charlie Baker to the Economic Development Council in 2015.
Canty earned an Associate Degree in Business Administration from Quincy College, a Bachelor of Science degree in Business Administration from Suffolk University and holds a National Board Certification from the Muscular Therapy Institute in Cambridge.