Regenerative Agriculture Certificate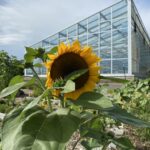 The Regenerative Agriculture certificate provides students with the theoretical and practical skills necessary for careers in local food movements and agriculture. Regenerative agriculture is modeled after the cycles of natural systems, relying on nutrient pathways, building and preserving soils and its fertility.
Students will learn to build food systems that provide healthy food and build local communities as they study fundamental ecological processes such as nutrient cycling, effective solar capture, efficient use of water, and interactions among plants and animals in their environment. The program will also teach students to analyze the ecological, economic, and cultural dimensions of complex food systems.
The lab and lecture portions of this program frequently take place in one of our many outdoor instructional spaces. Students are to refer to the applicable semester's course syllabus for specifics and expectations.
Regenerative Agriculture Courses include:
Integrated Pest Management
Soil Science
Plant Pathology
Horticulture
Botany