Earth and Environmental Science
Earth Environmental Science Associate Degree
The Mount Wachusett Community College Earth and Environmental Science associate degree program is designed to inform students about how to protect, care for and understand the Earth and living organisms. If you have a passion for natural science and exploring the world in which we live, imagine the opportunity to advance your knowledge and skillset for obtaining a career in environmental research and conservation.
At MWCC, we take your career goals seriously. Enjoy personalized education as you earn your Environmental Earth Science degree in a way that suits your current lifestyle and routine. All of our professors want to see you reach success, so MWCC gives you the resources, one-on-one help and flexibility you need to follow your dreams.
What Is Earth and Environmental Science?
Earth and Environmental Science focuses on the Earth's natural processes and how humans interact and affect certain patterns. Moving through our program, students take a closer look at how our planet functions and what we can do to address environmental issues. Some of the main concepts of Earth and Environmental Science involve the interactions humans make with water, air, living organisms and the Earth's layers.
A large part of what an Environmental Earth Science major will do is learn about our planet's processes to understand how environmental changes occur. The goal of an Earth and Environmental Science professional is to collect data about outdoor environments and make predictions if conditions were to continue.
What Do You Learn in the MWCC Earth and Environmental Science Program?
Our Earth and Environmental Science degree program covers subjects for the current and future care, safety and conservation of the natural world. It allows students to take a step back to understand the greater scope and impact of our actions.
Coursework throughout our program includes topics such as physical geology, philosophy of nature, ecology, weather and climate and geospatial technology. The enriching MWCC curriculum also dives into concepts relating to:
Biodiversity
Plate tectonics
Relationships between humans and nature
Geographic information systems
Conservation
Students will learn about important environmental ideas and historical events that have shaped the natural world. The hands-on curriculum and laboratory experiences from our program enable you to expand your critical thinking, communication and leadership skills. Transfer to a four-year university, or seek out Earth and Environmental Science jobs once you work through all course objectives.
Main Objectives of the MWCC Environmental Science Program
The Mount Wachusett Community College Environmental Science program will help you channel real-world skills to use throughout your career. Your instructors outline expectations before each course, and your education will include independent assignments and group projects to give you a well-rounded learning experience. By the end of the Environmental Sciences program, students will:
Use problem-solving skills
Gather, analyze and report on environmental data
Present findings from labs and group assignments
Practice numeric skills and measurement techniques
Career Outlook With an Environmental and Earth Science Degree
Graduates of the MWCC Earth and Environmental Science degree program can pursue their future careers by continuing on to a bachelor's degree in the following specializations:
Geology
Soil Science
Atmospheric Science
Earth Science Teaching
Geoscience
Environmental Consulting
Seismology
Meteorology
The Earth is facing significant challenges today, from pollution to overpopulation, resulting in an ever-increasing demand for environmental scientists, specialists and engineers. In fact, according to the U.S. Bureau of Labor Statistics, the environmental scientist and specialist professions are projected to grow 8% through 2030. These roles currently offer a median annual salary of over $73,000.
Environmental scientists are in high demand, as employers look to these professionals to collect water, air and soil samples, assess data and write reports to communicate findings. Completing these procedures allows businesses to operate according to the regulations of their industry and implement much-needed changes to reduce environmental concerns.
What Kind of Jobs Can You Get With an Environmental Science Degree?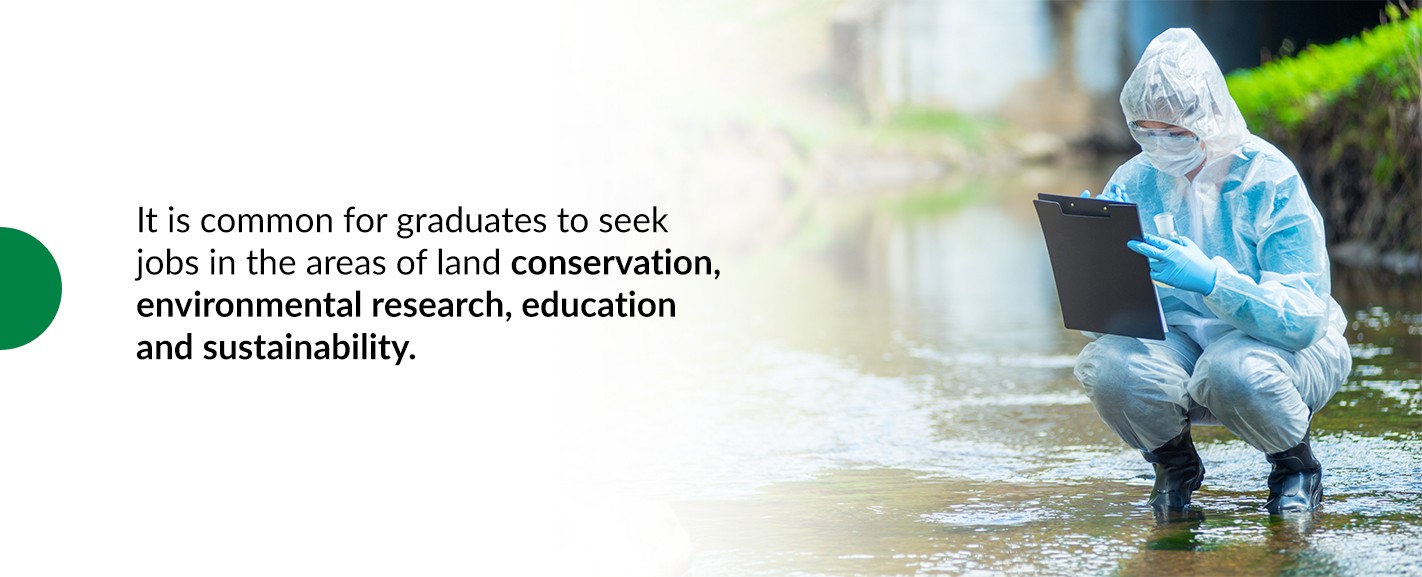 Prospective students might be surprised to find that an environmental studies associate program can open doors to a long list of career opportunities.
It is common for graduates to seek jobs in the areas of land conservation, environmental research, education and sustainability. Earth and Environmental Science degree jobs include but are not limited to:
Commercial horticulturist
Environmental Consultant
Environmental manager
Mineral surveyor
Waste management professional
Water quality scientist
Common Employers for Environmental Earth Science Degree Graduates
Professors at Mount Wachusett Community College work with students so they understand where job openings exist post-graduation. Whether you finish your education with an associate degree or work toward a bachelor's degree in the future, our faculty is ready to explain your options for a fulfilling career.
Some common employers for Environmental Earth Science majors consist of nature conservation organizations, local authorities, utility companies and waste management businesses.
How Do I Know the MWCC Environmental Sciences Program Is for Me?
There are a few indicators that show the Environmental Sciences career path would be an excellent choice for you. MWCC recommends our program to those who are inspired by the following statements:
Working outdoors is appealing to you.
You want to understand and solve environmental dilemmas.
Learning about Earth's natural history and current government policies intrigues you.
Required Courses to Complete the Environmental Science Program
One of our academic advisors can help you on your journey to graduation. Required courses for our Earth and Environmental Science program are outlined below:
Introduction to Environmental Science
Paleontology: Evolution of Life
Soil Science
Physical Geology of the Earth
Weather and Climate
Introduction to Astronomy
Fundamentals of Geospatial Technologies
Prerequisites apply to select courses offered through MWCC.
Transfer to a Four-Year Institution
MWCC's Earth and Environmental Science associate degree is geared for students to transfer to a four-year institution. This helps you to pursue a bachelor's degree in earth systems, geology, meteorology or environmental science. Our degree program is an affordable way to jumpstart your college career, allowing you to complete many of the core curriculum requirements of a four-year college or university for a seamless transition.
You can learn more about our transfer advising services and the overall transfer process by visiting our information page.
Request More Information About the MWCC Environmental Sciences Program
Mount Wachusett Community College makes it easy to apply to the Environmental Sciences program. There is no essay requirement to be considered. Additionally, our program is FAFSA-eligible to make your education affordable.
For further information about the Environmental Earth Science major, please complete a form with MWCC today!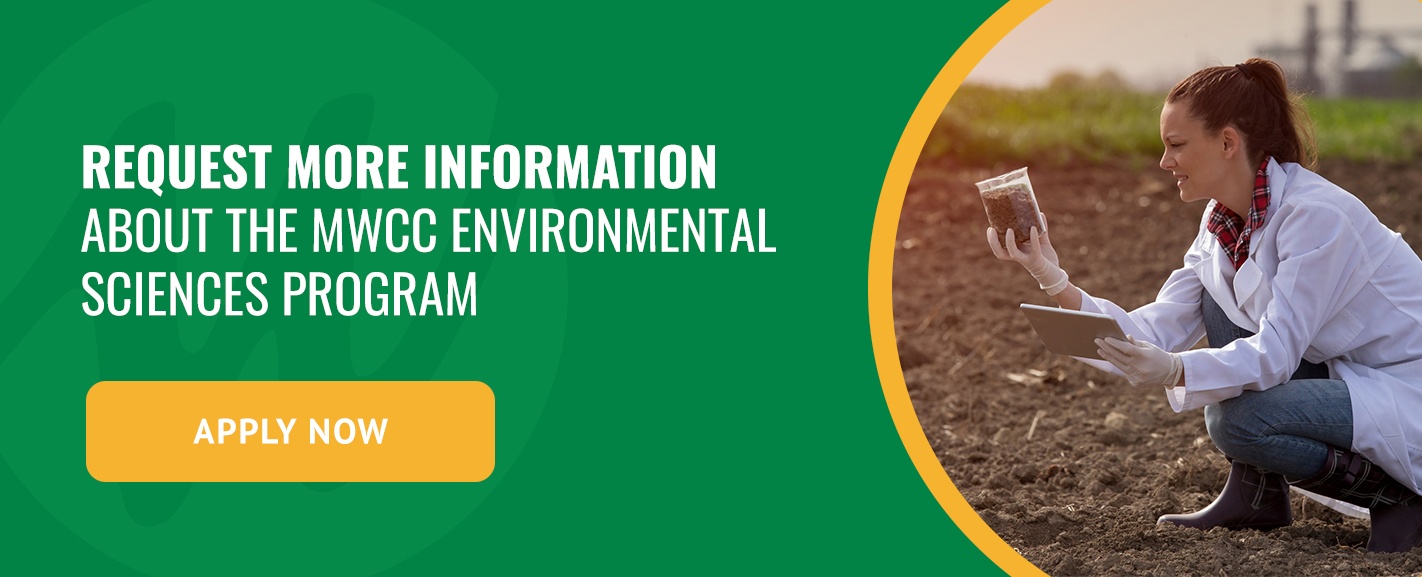 ---
Heather Conn
Professor of Biology / Department Chair, Natural Sciences
978-630-9228
hconn@mwcc.mass.edu
Teaches:
Anatomy & Physiology
Astronomy
Botany
Environmental Science
Environmental Chemistry
Geology
Paleontology