Engineer the Sound of Success With Audio Engineering
Remix your career to the beat of the music through a degree in Media Arts & Technology with a concentration in Audio Engineering. At MWCC, our newly renovated audio studios hold all the tools and knowledge you need to succeed in the media arts field.
As one of the only higher education systems in Massachusetts with a comprehensive audio facility, fully equipped to handle music recording and sound for visual media, you can be sure you will learn on professional-grade audio tools from experts in the field. Plus, with no musical audition required, you are free to learn without any strings attached.
Become a Master of the Soundboard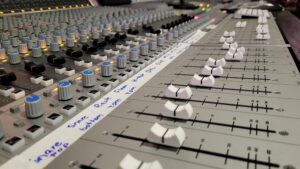 Your Audio Engineering program will include classes like:
Audio Production.
Film Studies.
Video Production.
Music Skills and Theory.
Audio Postproduction.
Music Recording.
You will receive both audio engineering and video editing skills through a combination of sound and visual production courses. Through hands-on training mixed with classroom lecture and research, you will be prepared to succeed in all aspects of the audio engineering field.
Find the Audio Engineering Career Meant for You
After you graduate, you will be ready to enter into many different media art production fields. You can find a career in:
Music.
Radio.
Theater.
Gaming.
Television.
Cinema.
Sound and Audio Engineering Careers Available With Our Degree
You can enter the entertainment business immediately with an education in sound and audio production and engineering. You can rise to leadership positions quickly, too, thanks to your top-notch education. A few jobs you may consider include the following positions:
Audiovisual technician or design engineer
Audio or production engineer
Location recording and mix engineer
Foley and sound effects editor and mix engineer
Even pop musicians sometimes study audio and sound engineering at colleges to help them better grasp the dynamics of their jobs.
Preparing Yourself for Success as an Audio Engineer
As an audio engineer, you will learn that not every day looks the same. You may find yourself loading and transporting delicate sound equipment one day and recording the next, looking to maintain sound outputs and keep the talent's voice at a consistent level.
What skills and attributes will make you successful in this line of work? Attention to detail is a must. Sound engineers take responsibility for so many things on a daily basis, and keeping track of everything that needs to get done is a critical aspect of your job. You will also need to demonstrate focus, as even small things can derail audio sessions. Problem solvers will have a lot of success in this field. Other attributes of great sound engineers include:
Outstanding organization.
Patience with talent and equipment.
Diligence and reliability.
Job Outlook for Audio Engineers
As a Broadcast or Sound Engineering Technician, you can make an average of $42,650* annually. The projected job growth for the field is 8%* over the next 10 years. With your education and experience, you can expect to stand out in the job market.
Why Choose a Sound Engineering Degree From a Community College?
Community colleges provide high-quality education at a fraction of what you would pay for a four-year degree. When you attend a school like MWCC, you receive the excellent academics and standout support you desire without acquiring the large amounts of student loan debt typical of a degree from a four-year college.
Community colleges also offer the small classes and individual attention that help so many students thrive. Where you're often just another face in a big hall at a four-year college, the faculty at a community college will get to know you personally and do their best to help you succeed in and beyond the classroom.
Where to Learn Audio Engineering: MWCC
Mount Wachusett Community College has a range of programs for students like you who desire a high-quality and affordable education. Our faculty members care about you and want to help you reach your academic ambitions. We offer unique assistance to our students, such as:
An award-winning Veteran Service program to aid those in the military with the transition from soldier to student.
Child care for parents who need to go to class and have no one to watch their kids.
Career services to assist students with finding a job after graduation.
We provide flexibility to our students through audio engineering online courses and night classes that can fit into nontraditional schedules. Many of our students have full-time jobs or balance family demands with their schooling. They need to take classes online or in the evenings so learning fits around their other commitments.
Get more audio engineering information about our community college by requesting additional insights or filling out our online application. It takes just a few minutes to submit and requires no fee.
*Source: U.S. Bureau of Labor Statistics