Explore the digital world with our broad-based Media Arts and Technology associate degree. Our Media Arts and Technology Program allows students to engage with video production and more.
What Is Media Arts and Technology?
As a Media Arts and Technology student, you understand the convergence of technologies to format, create, share, store and assess media. The Media Arts and Technology associate degree program is for students who are interested in all aspects of media production. Students can choose elective courses from various disciplines, including film production, audio production, multi-camera video production and post-production. This degree gives students a broad exposure to production, enabling them to enter the workforce or transfer to a four-year program to complete their bachelor's degree.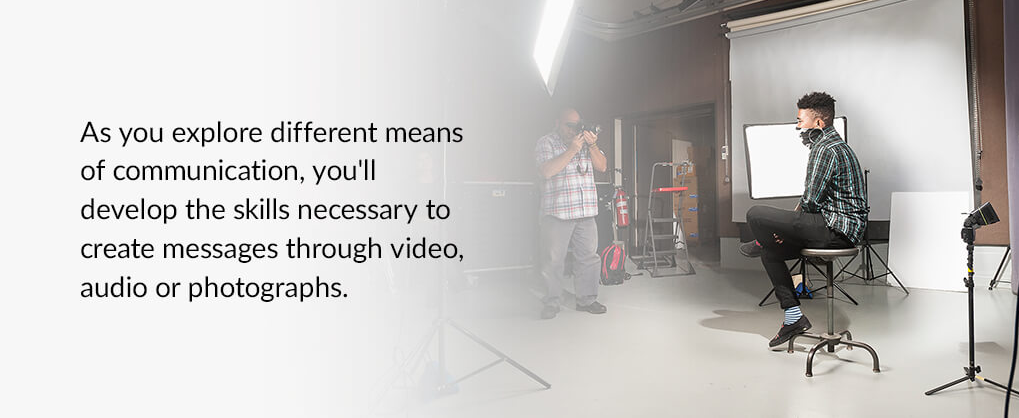 What Is a Degree in Media Arts and Technology?
A degree in Media Arts gives you firsthand knowledge and experience with cutting-edge tools. As you explore different means of communication, you'll develop the skills necessary to create messages through video or audio. With an emphasis on technical expertise and management focus, you'll practice what it takes to understand the world of media.
Our Media Arts and Technology department offers theoretical and applied instruction for learners interested in a career in the field of media arts. We emphasize communication skills, the characteristics of converging media industries and practical training in our professionally equipped media facilities. As an MWCC student, you will gain professional experience participating in various community and college projects.
Browse our Media Arts and Technology courses available to MWCC students, and look at the work our students have done to produce concerts and music performances.
Find a Focused Program
Students who find they are more interested in a particular path in the Media Arts and Technology field can choose a concentration program. These flexible program requirements allow students to concentrate in Audio Engineering or Video/Film Production, or design a study program to meet their specific career and transfer goals.
With more than 15 course selections for your concentration, you can explore your options and pursue your interests. Delve deeply into something you love or develop a new passion at MWCC.
Did You Know?
Our program is unique in New England! If you live outside Massachusetts, you could be eligible for in-state tuition if your state doesn't offer the program you want. For example, Connecticut residents can take our Audio Engineering concentration at Massachusetts in-state tuition rates! Contact us to learn more.
We have one of the best programs in New England, and we intend to keep our top spot by adding another studio. You can hone your skills and gain experience with industry-standard equipment, hands-on training and expert instruction.
Media Arts and Technology Jobs
If you're searching for a place to begin or continue your education, look no further than MWCC. From audio engineering to broadcast production, the Media Arts and Technology program at the Mount is the finest in the area.
Traditional and new media arts are a fast-growing industry in Massachusetts. Our graduates move on to careers as audio engineers, sound technicians, film directors, camera operators, video editors and TV broadcast producers.  You can join their ranks when you earn your Media Arts and Technology degree here at Mount Wachusett Community College.
Media Arts and Technology Degree Salary
A Media Arts and Technology degree can earn you more than $50,000. With career options such as a film producer, graduates with this degree can get creative in the workforce and follow their passions.
Media Arts graduates in Massachusetts can expect to earn a median salary of $63,477, which is almost $7,000 more than the rest of the United States.
The Best Media Production Education for Your Money
Students choose the Mount for their Media Arts and Technology education for our studios and equipment, but our students also graduate without as much debt. Earning a media degree from an accredited community college can save you thousands compared to a traditional four-year institution. Saving on your education puts more money in your pocket for your next chapter of life, including buying a home, starting a business or purchasing your next car.
Even with the extra cash in your wallet, you still get one of the best media experiences at MWCC. Our Industry-standard equipment and facilities include HD television studios and electronic field production equipment, Avid and Apple video editing suites, multitrack audio studios, ProTools audio recording and post-production, photo studios and digital imaging labs.
Media Industry Experts Lead Our Classes
You'll learn from seasoned media production pros who know the ins and outs of the broadcast studio and editing suite. They will instill the attention to deadlines, detail and organization that will prepare you for a career in the real world. They'll also get to know you as a person and help guide you as you choose a major concentration and future career path.
Our faculty and staff have the knowledge you need to succeed in this field because they've been there. Some of our staff members have over 20 years in their respective fields, so they know what it takes to be successful and drive your career. Our expert instructors can guide you through your program and give you firsthand knowledge of your field. Learn more about our faculty and staff.
You're Local, We're Local
A future in media production is exciting, especially when you hear you don't have to move to a new city to earn your degree. Our campus is right off Route 2 in north-central Massachusetts. Our media production classes take place on our main campus in Gardner, Mass., which is small enough to get around easily and large enough to offer you lots of free parking.
Get Your Bachelor's Degree Faster
Your credits from MWCC will transfer to excellent four-year schools and other media arts colleges. Many of our alumni continue their education at colleges and universities in Boston, New York and around the world. With your associate degree from the Mount, you can get a high-paying job while you work on your bachelor's degree.