Focus on Your Future through the Lens of MWCC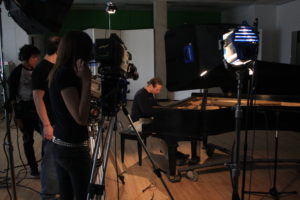 If you're ready for an action-packed, exciting career in the booming entertainment industry, then MWCC is ready to focus the camera on your future success. The Video/Film concentration in the Media Arts & Technology degree program lets you go behind the scenes to explore career fields such as video, film, and television. You will receive comprehensive training in video and film as well as audio and writing to give you all the knowledge you'll need to succeed.
Transfer to a 4-Year College or University
You will save thousands by starting your video and film production education at MWCC. After you complete your associate's degree, you will be ready to transfer to a 4-year institution to further your education towards a bachelor's degree in video and film production.
Get Hands-On Experience on Set
In your program, you will start working hands-on with equipment within your first month of classes. To benefit your learning, during your spring semester you will also get to take part in a two day live auction from our TV studios with our multi-camera crews. You will also participate in filming a concert video in our 515 seat theater when a live band comes to perform.
These opportunities will give you skills and experience with real equipment and professional-grade technology. The hands-on training you will receive during postproduction in the editing and publication stages will also enhance your academic profile and skillset.
Job Outlook for Producers and Directors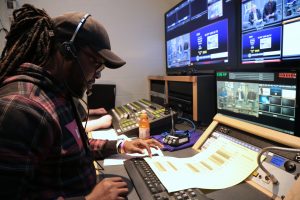 In the booming entertainment industry, your job prospects are bright. You can make an average of $71,000* as a producer or director with a bachelor's degree! Plus, you can expect to find a job fast as the field is expected to grow 12%* over the next ten years.
Learn the Skills to Bring Stories to Life
Our skilled MRTV faculty will show you the ins and outs of video and film production by showing you many of the core skills you will need, including:
• Storytelling techniques
• Message and theme design
• Preproduction planning
• Studio and location recording
• Postproduction editing
In many of your classes, these skills will come through hands-on learning so you can go behind the scenes to learn what it takes to create a successful film or video. You will take classes in:
• Digital Cinematography
• Editing Digital Video
• Scriptwriting
• Audio Production
• Audio Postproduction
• TV Studio Operations
• Video Production
*Source: U.S. Bureau of Labor Statistics