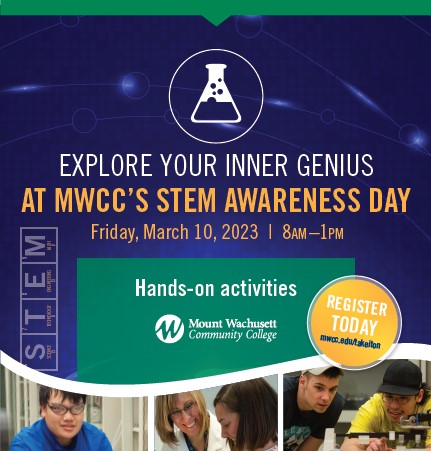 STEM Starter Academy
The MWCC STEM Starter Academy is a six-week summer program for students who are interested in getting an early start on college before beginning classes in the fall. Students can take one college courses at no cost, including the books needed. Additionally, students can earn up to a $500 stipend to offset missed summer work opportunities while they prepare to begin school in the fall.
Who can Participate?
The STEM Starter Academy is open to high school graduates or qualifying MWCC students that are enrolling in one of MWCC's STEM majors in the fall.
2023 Program Details
Application Deadline: Applications will be accepted and reviewed until June 1
Orientation Day: Early July
Classes run from July 10 to August 18, 2023

Note: Students taking Biology 109 will be enrolled from June 12 through August 10, 2023. The BIO 109 course will not have any Friday classes and no class the week of the 4th of July.
Steps to Apply
Be sure you are available mid-July to late August
You are a high school graduate or current MWCC student enrolled in a STEM major
Complete the MWCC general application and STEM Starter application (below)
Schedule a placement test. This helps to determine which class you should start in
Send in your high school transcript to admissions@mwcc.edu. Your high school guidance counselor can help you with this.
If you have questions about the STEM Starter Academy, please contact Linda Velez Scullane, Director of STEM Starter Academy, at lscullane1@mwcc.mass.edu or 978-630-9857 or Krysta Lopez at 978-630-9813 or klopez1@mwcc.mass.edu.
Students entering certain STEM majors at MWCC in the fall are eligible to apply for this program. Accepted students will receive a stipend of up to $1,000 and will be enrolled in up to two free college courses (book use included). Students will receive daily academic support, including tutoring and mandated study hours.
Please note: Applicants must agree to attend Mount Wachusett Community College in the Fall semester after attending the STEM Starter Academy.  If a student does not enroll in nine (9) or more credits and attend MWCC in Fall following attendance in the summer STEM Starter Academy, he/she will be billed for the full cost of the classes attended during the STEM Starter Academy.