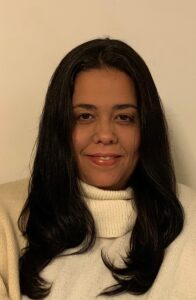 "We Have Learned to Build Resilience"
Vanessa Hill has been many things in her life. A mother of five, a business owner, a volunteer, student, Student Representative on the Board of Trustees, and now she is a college graduate with an Associate Degree in Human Services.
As the Class of 2021 Commencement Speaker, Hill shared her story and her hopes for the future with fellow graduates.
"I understand what it is to raise a family and wanting to continue achieving our goals. Mount Wachusett Community College has been the best first step in my college education. I know all of my fellow students feel the same way. We have made the effort to continue to fight through and reach these goals.
"I am reminded of all the opportunities for growth available to students at the Mount. In the beginning, I participated along with other students in a virtual leadership program. It was because of the leadership program experience that I ran for and was elected to the student representative position on the Board of Trustees. As the Student Trustee, I learned about the struggles some students were having and helped with anything that I could. I learned a lot about how changes can be made and how to speak up.
"For many of you, the path to this commencement has not been an easy one. You may be the first in your family to attend and graduate from college. Many of us have faced challenges along the way, such as having to work full or part-time, needing daycare or maybe needing vehicles repaired, or being sick. These challenges have made us stronger and these same challenges have allowed us to grow. We have learned to build resilience."
"I would like to read this quote by Julia Burgos, who was a Puerto Rican poet, feminists, and civil rights, advocate. I will translate this to English as well. " La mente es una intérprete que traduce la fuerza en que ideas avanzan." it translates to, "The mind is an interpreter who translates the strength into which ideas move forward." As I thought about this quote, I thought of us. We are the minds that translate, we are strong and we are the future. We have set an example for those wanting to follow in our footsteps.
"We know very well that the day has come to say goodbye, but we don't know whether we will see each other again. What we do know is that we are here today to enjoy this moment as colleagues. It has been a virtual experience for most of us but it doesn't change the fact that we have accomplished our goals. I am so proud of the class of 2021. For some of us, this is just the beginning. We will continue to achieve our goals whatever they may be. We know we are more than capable. We have already shown this commitment to ourselves and others.
"I will conclude with this reflection. Things just got REAL! Enjoy this, enjoy life. We only have one. Spend everyday thinking and acting on how we can make this world better not just for us but for the future generation, there is so much we can accomplish we have proven this. I know we can do this! Thank you so much and I can't say this enough, congratulations to the Mount Wachusett Community College graduating class of 2021. Thank you"
Hill will be continuing her education at Fitchburg State University in pursuit of her Bachelors in Human Services and Counseling. Her goal is to work as an Applied Behavioral Therapist, specifically working with children who are on the Autism Spectrum.  Additionally, she is a volunteer at She's my Daughter, providing support to women and who have suffered from abuse, and educating men to be positive supporters of women.