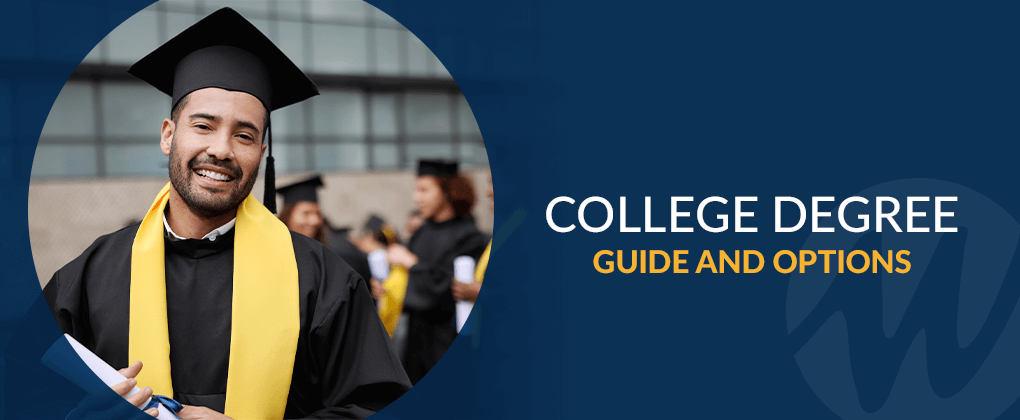 Earning a college degree can open a world of career opportunities after graduating from high school or transition careers. You might even desire specialized education — there are so many reasons people look to the world of academia to help them achieve their goals.
From associate and bachelor's to master's and doctoral, you might wonder how the levels of degrees compare and which path is right for you.
Each type of degree varies in length, prerequisite requirements and outcomes. To narrow down the right one, consider your personal goals and learn about college degree options.
Different Types of College Degrees and Programs
There are many college degree levels you might explore, depending on the length of time you'd like to graduate and the type of work you'd like to do. Before choosing a path, consider:
Levels of college degrees: The degree level refers to the number of years and advancements you've made on your college track. Degree levels mainly encompass the undergraduate — associate and bachelor's degrees — and postgraduate — master's and doctorate degrees. For instance, an associate degree is a two-year degree. A master's degree typically requires a four-year undergraduate degree and one to two years of master's courses to achieve.
Types of college degrees: Each degree has a different category and abbreviation based on your area of study. Common examples include art (A), science (S), applied science (AS) and fine arts (FA) types of degrees.
We'll now discuss the wide range of learning opportunities you have when you embark on your career journey, ranging from professional certificates to specialist degrees.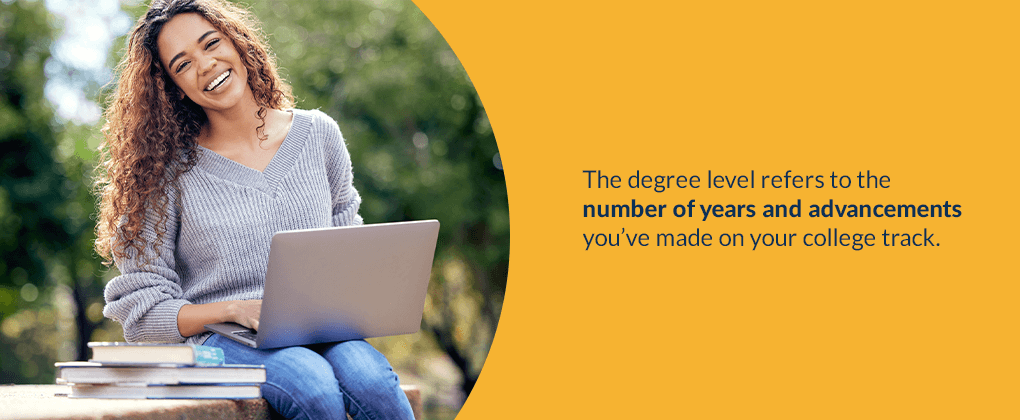 Professional Certificates
It's typical for most technical or vocational careers to require a professional certificate or license. Professional certification programs focus on helping students learn technical skills that transfer to a particular job or help them perform a specific function.
You'll typically have hands-on training and complete an apprenticeship program to learn your trade. The journey might require five years, but you will be paid during your training.
In contrast, a college degree program offers general education and a more well-rounded understanding of a subject. For instance, an electrician would commonly obtain professional certification and licensing to practice their trade. At the same time, an engineer would need to complete a four-year undergraduate and often a graduate degree program for a position in the field.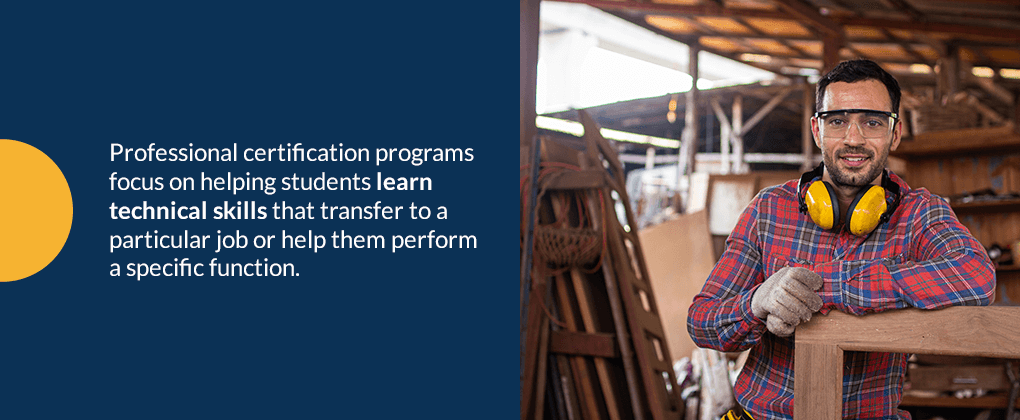 Trades range from building to medical fields. Types of building careers include:
Electrician
Plumber
Pipefitter
Welder
Carpenter
Painter
Landscaper
Medical vocations that require professional certification include:
Dental assistant
Clinical laboratory technician
Phlebotomist
Respiratory therapist
Paramedic
While some fields might require both certification and licensure, others only need one. Before choosing your vocational track, you'll want to learn the requirements for your vocation in the state where you reside since the licensing and certification regulations vary from state to state.
Undergraduate Degrees
An undergraduate degree refers to an associate or bachelor's, typically sought after a student graduates from high school or earns an equivalent, such as a GED. Depending on the undergraduate path you choose, the number of years and hours you put in will vary. The most common time it takes to complete an undergraduate degree is two to four years at a university or community college.
Most undergraduate programs consist of general education courses, electives and core studies. General education courses vary from school to school but typically include math, science, history and English courses. After completing general education coursework, students can complete their elective and core classes that align more with their major or desired career path.
There are many undergraduate programs from arts to sciences and nursing, and we'll dive into these below to help you decide on the type of major you might explore.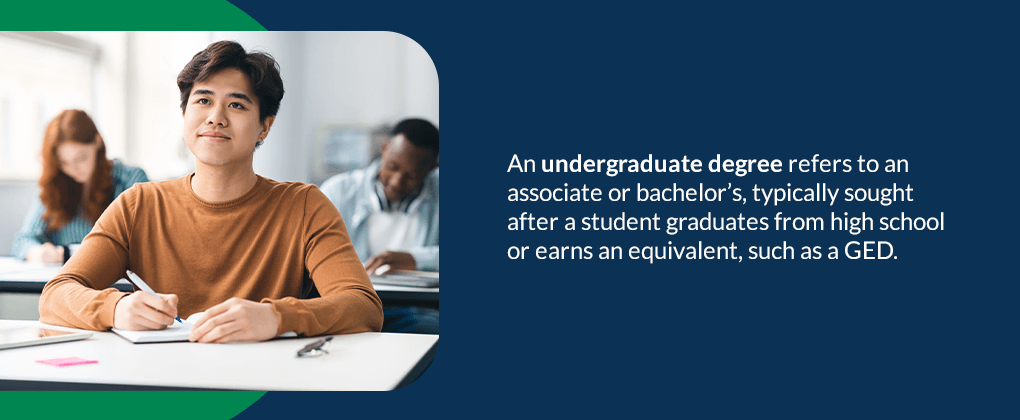 Associate Degrees
Typically provided at community and technical colleges, an associate degree includes roughly two years or 60 hours of completed coursework. Depending on what you study, you might also meet practical requirements such as internships and practicums.
Various healthcare, technology and nursing programs exist at technical colleges, with some allowing you to achieve them at an associate level. For instance, associate degree programs in accounting, education or technical fields open up entry-level finance, teaching or computer technology positions.
A breakdown of common associate degrees is below:
Associate of Applied Science (AAS): An Associate of Applied Science track is designed for students preparing for a specific trade or career to enter the field immediately after graduation. Depending on the college, examples of majors in this degree might include automotive technology, accounting and computer information systems.
Associate of Arts (AA): Associate of Arts degrees require general coursework completion of liberal arts studies. Examples of majors include photography, visual literacy and social sciences like psychology, sociology and history.
Associate of Science (AS): The Associate of Science program is similar to the Associate of Arts, though it involves completing general science coursework such as math, science, architecture, engineering and technical science.
To apply for an associate degree, you will need at least a high school diploma or GED, with some schools also requiring that you submit test scores for admission. Many associate degrees prepare students to enter the workforce immediately after graduation.
An associate degree is also the first step to a bachelor's program if you wish to further your education. An Associate of Arts degree enables students to pursue a Bachelor of Arts, while an Associate of Science equips students with the skills for a Bachelor of Science degree.
Turning your associates degree into a bachelor's degree opens the door to more opportunities, such as higher-paying career options and economic stability. Choosing to pursue an associates degree before entering a bachelor's program can help reduce the financial strain associated with attending higher education, as community colleges are usually more affordable than four-year universities. You can also focus on improving your academic record, so you have access to more distinguished four-year colleges, universities and bachelor's programs.
If you're searching for cost-effective options to pursue your degree, community colleges are often the perfect choice. With a plethora of degree and certificate programs, financial aid options and flexible academic planning, consider a two-year program that will help you achieve your career goals.
Transfer Degrees
Students usually earn a two-year associate degree with the intent to transfer to an accredited four-year college after graduation, often referred to as transfer degrees.
Before pursuing a transfer degree, always explore your options since many four-year colleges only transfer credits from regionally-accredited community colleges.
Transfer degrees usually fulfill general education and some core requirements similar to a bachelor's. When you select your community college to earn a transfer degree, discuss your plans with the admissions or enrollment counselor at the four-year institution you'll attend after graduation. Most schools will transfer up to 60 credit hours from your associate degree into your bachelor's degree program.
If you're able to transfer 60 credits, most four-year colleges or universities will consider you a junior, meaning you'll only have to complete an additional two years or 60 credits to graduate with a bachelor's degree. Transfer degrees are valuable for students looking for a cost-effective way to start their higher education.
You'll earn an associates degree while gaining the appropriate credits for your desired bachelor's program, which you'll discuss with an admissions advisor or counselor. You can use this degree to get started in entry-level positions and gain experience in the field while you work through the remainder of your bachelor's degree. Transfer degrees are also an excellent option for someone who wants to improve their academic record before pursuing a bachelor's degree at a prestigious school.
Bachelor's Degrees
A bachelor's degree involves a four-year education program at a public or private college or university. Today, 39% of adults over 18 have earned a bachelor's degree or higher, with many aspiring for better access to careers and advanced education.
You can find bachelor's programs at universities and colleges throughout the country, and they typically require 120 credit hours to complete.
Your first two years of a bachelor's degree will consist of general education requirements and introductory classes for your major. You might also complete internships, cumulative capstone projects or papers deciding on your area of study.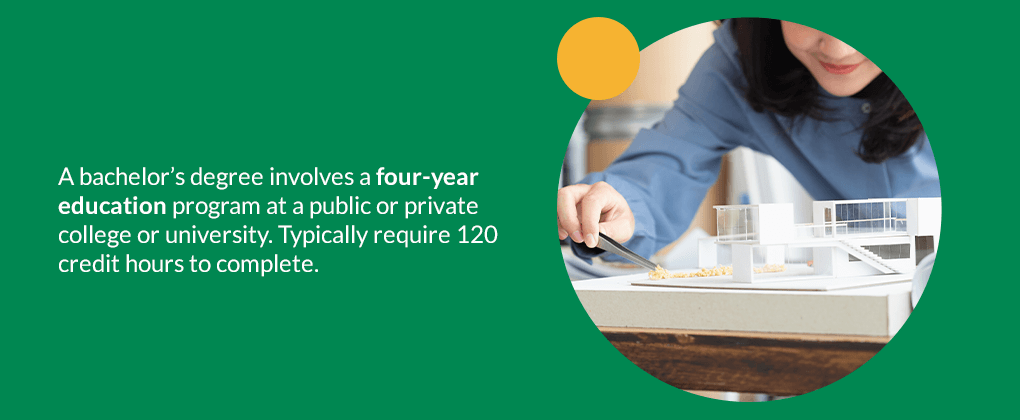 A bachelor's degree opens a range of possibilities for entry-level positions in business, computer and technology, education, healthcare and more. You might need a bachelor's degree for mid-level to managerial positions depending on the field. Some even choose to attend a school of arts to achieve a bachelor's of fine arts (BFA) in writing, painting, film and other creative fields.
You might also use your degree to continue your academic pursuits toward a graduate program.
Many types of bachelor's degrees exist:
Bachelor of Science (BS)
Bachelor of Arts (BA)
Bachelor of Business Administration (BBA)
Bachelor of Applied Science (BAS)
Bachelor of Science in Nursing (BSN)
Bachelor of Architecture (B.Arch.)
To enroll in a bachelor's degree program, you'll need at least a high school diploma or equivalent. Depending on the school you apply to, you might also need to submit ACT or SAT scores.
Graduate Degrees
Graduate programs offer various studies to achieve a higher degree level than a bachelor's. Many graduate degrees have a dual focus on academia and industry, and they offer a more in-depth disciplinary focus than undergraduate programs. A graduate degree might take two to six years to complete, depending on your field of study.
Many choose to enroll in graduate programs for various reasons. Some are entering competitive fields and want to get an edge on other higher-educated candidates. Others wish for more specialized training for licensure or certification in their dream career.
The programs and acceptance into graduate programs are commonly competitive for several reasons. We'll discuss the different graduate degrees and programs and what it takes to get into them below.
Master's Degrees
A master's degree is a logical progression in one's education and career preparation following the bachelor's degree. Some professions now require a master's degree as an entry-level qualification instead of a bachelor's.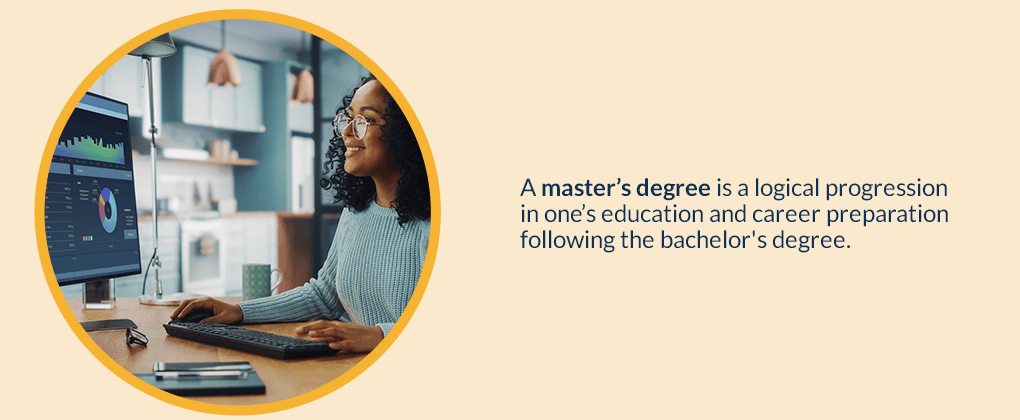 Depending on the graduate school program, it typically takes around 30 or more credit hours to complete a master's degree with a final project or graduate thesis. Typical master's degrees include:
Master of Arts (MA): Focuses on history, social sciences, liberal arts and philosophy.
Master of Science (MS): Coursework includes the sciences, from engineering to math and computer sciences.
Master of Fine Arts (MFA): Generally a two to three-year program focused on performing arts, creative writing, visual arts and filmmaking.
Other master's degree programs include:
Master of Economics (M.Econ)
Master of Architecture (M.Arch.)
Master of Business Administration (MBA)
Master of Chemistry (MChem)
Master of Finance (M.Fin.)
Master of Library and Information Science (MLIS)
Master of Laws (LL.M. or LLM)
For admission into a master's program, most grad school applicants must have experience in extracurricular activities relating to the subject field and engage in community services. Usually, seats in graduate programs are limited, due to funding or faculty availability, with some schools only accepting ten new students a year. That means if hundreds of students apply, only some will make the cut — making grad school admission a somewhat intense process.
Specialist Degrees
A specialist degree is earned after completing a master's degree program. The specialist degree offers students industry-level certification to qualify for licensure in their field. This type of degree follows a master's and before receiving a doctorate level degree.
A specialist degree allows professionals to broaden their studies in specific fields of interest, such as school psychology (SSP) and other leadership roles such as school principal roles that require a Specialist in Education degree (EdS) to practice.
Degrees commonly available include:
Specialist in Community College Teaching (SCCT)
Specialist in Arts (SpA)
Specialist in Psychology (PsyS)
Specialists in Library and Information Science (SLIS)
Doctoral Degrees
A doctoral degree is a type of postgraduate degree that follows the completion of a bachelor's and master's. However, some programs already include a master's program in their curriculum and might only require a bachelor's degree for admission.
A doctoral degree is the highest degree available for a particular field of study or discipline. Doctoral degree programs are also known as Ph.D. programs and require a full-time commitment, unlike bachelor's or master's degrees that students can complete part-time.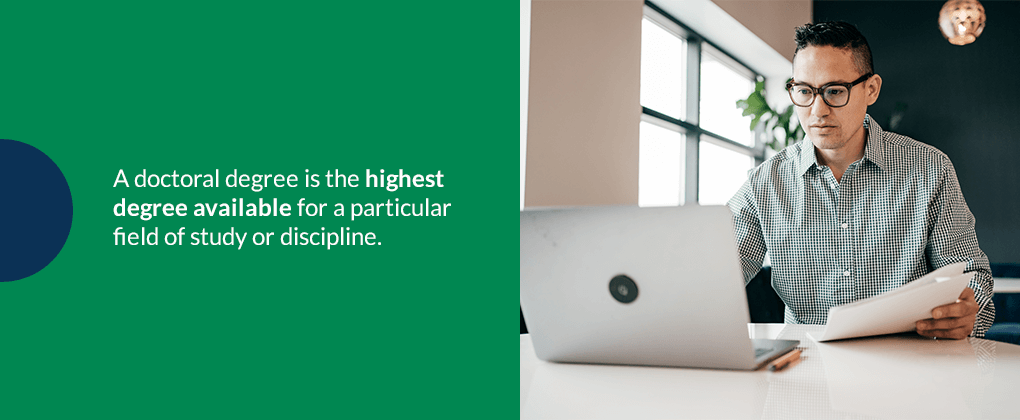 While doctoral programs were mainly reserved for academic or research focused-studies in the past, today, they are designed to help students obtain advanced skills to prepare them for a career. A doctoral degree usually takes three to five years to complete.
Many fields require a doctoral degree to teach at higher education institutions. Those with a business Ph.D. can advance to executive positions.
There are several general types of doctoral programs, including:
Professional doctorate: This type of program is for a specific profession, which we'll discuss more below. For instance, a Doctor of Dental Surgery (DDS) is a professional doctorate in dental surgery.
Research doctorate: These doctorates are research-focused. The Ph.D. and Doctor of Philosophy are doctorate degrees that can take anywhere from three to 10 years of study, requiring a minimum of 60 credit hours and a dissertation to graduate.
Honorary doctorate: Some schools award honorary doctorate degrees to those individuals who contribute to a specific field or discipline. For instance, Frances Hamilton Arnold was a recent Harvard honorary doctorate recipient for her contributions to evolutionary biology.
Students can earn doctoral degrees in:
Doctor of Business Administration (DBA)
Juris Doctor (JD)
Doctor of Pharmacy (Pharm.D.)
Doctor of Education (Ed.D.)
Doctor of Philosophy (Ph.D.)
Doctor of Medicine (MD)
Doctor of Psychology (Psy.D.)
Professional Degrees
Another type of postgraduate degree, professional degrees are required to work in a specific career. Separate from a Ph.D., the most well-known professional degrees are law and medical degrees. Universities typically provide professional degrees for particular areas of study, such as engineering, law, medicine, psychology, finance and business.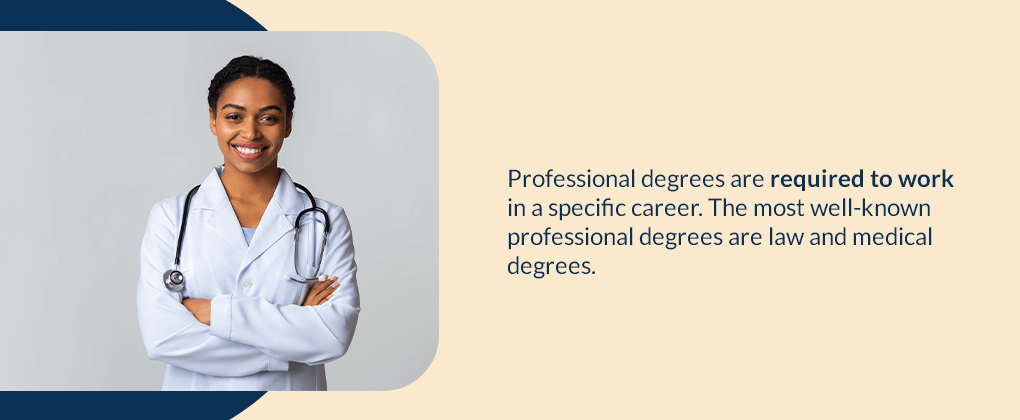 As stated above, the prerequisite for most professional degrees is a bachelor's degree in a related field of study.
Typical fields of study for professional degrees include:
Medicine: Medical degrees typically take four years to complete alongside a residency program after graduation. This type of program provides specialized training for doctors and can last three to seven years, which varies based on specialty.
Law: Future attorneys typically attend a professional degree program at a law school to earn a Juris Doctor (JD). They also must pass the bar exam in their jurisdiction to practice law. Law degrees usually take three years of full-time study to complete with upward of 83 credit hours.
Which Degree Should I Pursue?
The degree you choose to pursue will depend on your level of interest and your chosen career. It will also come down to your financial and academic background and the amount of time you plan to devote to your education. For some occupations, a bachelor's might be overdoing it, while others require a master's or Ph.D. to advance.
Research the degree levels your future employers look for and consider your options if you choose to pursue anything higher than a bachelor's degree.
Computer science, information technology and engineering are a few current in-demand majors. Due to a strong market for skilled trade workers, many choose to pursue associate degrees and certifications to become electricians, welders and machinists. The right fit for you will come down to self-assessment.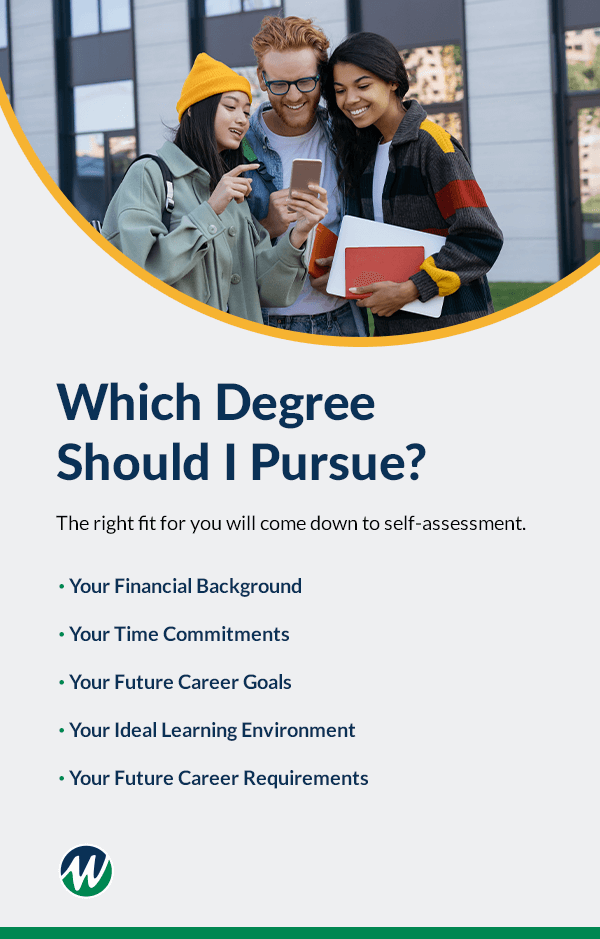 Your Financial Background
Consider the degree to which you can fund your education before choosing a degree path that can span anywhere from two to ten years. If you have access to scholarships and grant money, these might cover some undergraduate programs, but you'll want to ensure this by researching your top schools.
If you're hoping for employment alongside your learning, a shorter two-year program or professional certificate from a trade school might be your best bet. In general, community colleges cost a small fraction of what four-year universities do, and they're a more affordable option for in-state students.
Your Time Commitments
You'll want to consider your priorities and the amount of time you can put into your education before choosing a degree path. For instance, if you're planning on working at least part-time while attending college, you may want to consider an associate or bachelor's degree where you'll likely have flexible academic planning. And if you have time for more in-depth, long-term specialty training, a postgraduate program provides many opportunities.
Your Future Career Goals
Ask yourself what you want to be in two to five years. For example, if you currently have a bachelor's degree and enjoy research and the world of academia, set your sights on a postgraduate degree. If you need extra training for your nursing career or want to be at work in two years, search for community schools to help you widen your skillset.
Your Ideal Learning Environment
If you know that you do well learning from home, consider saving time and money by enrolling in an online college for any level of degree. If you enjoy in-class learning and want to gain a broad understanding of the liberal arts or sciences, consider attending an undergraduate college and living on-campus.
Your Future Career Requirements
After you evaluate your personal needs, you'll want to consider the professional requirements for your career advancement. While a professional certificate or license may be acceptable for some positions, many employers still expect a college degree and use it as a sorting tool while considering applicants.
Whether you choose an undergraduate or postgraduate degree, you'll also experience many personal benefits of education, such as:
Becoming more well-rounded.
Sharpening your skills.
Achieving a sense of accomplishment.
Earning Your Degree Is Easy at Mount Wachusett Community College
With flexible scheduling options and cost-effective payment plans, earning your degree is easier than you might think. At Mount Wachusett Community College, we understand most students have responsibilities outside of school, and we strive to create an environment that promotes success for all who attend.
Whether you're hoping to enter the workforce right after college or continue into a bachelor's program, we make it easy to transfer your credits, plan the most convenient class schedules for your life and prepare you for success in your future career.
Start your degree path off right at Mount Wachusett Community College. With no essay or application fee, you can apply today!