As the old African adage goes "It takes a village to raise a child" and so I am ever grateful to my family, friends, and faculty mentors for their support. I especially thank my personal "cheerleaders", my wonderful children, family, and colleagues. And to my faculty family, I can't thank the MWCC Nursing Department enough, especially all my lecture and clinical instructors. I would like to specifically thank my Medical-Surgical clinical instructor, Cindy Adams, who exemplified the greatest virtues of a consummate nurse.
I took a gamble on myself and MWCC almost a decade ago. We all have those seminal moments in our lives, those pivotal decisions we make that ultimately mark our lives and destinies in more ways than one. For many, it could be something as simple but tricky as deciding on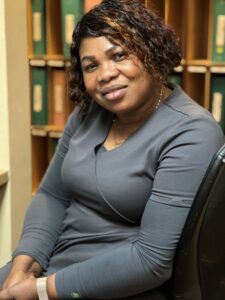 a college major, for others something much more difficult, such as deciding to get married or not.
We have all been there, been besieged by the gravity of those moments and burdened by the fear of the unknown- whether we are making the right decision and so to forestall any future regret. In my life so far, of these such seminal moments, none has had as drastic an impact on my life as my decision to return to school as a student at Mount Wachusett Community College.
I vividly remember when I received the acceptance package from the MWCC nursing program for the 2022 cohort of the LPN-to-RN-Bridge program. Amid all the joy and hopes for the future, as well as the realization of all the great hard work that still lay ahead of me, I felt redeemed. That letter I received was many years in the making, and seemingly the final chapter of my nearly 10-year association with MWCC.
Today I am a nurse, own a house, and can provide for my family in ways I could've never dreamed of, all because of that decision to enroll at MWCC back in 2013.
I look back now; it was never as linear and easy. After moving to the United States as an immigrant, it certainly was challenging those first few months. My father, when he was alive, didn't have much, but was ever a firm believer in the power of education. He truly believed in education as the great equalizer and "fool-proof" vehicle of upwards mobility. He would always say to me "Rose, I don't have a cocoa farm like the others, but school is your cocoa farm".
It's this high premium on education that let me apply to MWCC the very same week my family and I moved to Leominster, Massachusetts. In my native Ghana, my childhood dream was to be a nurse, but due to financial difficulties, I couldn't go any further beyond high school. Here in the United States, I intended to fully use MWCC as the vehicle to finally arrive at my dream of being a nurse.
Being a fresh-off of the boat immigrant, I had not the slightest idea about how to approach this, but over my first couple semesters here at the Mount, the outstanding but very human staff I had, like Professor Lamsa who taught Anatomy and Physiology, and Professor Ham, my English professor, encouraged me to continue with my aspirations when things got especially difficult and to not to ever give up.
Here at the Mount one thing that I quickly learned and realized is that our classmates are also our life-mates, that is, they too are on journeys not too dissimilar from my own. Classrooms at the Mount are a kaleidoscope or mural of the real world we all inhabit outside the classroom.
It has been said that university and colleges prepare students for the "real world" but at the Mount, for many of us, it's our varied experiences in this "real world" that further improves the quality of education we are receiving.
I'll be honest, these past few years have unsurprisingly been a challenge. But I'm grateful for that, as it's the difficulties I faced as a student here at MWCC that have taught me several valuable lessons about life. One lesson, in particular, I hold very close to my heart; adversity only adds color to the otherwise bleakness and monotony of everyday life. As ultimately, it's the adversity of all sorts that we faced as students of MWCC.  For many of us, having to juggle a full semester course-load with full-time jobs truly has armed us with the appropriate arsenal to wade into the so-called "real world" with our diplomas, certifications, and degrees, unperturbed, as the education we received here, whether at Devens, Leominster or Gardner, has ultimately made us experts in the niche but the adaptable skill of balancing work and school. This is a valuable skill as we begin our professional lives.
Indeed, the years spent here as students of MWCC in whatever capacity shall continue to inform how we view and appreciate the world around us. As the former leader of Burkina Faso, Thomas Sankara once said, "For it took the madmen and madwomen of yesterday for us to be able to act with extreme clarity today".
We must endeavor to be the madmen and madwomen of our families, our communities, and societies. We must dare to invent the future with the experiences, the course credits, and the certifications that would now forever mark our association with Mount Wachusett Community College.