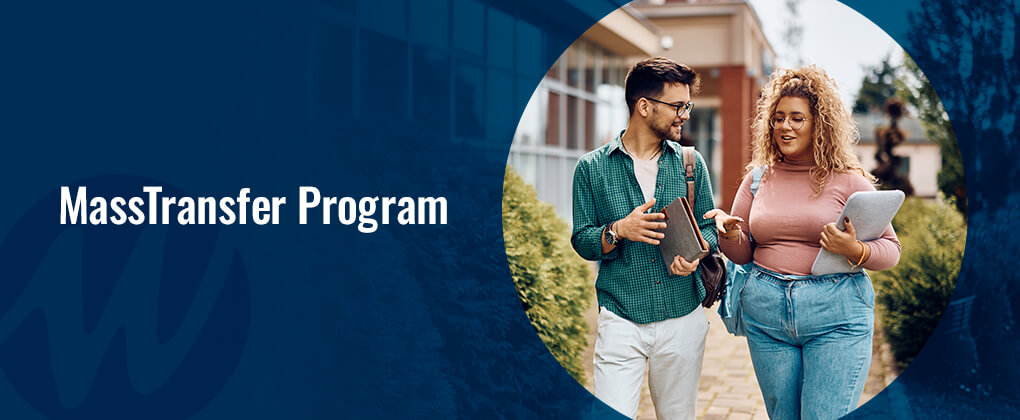 It's no secret that higher education can be expensive, especially in the United States. For the 2022-2023 school year, the average yearly tuition and fees required to attend a public university amount to more than $10,000. The costs for a private university are nearly quadruple that. To make earning a degree more financially reasonable, many people spend at least two years at their local community colleges before transferring elsewhere.
In Massachusetts, some community college students can take advantage of the MassTransfer program to make their transfers easier when the time comes. The program offers numerous paths to getting a degree, each with different savings potential. Below, you'll find everything you need to know about MassTransfer and whether it's a suitable option for you.
What Is MassTransfer?
MassTransfer is a program led by the Massachusetts Department of Higher Education. The program gives students who study at community colleges a more direct way to complete their education at a chosen public university in the state. MassTransfer features different "Associate to Bachelor (A2B) maps," which students can choose from according to how they want to study and graduate.
These are MassTransfer schools where students can transfer:
Bridgewater State University
Fitchburg State University
Framingham State University
Massachusetts College of Art and Design
Massachusetts College of Liberal Arts
Massachusetts Maritime Academy
Salem State University
University of Massachusetts (Amherst, Boston, Dartmouth and Lowell)
Westfield State University
Worcester State University
Overall, the goal of MassTransfer is to reduce the financial burden of higher education for Massachusetts residents so more students can receive a quality education and the opportunities that come from it. Further, MassTransfer makes transferring to a different school as easy as possible, as participating in it successfully guarantees admission to students' chosen schools. No fees or applications are required to be accepted.
No matter if a student is currently enrolled in a community college or is thinking about their next steps after high school graduation, MassTransfer can be a beneficial option for significantly reducing the costs of attending university.
How Does MassTransfer Work?
The MassTransfer program allows Massachusetts residents to reduce how much they spend on tuition and fees by starting their higher education at a community college. MassTransfer guarantees the transfer of a certain number of credits based on the map a student selects. These credits are either applied to the student's designated major or general education or electives, according to the given school. Interested students must submit the MassTransfer application.
There are several ways to take advantage of MassTransfer. As a result, MassTransfer is a flexible option that allows students to enjoy the benefits of starting at a community college and finishing at a public college or university. The program's options are as follows: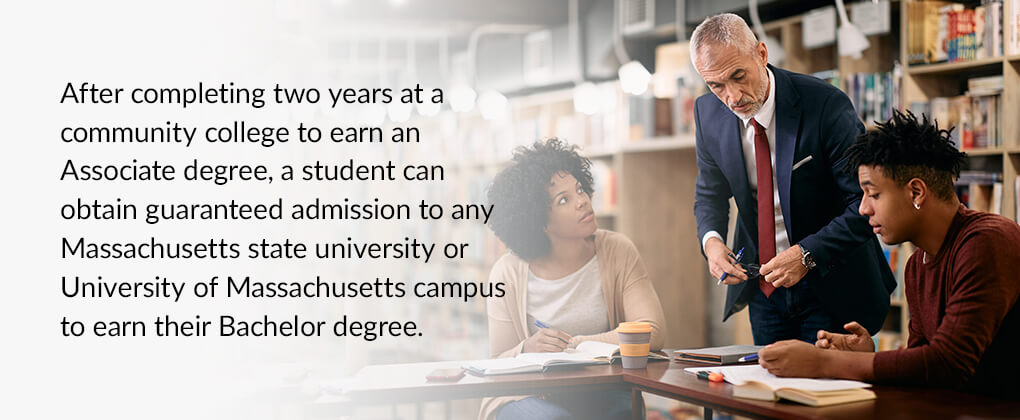 A2B Degree
This path involves two years at a community college and two years at a public university. After completing two years at a community college to earn an Associate degree, a student can obtain guaranteed admission to any Massachusetts state university or University of Massachusetts campus to earn their Bachelor degree. This option allows for a minimum guaranteed transfer of 60 credits.
The A2B Degree program offers students two options — A2B Mapped and A2B Linked. The first option ensures all credits earned in classes that fall under a student's major requirements will be applied to their major requirements by their transfer school. These students can participate in the Commonwealth Commitment. Comparatively, A2B Linked guarantees all 60 credits will transfer, but how they're applied is up to the receiving institution.
The average estimated savings from the A2B Degree program is 28%.
General Education Foundation
If a student prefers to only complete their general requirements at a community college before transferring to a public university, they can take the General Education Foundation path. This choice involves one year at a community college and three years at a public institution. It allows a student to complete 34 transferable credits to build the foundation of their degree. The average estimated savings from the Gen Ed Foundation program is 11%.
Commonwealth Commitment
For students who want to save the most money on their college education — an estimated average of 40% — the Commonwealth Commitment is a more intensive program to consider. It requires a few commitments, including maintaining full-time, continuous enrollment and a cumulative 3.0 GPA. This option is only available for students who pursue the A2B Mapped program. However, it provides numerous savings benefits, including a tuition and fees freeze upon program start.
Reverse Transfer
Those who transferred to a public state school from a community college before they earned their Associate degree can use the Reverse Transfer option to "reverse" the process. In other words, specific credits earned at their current institution can be applied to their community college education, helping them earn an Associate degree while working toward their Bachelor degree.
Other Transfer Options
If you aren't involved in one of the above programs but plan to transfer to a public college or university in Massachusetts, you can still take advantage of some of MassTransfer's benefits. Search the Course Equivalency Database on the program's official website for more information. Additionally, students who wish to transfer from a community college to an independent university can look into the MA-Guarantee or the Massachusetts Independent College Transfer Guarantee.
Required Qualifications for MassTransfer
The basic requirements to participate in MassTransfer depend on which path a student chooses. Generally, a student must earn at least a B average to graduate from community college and earn an Associate degree. This means they'll have earned at least 60 credits, with 34 credits categorized as general education.
Note that each community college has its own criteria students must meet to receive MassTransfer tuition credit and be eligible for the program. At Mount Wachusett Community College, a student needs to meet certain qualifications to be guaranteed acceptance into a transfer school of their choice. If you're currently a student at MWCC and want to take part in the MassTransfer program, meet with your advisor to ensure you're on the right track.
MWCC students who meet the requirements and graduate with at least a 3.0 GPA are eligible for a 33% tuition reduction at their transfer university or college.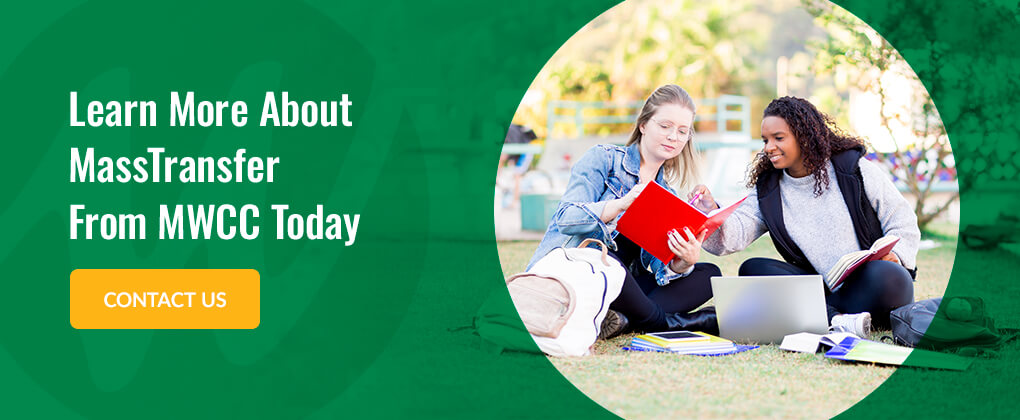 Learn More About MassTransfer From MWCC Today
Using the MassTransfer program can be a straightforward and advantageous way to reduce how much you pay for a college education in Massachusetts. Want to learn more about MassTransfer or the benefits of starting at a community college? Get in touch with us at 978-630-9447 or by requesting information online!