I visit Samoset school on Fridays and spend the day working with the Youth Venture students. This past Friday, before the holiday break, was a special day. On this Samoset Wildcats "Day of Caring" students made holiday cards and snowflakes during their workshop. Two students brought in HUGE cards for all to sign. Other students decorated boxes for the holiday cards. One Youth Venture team had a very successful bake sale. There was a lot going on and the best way to describe it would be Changemaking in action!
The cards are for residents at local nursing homes, hospitals, as well as a boy named Carlos. Carlos is in Boston Children's Hospital waiting for a heart transplant. He has been there 65 days and counting – and that included spending his Christmas day there as well. Carlos wants Christmas Cards!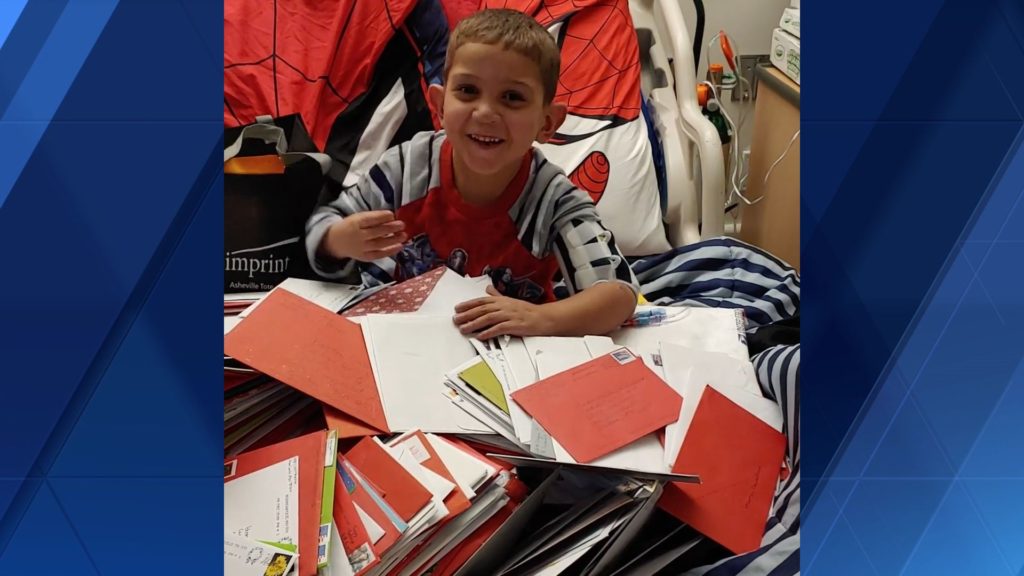 Francine Meigs, Special Education Teacher and Samoset's Youth Venture Champion, knew about his story and shared it with the Samoset students. Samoset students are creating hundreds of cards for Carlos with Christmas and well wishes for the new year. Francine will be driving what she calls "the Samoset sleigh" to all the facilities and right in to Boston Children's Hospital with her deliveries. She mentioned that in past years students made no sew blankets and ornaments on this "Day of Caring."
The students made gift boxes for all of the holiday greeting cards. Carlos at the Boston Children's Hospital, and patients at the Assisted Living Facilities – Sunrise, Manor on the Hill and Village Rest Home and the Life Care Center Nursing Home will recieve handmade cards.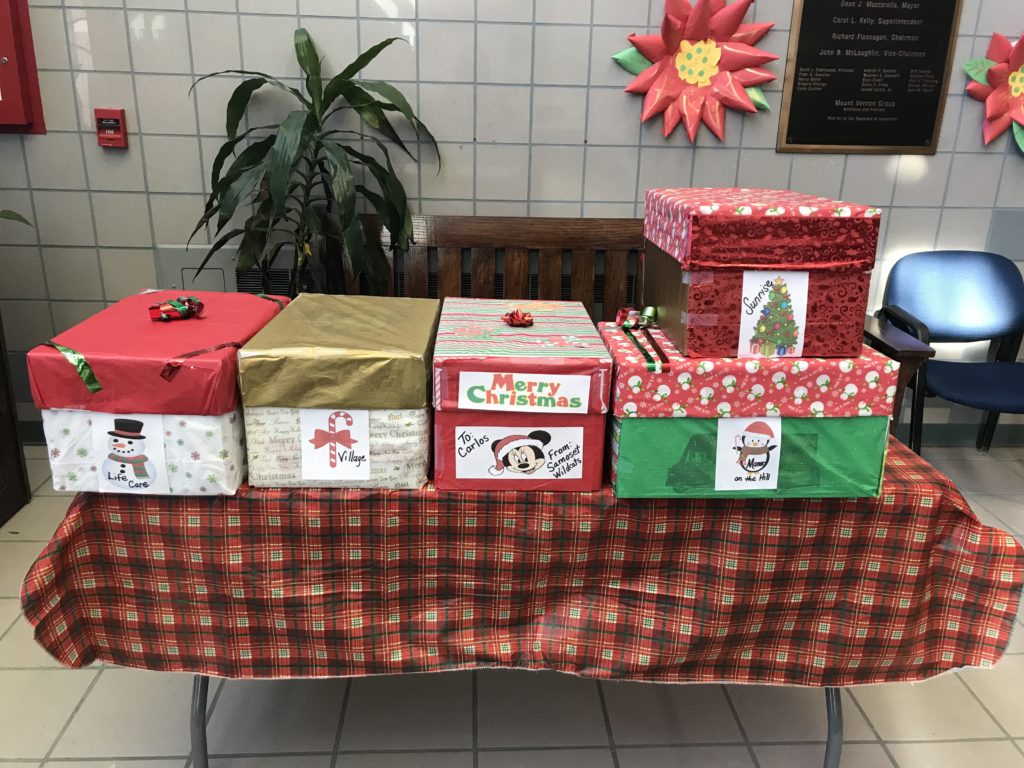 Together We Can
The girls pictured below – Sylvia, Valentina and Zoiey are on the pipeline Youth Venture team called "Together We Can". This team would like to help children and families who are dealing with cancer.  They are inspired to help because they understand that families go through tough times financially and emotionally. They should launch early in the new year.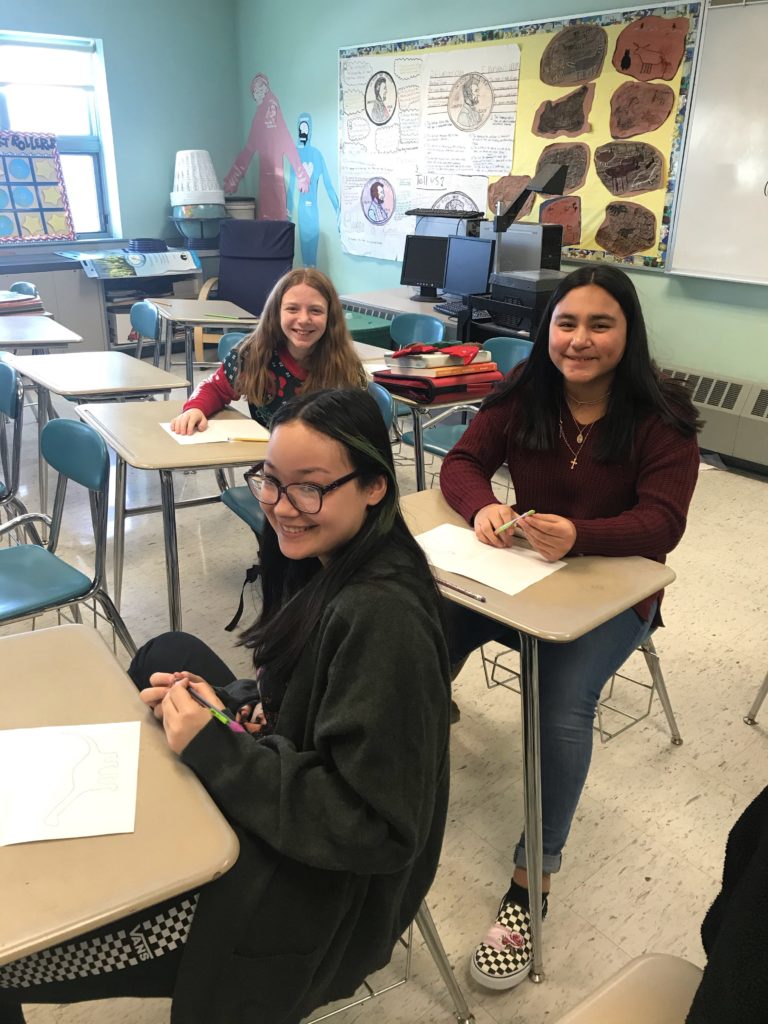 I have two teens of my own, so I was curious to know what these young teens would like for Christmas. As they worked on their cards, I asked them. They laughed when they realized I was writing down their responses in my notes. The top items on their list are headphones, a Goggle Home Mini and Vans sneakers.
How do you like Sylvia's Elf sweater? She is enjoying one of Elf's major food groups – candy canes. (That's an Elf reference). Elf is one of my favorite Christmas movies. Fun Fact – Peter Billingsley, who played the Red Ryder-wanting Ralphie in the 1983 holiday classic A Christmas Story, (another one of my favorites) had a cameo in Elf! He played Ming the elf. Who knew?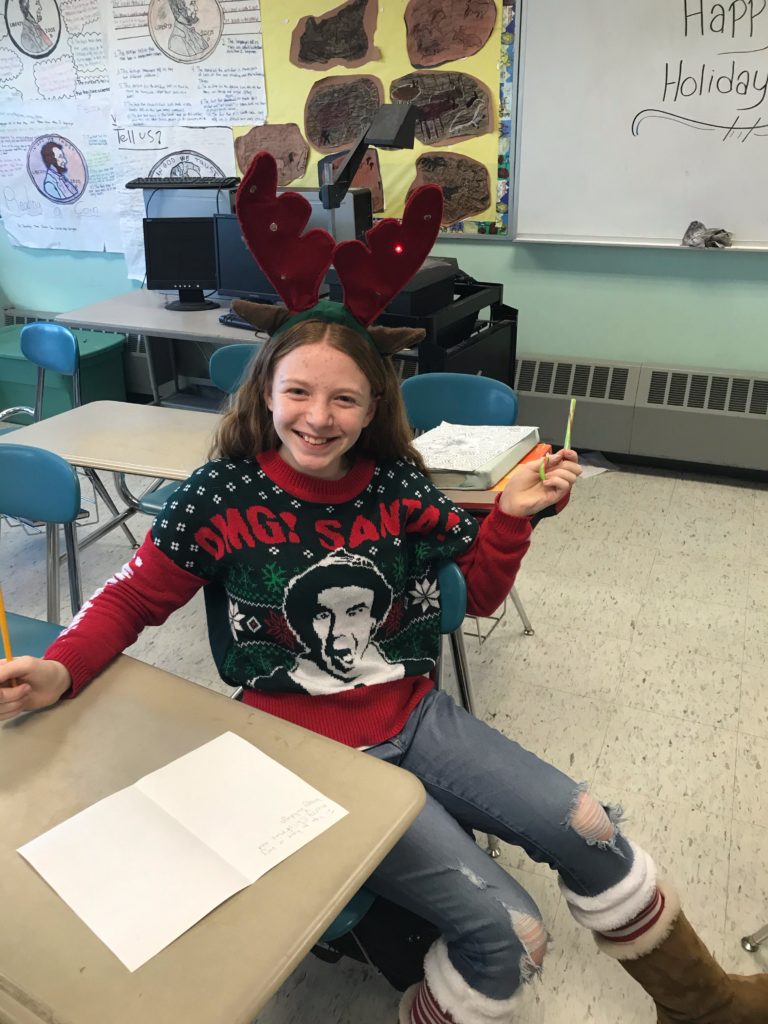 Water for South Sudan
Matthew (shown below) and his friend have a great idea for a Youth Venture that was inspired by one of his classes. They would like to help people in South Sudan by raising money for proper water sanitation.  It is so cool that they connected a country that they are learning about to a cause that they can help.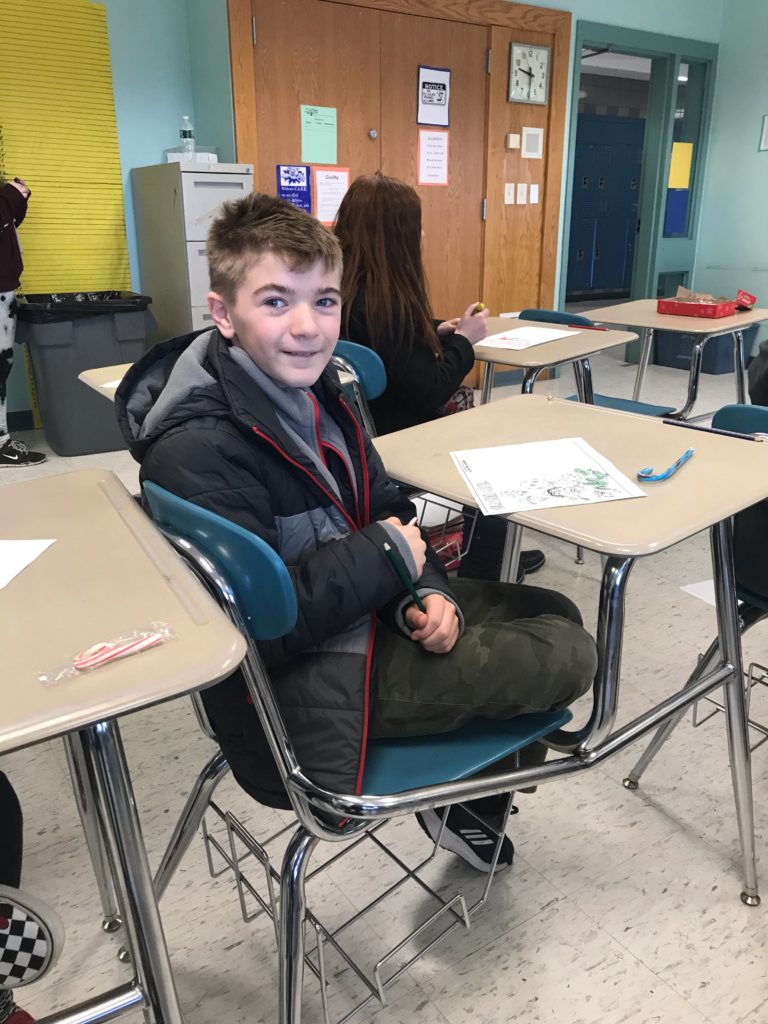 Class Venture
This is Joezyia and Chris. Joezyia's dad bought these huge cards for Carlos that all could sign – one for the teachers and the other for the students. They had fun going room to room to get signatures. They are on the Youth Venture Team called CLASS Venture. With Francine's help, this team hosts school activities and events that promote school and community collaboration. They recently organized and decorated for the Bring a Veteran to lunch event held in November.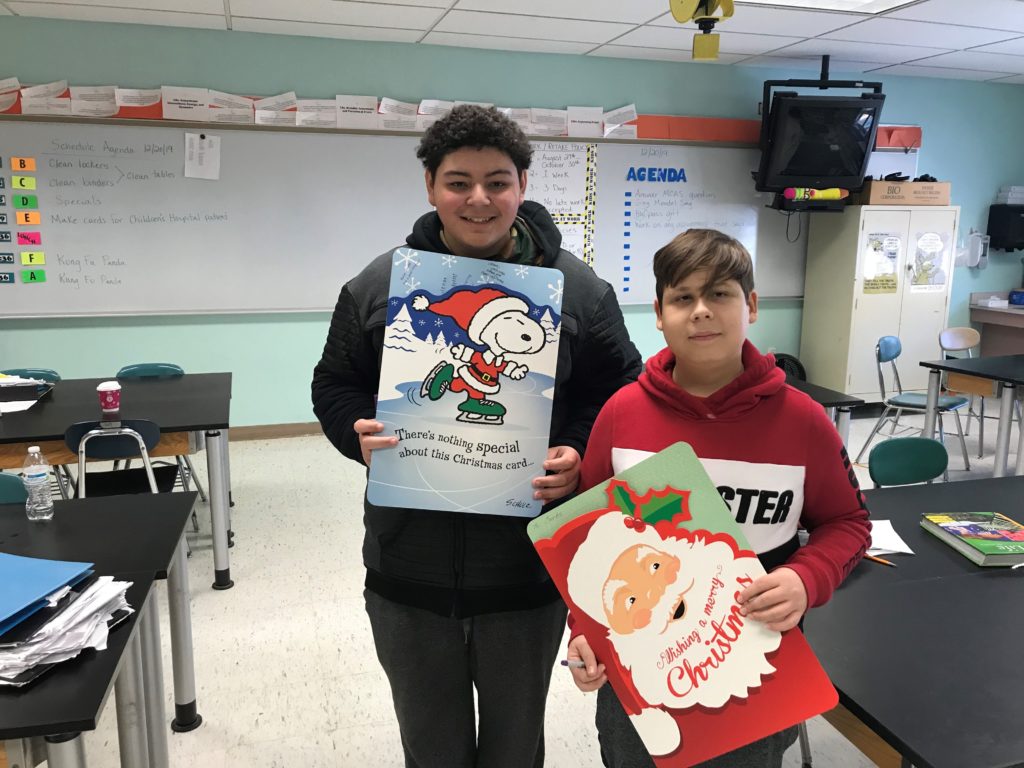 Helping Paws
What great holiday spirit this little elf has! This is Emily. She is on the Youth Venture team called Helping Paws. They would like to help animals at local animal shelters and are planning a second fundraiser – a donation drive for items needed at the Sterling Animal Shelter.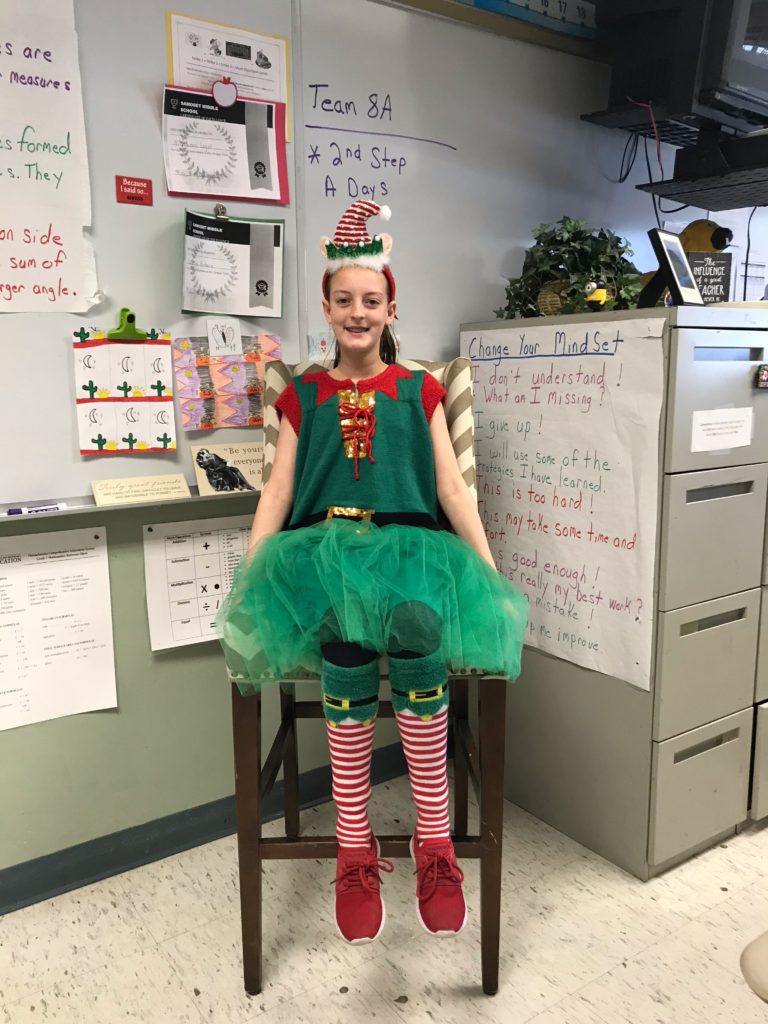 Helping Single Parents
These girls are on a pipeline Youth Venture team that would like to help single parents. They plan to partner with Ginny's Food Pantry in Leominster. We will arrange for a visit from Rob and Sue over at Ginny's early in the new year. They will talk to the students about Ginny's, how they serve the Leominster community and how these girls can best partner with the organization.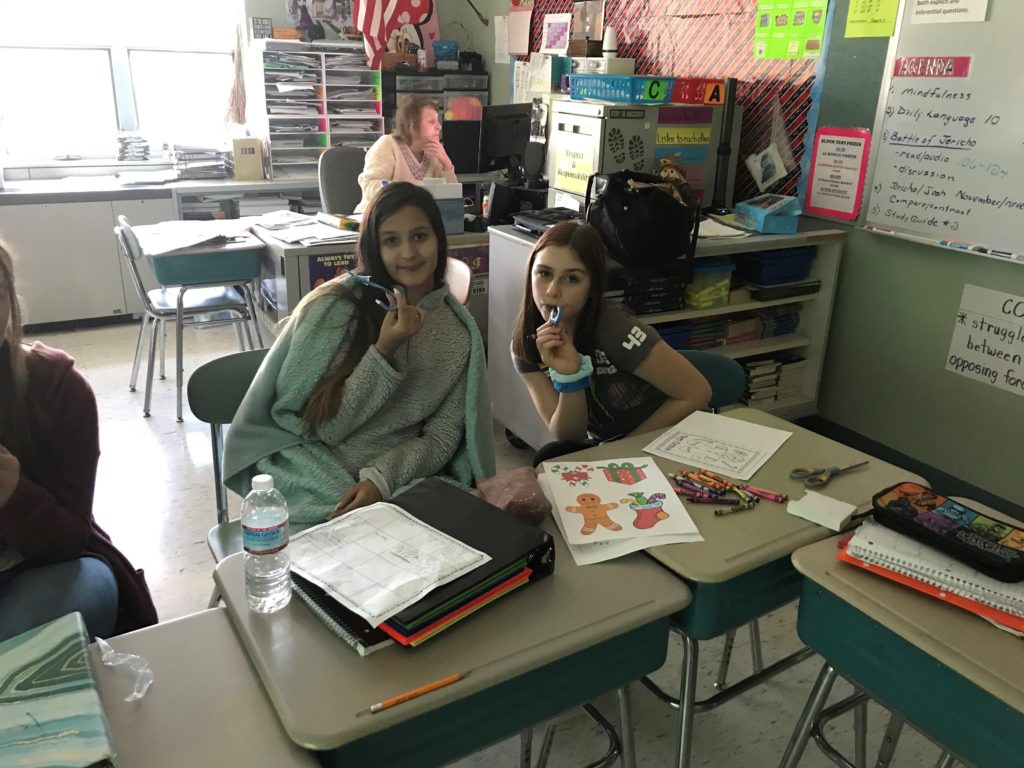 Francine showed me a nice holiday gift that was given to the teachers at Samoset by the administration. It's a free pass for a 30 minute break from the classroom with coverage for the teachers.  The card reads "Thank you for all you do!" What a nice way to let the teachers know that they are appreciated.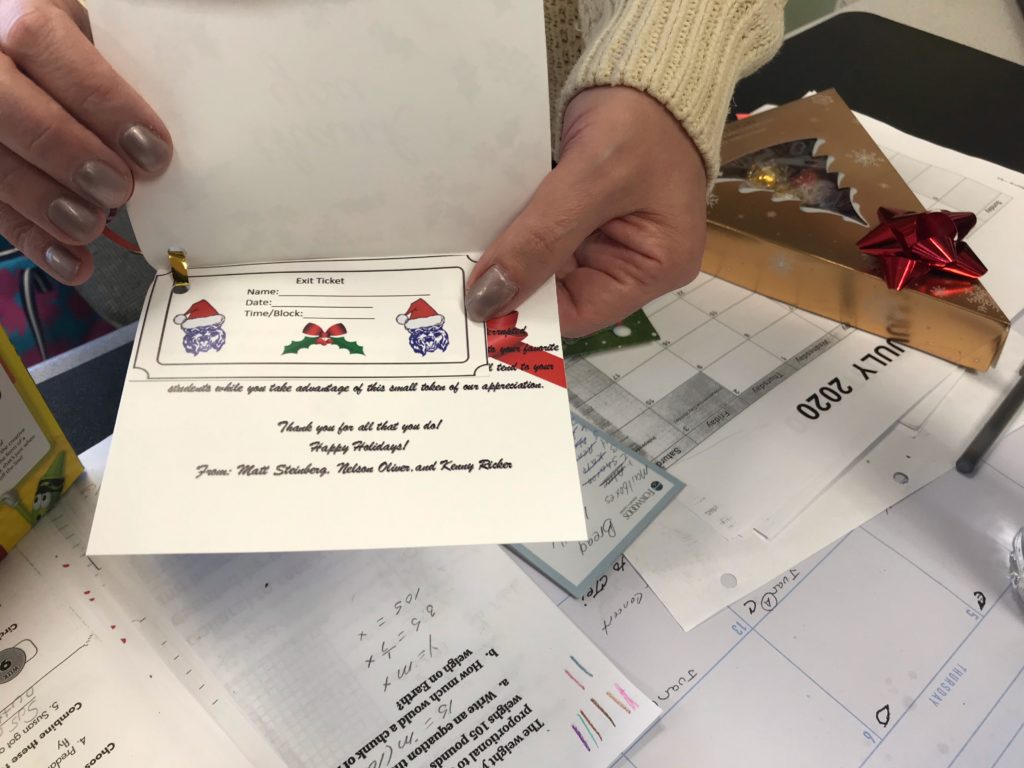 Toyz for Joy
I have one more thing that I wanted to share. The Youth Venture team Toyz for Joy held their bake sale fundraiser. They will help children in foster care and are partnering with an organization called Fostering Change. Their plan is to put together gift bags and activites for foster kids.  Based on these photos that Francine shared with me, I would say that their bake sale was a big success – just look at that line of students!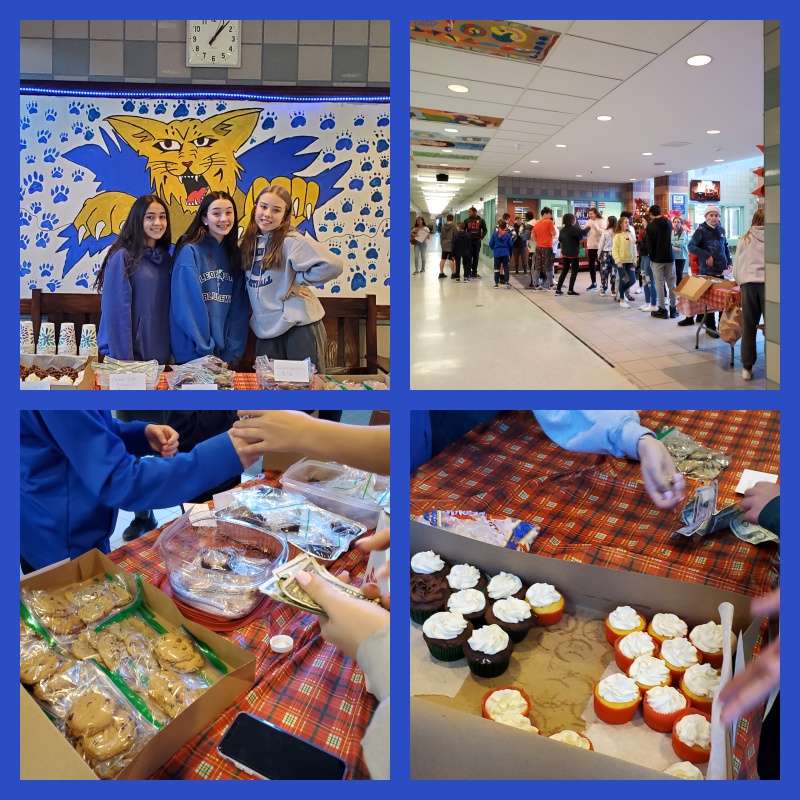 Changemaking in Action
Throughout the day, I witnessed Changemaking, teamwork and empathy. It is days like the Samoset "Day of Caring", along with Samoset implementing a full day of Youth Venture workhops for the second year, which provide a foundation for Samoset students to gain the skills and values necessary to become powerful changemakers!