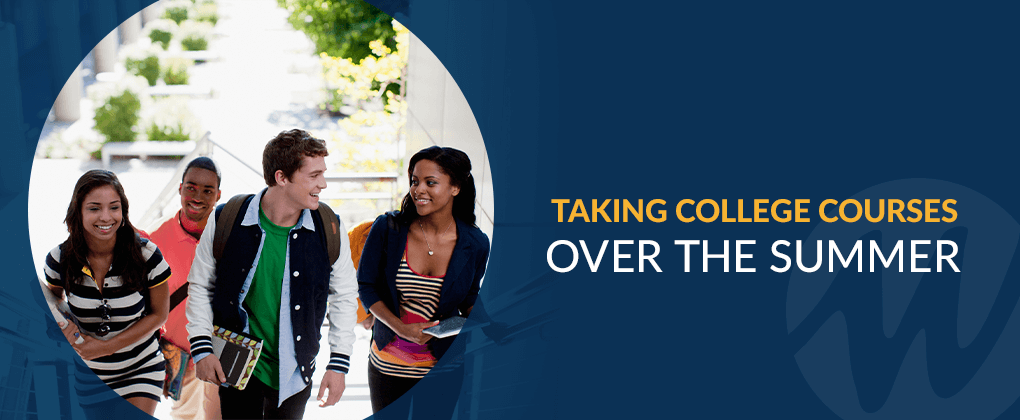 Whether you're a high school student looking to build your college application or a current college student trying to graduate early, taking a summer class is an excellent way to keep your brain thinking and save you money on tuition.
College courses are more rigorous than high school classes, and summer courses can be more intense than traditional semester classes. Always be sure you can handle your workload and avoid taking so many courses that you feel overwhelmed.
Reasons to Take Summer College Courses
You should take summer classes in college if you want to get a head start on your education or if you're looking to finish it early. Along with having the opportunity to make more connections, you can also help your brain stay sharp before the fall semester.
Reasons to take summer college classes include:
Finishing core courses: Many students prefer to take their core courses over the summer to fit more program classes in their fall schedule. Summer courses can be prerequisites that you need to take before your scheduled courses or general education classes that may otherwise take over your schedule.
Small class sizes: Summer courses generally have a much smaller class size, meaning you can find a better seat in the classroom, parking on campus and fewer people in the library and other resource rooms. You may even find it easier to meet new people when there's less going on.
Making connections: Small class sizes are also great for promoting more relationships. You may have more opportunities to speak with your professor when fewer students are around or decide to ask a classmate to join you for coffee after a session. Either way, you have more opportunities to stand out when fewer people compete for the same attention.
Fewer distractions: If you take one or two summer courses, you'll likely find it easier to focus. It can be easy to get stressed about how much work you have during the regular semester, but one or two classes at a time are much easier to manage.
Saving money: Many colleges will offer less expensive courses during the summer, meaning you can save money on tuition in the long run. Classes at your local community college are generally cheaper than those in four-year institutions. Additionally, online summer courses also make it possible to study while you're at home. You can save gas money on the trip to campus and the food or drinks you usually purchase while you're there.
Getting ahead: By taking a few summer classes throughout your academic career, you can earn enough credits to graduate early or pick up a dual minor or major without staying in school for another year. Graduating early is perfect for those looking to jump into their career or wanting to take a trip before starting a new job.
Continual focus: It can be challenging for some students to jump back into school mode after months of minimally exercising their brains. Taking a class over the summer is a great way to keep your brain in school mode and make it easier for you to return in the fall.
How to Take Summer Classes at Community College in High School
Deciding to take community college classes over the summer is a great idea for high school students who want to get ahead. Community colleges are excellent places for high school students to have dual enrollment because they can save you money on tuition and, depending on where you live, may be closer than your chosen university campus. In general, it's best to discuss course options with an advisor to be sure you're taking the right classes.
A high school student can take college classes in the summer to apply credits to high school graduation or a degree program. Community colleges are typically the better option for enrollment for high school students because they're usually closer and don't cost quite as much as traditional universities.
High school students looking to take a summer college course should check with their high school or college advisor to determine what classes will count towards the credits they want to earn. Because not every course will transfer, you must know you're putting effort into the classes that will further your academic career.
Here are the steps to taking a summer college course at a community college:
Discuss what courses you should take if you need high school graduation credits with an advisor.
Reach out to a college advisor if you want college credits to determine the best courses to take.
Review transfer policies if you will be taking a course from an institution other than the one you've committed to.
Receive written approval for the substitution.
Apply for the institution you want to take the courses through.
Register for your desired course.
Taking Summer Classes at Another College
Occasionally, students find themselves needing to take a specific class. Some colleges have precise schedules for their courses, and if you decide to take a semester off before starting or during college, you could find yourself in a tough spot where you need to make up the difference to stay on track.
Prerequisites might be stopping you from taking that one class that's only scheduled in the fall or a course that is only available every few years, such as an interesting workshop. Although many colleges will allow substitutions to aid you, sometimes taking a class at another college is the better option.
Steps to taking summer classes at another college:
Find an equivalent course sheet from your institution's website.
Review your school's class category pages to find when equivalent classes are offered.
Check with your advisor that the class is a suitable substitution.
Obtain written transfer approval and be sure to submit it to the necessary office.
Apply for admission if the other college requires you to do so before enrolling.
Complete any necessary forms and information from your primary institution or secondary one.
Register for your desired class and pay any outstanding tuition balance.
Obtain a parking permit and photo ID if you're taking the course on campus.
Request your official transcript after completing the course to transfer the credits.
How Many Summer Classes to Take
There is no written rule about how many summer classes you can take in college. However, you may want to avoid taking so many that you get overwhelmed. Summer courses are almost always shorter than traditional semester-long courses, and you receive a lot of information throughout their duration. Financial aid is available in the summer to those who qualify.
If you've chosen two classes that take place during different times in the summer, you could consider tacking on an extra one. However, keep in mind that you may feel like you're missing a large portion of your summer and that your class time can affect a summer job, vacation plans and relaxation opportunities.
If your courses happen simultaneously, you want to avoid getting overwhelmed with the influx of information. It's best not to treat your summer as a bonus semester where you take five classes because you'll have much less time to complete all your work.
Furthermore, many universities won't permit you to retake a course from another university, so you'll need to be sure you take one that's right for you. Most colleges want to help you succeed in your education and will accept various substitutions for your courses, but you should never assume a credit will transfer. You should always talk with your advisor and receive written approval before enrolling at another institution.
Take Summer Class With Mount Wachusett Community College
Mount Wachusett Community College is a public two-year college in Massachusetts. We value each student as a person and recognize that people excel at different things, so we offer many resources to help our students succeed.
We're committed to giving our community an affordable education that can take you places. With more than 70 certificate programs and associate degrees, we can help you take the first steps toward your career. Whether you're looking for a complete program or a few summer classes, we have plenty of courses to choose from.
You can easily apply to the Mount or enroll in our summer courses and start getting ahead in your academic career, or request more information to learn what we can do to help you reach your goals.