Each year our Veterans Services department hosts a Veterans Breakfast to honor all of the students, staff, and faculty who served.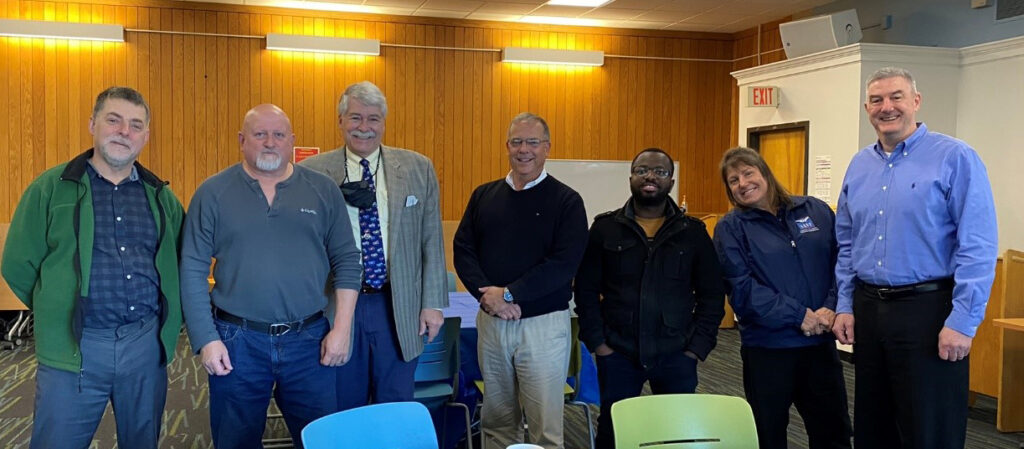 This year had a special twist when our Director of Veterans Services, Robert Mayer, was invited to be the speaker at the Fitchburg Veterans Day Ceremony at the Fitchburg Armory. Former Staff Sargeant Mayer shared with the assembled crowd his feelings that his service had been uneventful, having never served in combat, and feeling that other veterans were more deserving of the term because they did so much more.
"Since I began working with student veterans, over twelve years ago, I've learned that my situation is not uncommon.  Far too many veterans are reluctant to apply for and accept the helpful benefits they have earned.  An all too common phrase I hear is, "There are many veterans far more deserving than I!"  I respond by trying to make two points.  'First, you earned those benefits by your service to your country.  Second, accepting benefits that you earned doesn't take them away from anyone else.'" Mayer told the crowd. "I don't think I have ever heard a veteran diminish or dismiss the service of another veteran.  It is only the veteran in the mirror that does that and does it all too frequently."
He continued, "Some may ask, "why would non-combat service still be worthy of high respect?"  The veterans listening to me already know, nonetheless, let me try to briefly explain.  All members of the military stand ready to serve wherever they are ordered to serve.  Now when I say, "Stand ready" that doesn't mean just sitting in a chair waiting, something an old drill sergeant referred to as "Smoking, joking and hanging around!"  No, it means training.  Training is not a big word, but it has a very big meaning in the service.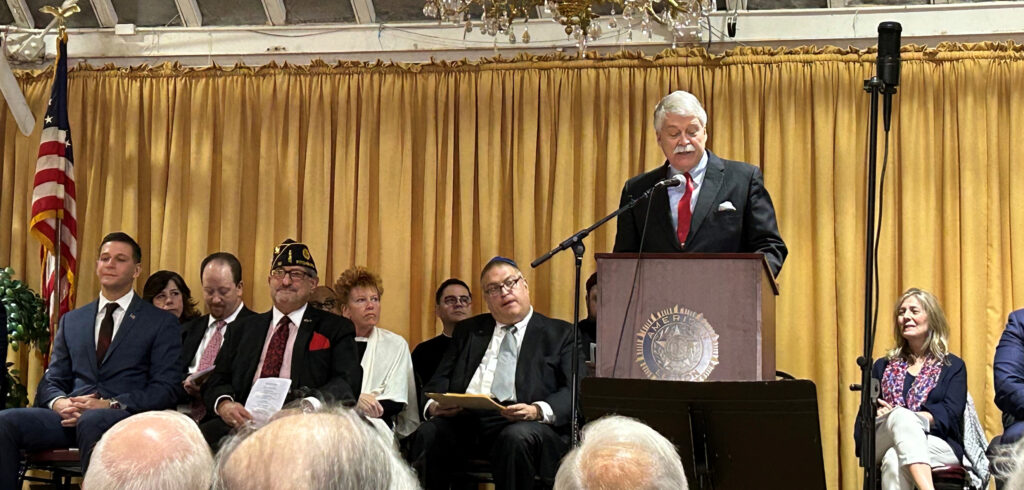 "The United States has the best-trained military in the world.  Often, when combat veterans retell a story where they did something extraordinary in a harrowing situation, you will hear the phrase, "my training kicked in."  That's because the training is extensive and done under difficult conditions. Thus, the training itself is often quite dangerous.  Even in my own unremarkable military experience, two men in my division were killed when they were struck by lightning during training. Training doesn't stop because the weather gets bad. That same day, I was in a three-quarter-ton radio truck sending a teletype message.  (Those of you older can explain what "teletype" means to your younger friends and colleagues.)  My radio truck was also struck by lightning.  However, as I was trained, and I had trained the members of my platoon, we had driven a long thick copper rod into the ground next to the truck.  Then a thick copper wire connected the rod to the truck. It wasn't convenient, but it was what was supposed to be done.  Because of that training, all I noticed when lightning struck the truck was that the lights blinked, and as a result, now you have to listen to me.
"It was only recently that I was forced to consider my own service as more than "unremarkable."  At a veteran event just a few years ago I was visiting other veteran service providers at the event.  Two older veterans asked me about my service because they knew I was old enough to be a Vietnam Era veteran.  (Frankly, how they knew that, I have no idea.)  They said that they wanted to present me with a Vietnam War pin honoring my service.  I said, "But I didn't serve 'in-country.'  But, the Paris Peace talks were signed before I even got out of AIT."  They kindly, but firmly, told me to shut up and listen. Wisely, I did as I was told.  These two old grizzled veterans, who did serve "in-country" proceeded to stand at attention and read the proclamation honoring my service. Then they both saluted me. Are you kidding me?  These two men who I respected enormously were saluting me!   It was the first time I let anyone acknowledge my service as important and meaningful.  I had great difficulty holding back the tears.  I didn't realize how much it meant to me.
"So, on this Veterans Day, let us all honor all veterans who signed on the dotted line, whether they served in combat or were merely ready to. And for all of those who did not serve in combat, please give that veteran in the mirror a break.
"And, now, a potential answer to my question, "Why me?" Why of all the other deserving and accomplished veterans should I be here speaking with you? Perhaps I should be the one to remind us all, even those of us with mirrors, that all veterans have earned and deserve our respect. My own service, which for decades I considered unremarkable, began in the Massachusetts Army National Guard, in this very building, almost exactly 50 years ago. Neither the building nor I have changed a bit!  Though, oddly enough, my dress greens have shrunk two sizes."
Bob Mayer is a native of Fitchburg and served as an air traffic controller and communications platoon sergeant in the Massachusetts, New Hampshire, and Connecticut Army National Guard. He has served veteran students for the past 12 years as an educator and Director of Veterans Services. Additionally, he founded the North Central Veteran Service Providers Alliance as a way of keeping Massachusetts veteran services providers informed of their collective services.