Insight Timer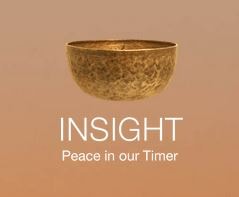 Android
Description: Home to more than 1,450,000 meditators, Insight Timer is rated as the top free meditation app on the Android and iOS stores.
Relax Melodies
Android
Description: Can't sleep? In 20 minutes you will, or less. Introducing the most popular sleep aid app! Start sleeping now and enjoy full nights of sleep like you haven't in a long time! Here's how it works: Select sounds and melodies that you like and combine them to create a mix. Adjust the volume of each sound individually for better results. Lay back, listen, and enjoy falling asleep. Is that simple and it works. Use timers and alarms if needed. Try different and new mixes every time! Can also be used in many other situations. Perfect during some of your favorites activities such as relaxing at the spa, exercising in your yoga or relaxation classes, massaging sessions, or even when taking a nap! For parents, the ideal to help your baby fall asleep!
Meditation Timer Pro
iPhone
Description: No matter if you are going to join meditators, a beginner or practice meditation for a long time, Meditation Timer Pro can help you do it better. You can just focus on meditation without thinking about the time. Meditation is a classic, simple and inexpensive way to lead you into wonderful state of inner peace and inner calm, and it helps to keep you relax from anxious, tense, worried etc and also stress reduction, meditation enhance your physical, mental and emotional wellbeing. With Meditation Timer Pro, you can practice meditation anywhere and anytime.
Omvana
Android
Description: Omvana is your personal meditation and mindfulness teacher. More and more evidence proves that meditation has many benefits like increased happiness, better sleep, healthier lifestyles and decreased stress levels to name a few.
Take a Break!
Android
Description: You can enjoy the deep relaxation, stress relief and benefits of meditation now with this app by Meditation Oasis™. Featuring two popular meditations from the the Meditation Oasis podcast, the app gives you the option to listen with or without music or nature sounds. You can also listen to the relaxing music and nature sounds alone.
Headspace
Android
Description: Headspace is meditation made simple. Install today to learn meditation and mindfulness in just 10 minutes a day. If you enjoy Take10 and want to learn more, then you can choose to continue and get access to hundreds of hours of original meditations. These include guided and unguided lessons and range from 2 to 60 minutes long.
Calm
 Android
Description: Relax with Calm, a simple mindfulness meditation app featured in the New York Times and LifeHacker, that will bring more clarity, joy, and peace of mind into your life, at work or at home. Fall asleep faster with over 25 soothing calming sounds which relieve you from outside stress and anxiety. A recent brain imaging study published in a Harvard journal concluded that "mindfulness meditation sessions alter regions of the brain associated with memory, awareness of self, and compassion."
Smiling Mind
Android
Description: Smiling Mind is meditation made easy. A simple tool that helps put a smile on your mind anytime, anywhere and everyday. Smiling Mind is a unique web and App-based program developed by a team of psychologists with expertise in youth and adolescent therapy, Mindfulness Meditation and web-based wellness programs.
MINDBODY Connect
Android
Description: Book Your Best Day. Every Day. MINDBODY is the easiest way to book everything from yoga, Pilates, group fitness, massage and more. The app consolidates schedules, reviews and deals for businesses near you, anywhere you go. Manage your schedule and access your passes—all in one place.
Download Meditation or Relaxation Audio Files
Breathe2Relax is a portable stress management tool which provides detailed information on the effects of stress on the body and instructions and practice exercises to help users learn the stress management skill called diaphragmatic breathing. Breathing exercises have been documented to decrease the body's 'fight-or-flight' (stress) response, and help with mood stabilization, anger control, and anxiety management. Breathe2Relax can be used as a stand-alone stress reduction tool, or can be used in tandem with clinical care directed by a healthcare worker.
*You will be leaving Mount Wachusett Community College's website and accessing another college's website. You will be responsible for abiding by their acceptable internet usage policies.