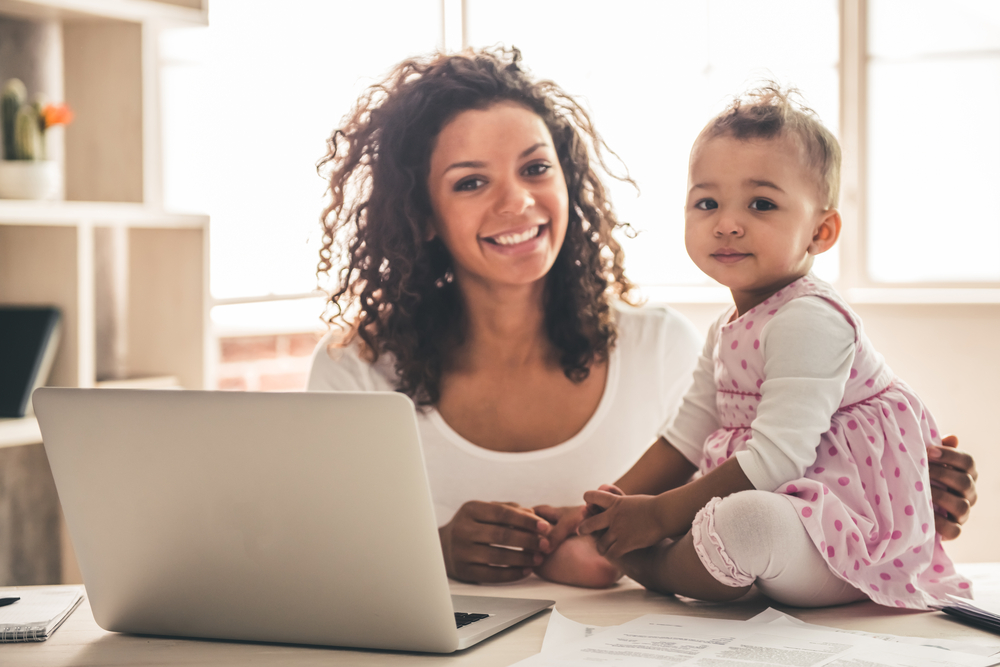 "I had lived with the lie that I was never going to be anything more than a food service worker and I had settled," said Lisa Ferrara-Caron. A mother of six, she was working at a restaurant as an office manager and did the books.
After her husband noticed her interest in accounting and encouraged her to apply, Caron made the decision to return to college. She will graduate from Mount Wachusett Community College with a degree in Business Administration in May 2019.
People who are considering whether or not to return to college may wonder if it's even possible to go to school while raising and providing for a family. But MWCC students like Caron are proof that success is within reach.
How do they do it? Here are some of their best tips and advice for parents returning to college.
Tip #1: Join Clubs & Make Friends
"Being with like-minded, driven individuals will help keep your motivation and drive alive," said Wetherby. She belongs to the Parents Club and Graphic Design Club and will graduate with an associate degree in Graphic & Interactive Design in May 2019. "Being in these clubs has helped me meet new people who have become lifelong friends, who also have children. They reassure me that yes, I can still accomplish my dreams."
"Being back in school has shown me that I have leadership qualities," added Caron.
Tip #2: Put Your Schedule in Your Phone
Write out all your classes in a planner or on your phone's calendar app, Wetherby advises. That way when school events, sports, holidays and family commitments come up, you are prepared to schedule around your classes, finals, and work hours. "This is something I do every semester because I get so busy and don't want to overbook myself to commitments I cannot keep," she said. Registering for next semester's classes as soon as possible is also a good idea because you're more likely to get classes on the times and days you prefer, she added.
Tip #3: Get Help from Family & Friends
"Sometimes you will need to be at school early to study before an exam or prepare for a final presentation. Sometimes you may need to stay late to work on a group project," said Wetherby. "Reach out to friends and family and let them know your plan and that you will need their help."
"Your family is your biggest support network. They understand that it is a stressful time for you, but they want to see you succeed and will be your biggest cheer squad once you finish," said Caron.
Tip #4: Talk to Your Professors
"Your child will get sick — and so will you — over the years it takes to finish your degree. It happens. As long as you keep your professor or advisor on the same page, they will work with you. Most of them are parents themselves and understand," said Wetherby.
"Don't be afraid to ask questions, especially when it comes to your professor's expectations. You may think they want something one way but it will never hurt to get clarification," said Caron.
Tip #5: Keep Your Goal in Mind
"Yes, school will be more challenging for you than for the average student," admits Wetherby. "There is a certain amount of guilt that comes to each of us, but you can't let it get you down," advises Caron. "There is a wonderful reason that you are stretching your time so thin – your family. They are watching. No matter what, they will remember how hard you worked to make their lives better."
"Creating a future for your family better than the one you have now is the best thing I have ever decided to do," said Wetherby. "Being that role model your child can look up to is worth every second."
Tip #6: Take the Plunge and Do it
"I would say if you are thinking about it, you are halfway there. If you are unhappy where you are, fix it! You have the will and the power to do it. Listen to your gut. Make the change," said Caron.
"I know that I made the best choice when I chose MWCC," she added. "I would have never thought 3 years ago that I would be graduating with so much more than an associate's degree. "Now I am looking forward to not only pursuing my bachelors in Accounting, but also to earning my CPA."
---
About the Author:
Aisha Schor is a Media Communications major at MWCC. She is a contributing writer for the News Center.