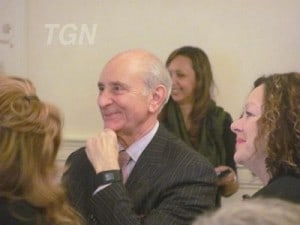 GARDNER  – The Gardner Visiting Nurses Association HealthCare honored Mount Wachusett Community College President Dan Asquino for his longtime connection with the agency, at its annual meeting, which was well-attended by community leaders.
"It's a unique situation with Dr. Asquino retiring this year. We thought we'd take the opportunity to publicly thank him," said GVNA President and CEO Elaine Fluet. The event was held at the Colonial Hotel on Tuesday evening.
The occasion marked a time-tested combination between the GVNA and Asquino – he is the longest-tenured public higher education president in the state, and the agency is celebrating its 110th anniversary this year, still succeeding as an independent nonprofit organization in the city.
Since he started as president of the Mount in 1987, the work done by the college to educate and train health care workers has been a natural and mutually beneficial fit with GVNA. "Dr. Asquino has always been responsive to recognize work force deficits," said Fluet.
"In essence, he's been a great partner to GVNA."  She said "there's a laundry list of things he's done" for the agency, including participating in its executive leadership breakfast.
Asquino said the Mount's programs centered on health care such as nursing are among the most popular at the school and part of that success is that students "develop a connection with the people who need them the most."
"These really are the programs that get good-paying jobs," he said.  GVNA also recognized the contributions of its employees. In total, 21 employees were honored, including three that have served for 20 years; Murielle Conway, Anne Frawley and Elizabeth Napolitano.
"These days, it's unheard of to stay at a job for 20 years.  It's been such a wonderful agency to work for.  I can't imagine being anywhere else," said Conway.  She is a registered nurse who works as a program director for the agency's adult day health programs, overseeing the day-to-day operations of staff and ensuring patient needs are met, describing her job as "making sure things go smoothly."
Mayor Mark Hawke was among the dignitaries who spoke, telling an anecdote about his mother's appreciation for GVNA nurses and saying the city is "very fortunate" to have both GVNA and Heywood Hospital.  In her speech, Fluet emphasized the agency's growth and pride in still being an independent agency at a time when that is not easy.
GVNA Board of Directors Chairman Andrew Boucher acknowledged Asquino before the crowd, calling him a "very special friend" and "philanthropic partner" while also highlighting the Mount's growth in academics and size since Asquino's arrival.
"In that spirit, his contribution to the community has been legendary," said Boucher.  Asquino said the positive relationship between the Mount and GVNA started 25 years ago when the Mount was working to open its fitness center.  Both the GVNA and Heywood Hospital helped fund the effort, recognizing the benefit of exercise. "That's so important, preventive health care," he said.
Andrew Mansfield, The Gardner News, March 23, 2016