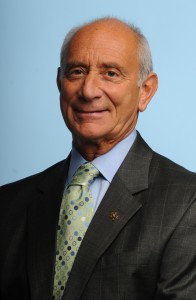 With the start of 2015, we continue a transformational era at Mount Wachusett Community College.
Just a few years ago, we reached a pinnacle of our renewable energy portfolio with the construction and activation of two wind turbines that together are meeting all of the electricity demand on our Gardner campus. Wind energy followed on the heels of a biomass heating system, solar-powered hot water and significant conservation measures, and within a decade our college transformed from a costly energy consumer to a nationally and state recognized leader in cost-effective sustainability.
This spring, we eagerly anticipate breaking ground on our new $40 million science and technology building, which will allow us to continue growing our science, technology, engineering and mathematics programs. Coupled with innovative, new STEM courses, generous scholarship opportunities and seamless degree transfer pathways, students are benefiting from a quality, more affordable academic foundation leading into high-growth career sectors.
As exciting as new construction is, there is more than a physical transformation underway at MWCC.
With each community service learning project, act of volunteerism, and civic-building activity performed by our students, our positive impact on the cities and towns in North Central Massachusetts, the commonwealth, and our country expands.
Our students, faculty and staff who continually seek new and greater ways to meet the real needs of real people and real organizations within our communities and our world, are key to this transformation. In fact, their endeavors, guided by our outstanding Center for Civic Learning and Community Engagement team, have placed MWCC on the national map as a leader in this growing movement  in higher education. We recently earned continued standing on the prestigious Civic Engagement Classification from the Carnegie Foundation for the Advancement of Teaching and on the President's National Higher Education Honor Roll for Civic Engagement.
During the last academic year, more than 144,000 hours were devoted to service learning, internships, practicums and volunteerism, representing a dollar value to our communities of $3.5 million. Consider the difference that has made on the lives of countless individuals and nonprofit organizations within our area! Now imagine what things would be like today without the involvement of our engaged faculty and our students, who carry these experiences and values with them after graduation.
Our student support services and program delivery have also transformed to meet the needs of 21st century learners, from veterans and military families, to students of all ages seeking creative, tailored solutions to traditional academic paths, to the companies and industries seeking skilled workers to grow their businesses.
In recent weeks, the strength of community colleges like MWCC again gained national attention with President Obama's proposal to make community colleges free to students who maintain good grades and stay on track to graduate within three years. The America's College Promise proposal emphasizes the need to transform national education priorities to avoid a critical shortage of college-educated citizens in comparison to other world leaders, by creating a free K-14 system as the new norm.
Through our long-standing partnerships with area K-12 school districts, are already making tremendous progress in this regard. In a newly released report, the Rennie Center highlights our Gateway to College, Pathways Early College Innovation School, Robinson-Broadhurst Career Tech and other dual enrollment opportunities for their success preparing more teens for rigorous college-level work while still in high school.
While the details and implementation of the President's proposal remain a matter of national debate, the proposal again raises greater awareness to the major role community colleges play in the economic vitality of our country, and in the investment we as a nation must make in the people who shape our communities.