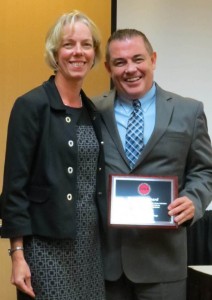 Gregory Clement, assistant dean of student services, is the recipient of this year's Founder's Award, which is presented annually to a Massachusetts student affairs professional whose dedication and hard work advances the goals of the Community College Student Life Association.
MWCC Executive Vice President Ann McDonald presented the award to Clement on Oct. 11 during the CCSLA annual conference, held in Framingham. In presenting the award, she highlighted many of Mr. Clement's accomplishments, including serving as the CCSLA president for two years. He is also a recipient of the 2011 Outstanding Diversity Achievement Award from the National Association for Campus Activities; a recipient of the Commonwealth of Massachusetts' Employee Recognition Program Employee of the Year Award; the National Institute for Staff and Organizational Development Excellence Award; and a two-time recipient of the National Association for Campus Activities Staff Programmer Award.
Mr. Clement, who has extensive experience in public higher education including the past eight years at MWCC, has "a widespread impact on both students and professional staff alike," Ms. McDonald said. Mr. Clement created MWCC's popular Leadership Camp program and Leadership for Life series, which incorporate civic engagement activities and leadership training and workshops, and has assisted students in numerous successful fundraising efforts for a variety of charitable organizations including ALS research, Habitat for Humanity and Houses for Haiti.
"Perhaps the most significant rationale for Greg's receipt of this award is his commitment to students and to his profession," Ms. McDonald said.