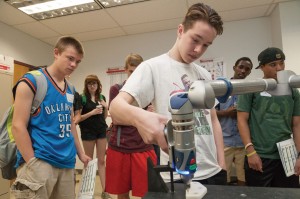 Teenagers and young adults, career changers, employers and business leaders were among those participating in Mount Wachusett Community College's hands-on Manufacturing Career Expo at the college's Devens campus.
The May 28 expo showcased regional job openings and career advancement opportunities, as well as training programs to help students enter or advance in the field. Attendees had the opportunity to learn about free training programs, explore career paths in modern manufacturing, participate in hands-on demonstrations, and meet local employers, recruiters, service providers, and MWCC admissions representatives. Biotechnology, mechatronics, women in technology, 3-D printing and robotics and quality systems were among the featured presentations.
"These students are all into robotics and they are definitely STEM-driven," said Gardner High School Guidance Counselor Christine Leamy, who brought a group of sophomores and juniors.
MWCC offers several noncredit programs, currently grant-funded and free to participants, as well as academic certificate and associate degree programs in the fields of advanced manufacturing, biotechnology and biomanufacturing and other science, technology, engineering and math-related fields.
For the upcoming year, the noncredit programs are free to qualifying students through a Trade Adjustment Assistance Community College and Career Training (TAACCCT) grant from the U.S. Department of Labor, Employment & Training Administration.
A six-week Industry Readiness Training program was developed with industry employers to prepare students for entry-level to mid-level jobs in the local, diverse advanced manufacturing industry. The program is designed especially for unemployed or underemployed adults, veterans and recent high school graduates who want to train for careers the manufacturing industry. Programs provide students with training in skills required for entry-level employment in positions such as technicians in manufacturing, validation, quality control, documentation, and process operations.
Students who successfully complete the program earn an MWCC Certificate of Completion, an OSHA 10-hour Safety Certification and the National Career Readiness Certificate, while learning about working in the fast-growing manufacturing field.
A two-week Quality Systems Training program prepares students for jobs in quality assurance and quality control for a variety of manufacturing industries including biopharmaceutical processing and medical device manufacturing.
Classes are forming now for free, six-week Industry Readiness Training courses and free, two-week quality systems training courses that begin in July, September and November. For more information and to register, visit mwcc.edu/advancedmanufacturing or call 978-630-9883.