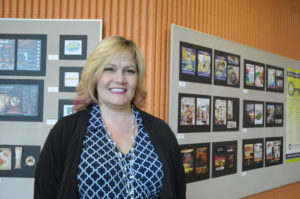 Barbara Logan will be graduating on May 23 from MWCC with an Associate's Degree in Interdisciplinary Studies. What follows is a message from her to the class of 2019.
Good Afternoon Fellow Students, Faculty, Staff and families. Thank you for joining us to celebrate this milestone today. My name is Barbara Logan and I am proud to be a graduate of Mount Wachusett Community College. The question I was asked to respond to was 'what does MWCC mean to you? It seems like an easy enough question. Community is what MWCC means to me. It's what says it all. Here everyone has the opportunity to embrace a dream and make it a reality. This truly is a place of community.
Some of you have attended diligently for 2 years and may now be ready to move on to a 4 year school to continue your education. Some of you, like myself, have chipped away at your education while working and parenting. What matters is that you have succeeded! You have accomplished a goal that does not come easily. High school is required, college is not; but you have made the choice to continue to move forward with the confidence that will come with knowledge. As Oprah Winfrey said "[N]o matter what challenges or setbacks or disappointments you may encounter along the way, you will find true success and happiness if you have only one goal, there really is only one, and that is this: to fulfill the highest most truthful expression of yourself as a human being." Becoming the best you can be is a lifetime goal and you are headed in the right direction with the foundation you have built here. Whatever we build from here on will stand strong in the future!
I was raised by a single, hard-working, first generation Hispanic mom in Upstate New York. I was a responsible latch key child. Trust me, I was responsible or else! Off to the corner I went to think about 'it' or to my room…(I got to know the corner very well as well as learning the art of self-reflection). Although my mother cannot be with me today I want to thank her for her lessons on hard work and responsibility. Thanks mom!
When I first came to Mount Wachusett Community College I was new to the state. I was newlywed, did not know the region, and did not have any friends in the area at the time. Then I found out I was expecting a baby. Now, at the time I did not know anything about children so I figured, I should probably go take a class. That was it. I was hooked. I started with a Brain Development course and continued on to an Early Childhood Certificate then business courses. Because of my involvement here I was able to open my own home day care business and provide for my family for a decade and still I knew I could continue to further my education at any time by returning to Mount Wachusett Community College. It's never too late or too early! It truly is not a race but rather a journey with many paths to choose. We have all been fortunate to choose this institution.
Mount Wachusett has become a central part of my family and in many ways I am sure it has become so for you too. You now and forever will be a part of this family. As an Alumnus you will remember this time as your starting point, as it has been for many throughout the years like our prestigious Mayor Hawk and many, many more.
For many of our students, community college was the second chance — or perhaps the only chance — at higher education. That makes it a very special place to be. Today I am graduating with an Interdisciplinary Studies degree. Not only did I accomplish this but I have formed a great support network and am now even a part of the staff here in the Admissions department! Thank you for the encouragement from every one of my brilliant co-workers and for the mentoring I receive every day from our amazing Dean of Admissions and Enrollment, Marcia Rosbury-Henne. I would also like to give a special thanks Christine Davis, the Director of College & Career Alignment for pushing me out of my comfort zone and helping me to complete my degree. (If you don't know what you want to be when you grow up – go see Christine!) Most of all thank you to my family. My wonderful children and my patient fiancé Jeremy Thurber. Without everyone's support I would not have come to this day! This truly was a community effort!
There isn't anything better than being able to help students of all ages, from juniors in High School to our village senior citizens, embark on the journey that is continuing education. By improving upon yourself you can become a positive force in your family, your neighborhood and the community.
There are 3 things I would like you to remember today as you move forward:
1. Challenge yourself to always commit to continued growth and self-improvement.
2. Overcome adversity with dignity and pride.
3. Stay focused on achieving your goals and you will find success every day.
Three children later, my first son is now 21 and here I am speaking to you. I would have never predicted that MWCC would become such an integral part of our lives and I am forever grateful for the friends I've made along the way as I am sure you will be too. Best of luck in your future and enjoy this milestone! Congratulations.