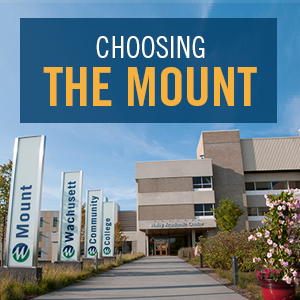 In my teens and twenties, I was in a bad place and never would have predicted that I would become the person I am today – someone who is succeeding by setting goals and achieving them one at a time. I had a rough start entering high school, I got mixed in with the wrong crowd, got high every day and was expelled from multiple high schools.
I had no desire to attend college, but made it a point to at least pursue and obtain my GED. In 2004 I achieved this goal by taking two sets of tests at MWCC and got my GED without having to take any additional classes. At that point, I was still living week to week and the drugs caught up to me and my friends. I slowly watched everyone I loved lose their own battles or fall victim to even further and harder drug use.
In 2008, I lost a very special person in my life, my brothers best friend Mike who was more like a brother. It would be about five years of continuing this lifestyle and using harder drugs before I was able to get sober with the help of my loving and caring family in the winter of 2013-14.
I started college in the spring of 2014 – it had been roughly 10 years since I had done any studying, but I kept at it. In January of 2015, two life-changing events happened: the business I worked for was closing its doors, so I was let go. Within a month, I lost my very own older brother, Chris, to his drug addiction.
I stopped going to classes and just wanted to  get stoned with friends to try and cope with the numbness and the void of losing my brother. It was later in that year that I decided I needed to make a change and I had to live for two—Chris and myself. I got sober and made the decision to not dwell on the past since I knew it could not be changed. I'm proud to say that I have been 100% sober since spring 2016.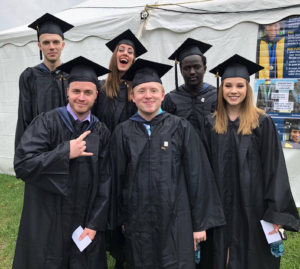 Shortly after, I met a string of professors who helped me with my studies, and without them even realizing it, my own mental well-being. Once I decided to turn my life around, I was greeted with an explosion of opportunities right at my fingertips. I grasped for every opportunity I could seize and I did so with fortitude. I am such a better man today for having done so. But not without the loving help and support of my family, as well as much guided help from the MWCC staff and faculty.
I want to thank everyone at The Mount who has helped me get to where I am today. With the support of many professors, staff, my family and friends I have made it to a point in life that I didn't think was possible just 5 years ago. Your unflinching dedication to me, my perseverance and my future has been crucial to my well-being and I can't thank you all enough. I will always remember those who helped me get to where I am today. I have had many life experiences that made me really distance myself from any kind of school setting, but now I am a choice student.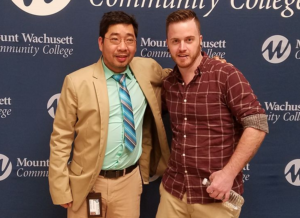 Dean of Students Jason Zelesky has helped me more than he could even possibly fathom, from listening to my story with a compassionate ear, to helping me get put back in good standing to gain back my financial aid and everything in between. My next thanks goes out to all of the amazing professors who teach at MWCC, most notably Dr. 'Sunny' Nguyen. He not only helped me academically, but also mentally. Since I rarely had good grades since middle school, I was leery about taking his class because it seemed so fast-paced and above my level of comprehension, but I took his classes anyway and pursued extra help. That became a lifelong friendship with one of the coolest and most caring persons I have ever met.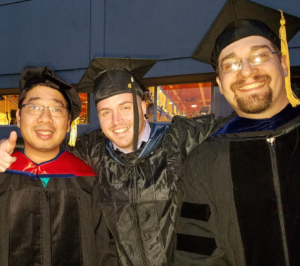 Next, I would like to add my appreciation for Dr. Peter Olszak who has done nothing short of amazing things by helping me with everything from classes, getting me to be one of the only students to try out a new software program he was testing for his classroom, to helping us with the astronomy club and just being an overall amazing person. Not only that, but with their guidance, and that of other professors, I was recently awarded TWO academic excellence awards for both Chemistry and Physics/Pre-Engineering. I am glad to have followed in their footsteps and am honored to call them my friends. They have been paramount to my success.
I would not have made it to this point without the MWCC professors and again I cannot thank you all enough. You have all been a valuable resource for me to utilize when needed and helped me to create networking and communication skills. Not only have you been professors to me, but also dedicated mentors and even friends. I cannot adequately express my gratitude towards you all and I will forever be grateful for the opportunities and knowledge that I learned from some of the wisest people I have ever met. Without all of these people I would still be in the same spot I was just a few years ago. You are ALL nothing short of amazing and I thank you – rock on!
---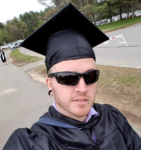 About the Author: Peter is a 2018 MWCC Chemistry graduate who will be transferring to a four-year university majoring in Mechanical Engineering and minoring in Astronomy or Astrophysics.