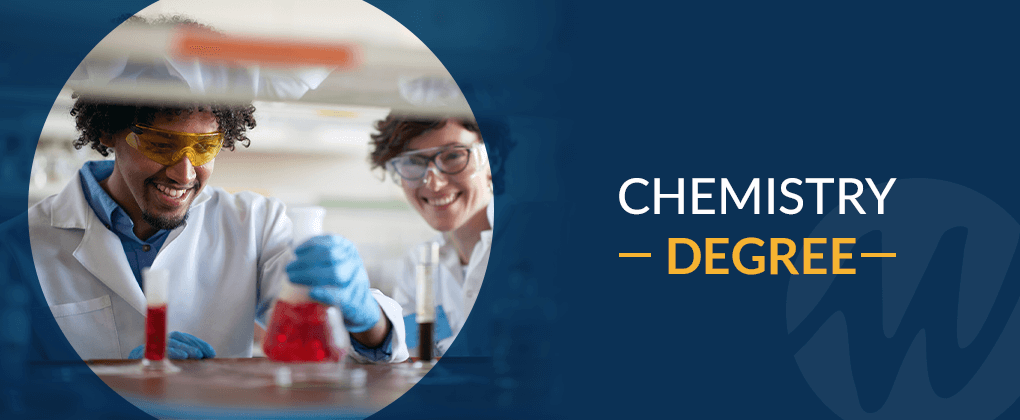 Chemistry Degree
Chemistry is not only a method of looking at the structure of this complex world we live in but is also a fundamental base for many sciences and careers. With the Chemistry Degree from Mount Wachusett Community College (MWCC), you'll receive the knowledge and lab training you need to progress in your career and education. You'll learn chemistry in an easy-to-understand context with real-world training from dedicated professors.
At MWCC, we provide quality education at an affordable price. You can prepare to enter the workforce with minimal debt from student loans and other college-related expenses. We offer student support services, including counseling and tutoring, so that all of our students have the tools they need to succeed.
Learn more about the Chemistry Degree at MWCC and how you can use it to jumpstart your career.
Why Earn a Chemistry Degree?
Chemistry touches all areas of our lives, from our food, medicine and overall health to the materials that help us modify the world around us.
Chemistry majors study the elements and compounds that make up our world and investigate how they interact to create various substances. In MWCC's Chemistry Degree program, you'll explore chemical reactions between elements along with their dangers or benefits. The curriculum covers math, science and essential lab skills. An associate degree in chemistry provides a strong foundation of knowledge and skills that can transfer to many other fields.
Prospective chemistry students should be interested in performing research and problem-solving to discover new ideas. You'll work independently and in teams to complete projects throughout your coursework. Successful students pay attention to detail and use the scientific method to guide their research process.
MWCC Chemistry Degree Program
The chemistry curriculum at MWCC covers the basics of general and organic chemistry and physics for engineering and science. It prepares students to enter the workforce or continue their education for an upper-level degree. Students build an arsenal of practical skills that apply to many other fields.
By the end of the program, our students will learn to:
Formulate questions about complex topics.
Gather and assess information to form reasonable conclusions or solutions.
Understand the literal and implied meaning of the language used in complex articles.
Identify a research opportunity, perform the necessary research and write an in-depth analysis of their findings.
Recognize the key ideas and events that have shaped and continue to shape society and the world around us.
Demonstrate the ability to determine accurate answers to popular questions relating to civic, economic and cultural affairs.
Collect, record and organize scientific data correctly.
Follow safety protocol in a laboratory environment.
Use scientific equipment such as glassware, measurement tools, microscopes, pH meters and other essential instruments.
Understand mathematical concepts that are essential in chemistry.
Students can graduate from the program with an associate degree in chemistry in as little as two years. Our chemistry program is based on STEM core requirements and MassTransfer benefits so that students can transfer seamlessly to a four-year institution to complete the requirements for a bachelor's degree. Students who complete the program with at least a B average are guaranteed admission to a University of Massachusetts campus or other Massachusetts state university.
Chemistry Courses and Hands-On Lab Experience
The chemistry program curriculum covers environmental chemistry, organic chemistry, instrumental analysis, general education requirements and more. Here are some of the courses you can expect:
General Chemistry
College Writing
Biology
Calculus
Organic Chemistry
Physics for Engineering and Science
You'll also be able to customize your experience by selecting professional electives that match your interests, such as cell biology, microbiology and genetics.
Our professors explain chemistry using simple terms and analogies to help students understand complex topics. Many of our Chemistry Degree program classes combine lecture and lab education, letting you learn about chemistry and its related fields in a hands-on environment. You can enhance your essential lab skills through experiments with:
UV (ultraviolet) spectroscopy.
pH scaling.
Infrared spectroscopy (IR).
High-performance liquid chromatography (HPLC).
We've designed this hands-on training to guide you through the chemistry degree requirements and create a strong foundation for future experiences.
Transfer to a 4-Year College or University for a Bachelor's in Chemistry
Starting your Chemistry Degree at MWCC can help you save thousands. Our tuition is a fraction of the cost of comparable chemistry college degree programs, so you can pursue higher education while keeping your finances under control.
Upon graduation, you'll have the knowledge and skills to transfer to the chemical-based science bachelor's degree program of your choice! The courses you complete at MWCC provide the necessary background to enter these programs as a junior. By meeting most or all of your general education requirements and earning an associate degree at MWCC, you can save money towards furthering your education in grad school.
A chemical sciences associate degree also provides the flexibility to switch to another major. MWCC chemistry students can further their education in chemical engineering, biological sciences, pharmacy and other related fields.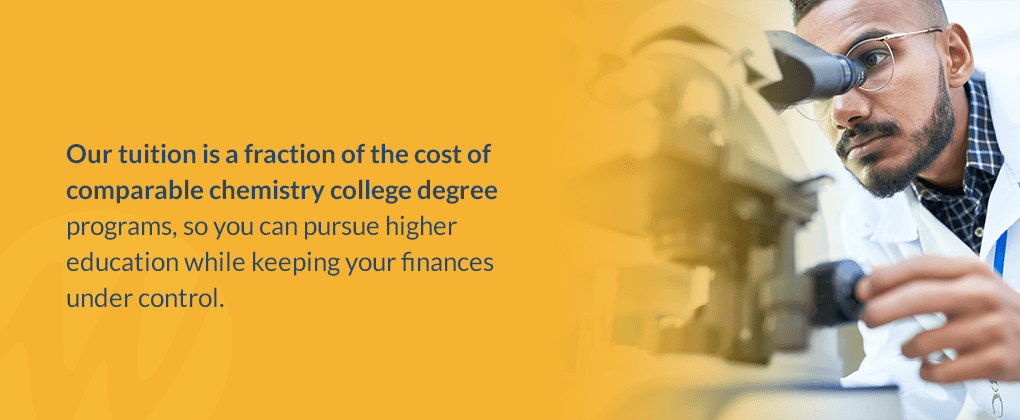 What Can You Do With a Chemistry Degree?
The chemistry program at MWCC prepares students for earning their bachelor's degree at a four-year university.
If you prefer to enter the workforce immediately rather than continuing your education, your associate degree will qualify you for work as a chemical technician. Technicians work in a lab or manufacturing facility using special instruments and techniques to assist chemists and chemical engineers. They make an average salary of $49,820 per year.
Those interested in expanding their career opportunities can work as chemical technicians while completing their bachelor's degrees.
The career pathways you can take with a bachelor's in chemistry are extensive. In 2020, about 92,400 people worked as chemists or materials scientists. This field continues to grow 6% every year, with a projected 9,100 jobs becoming available each year throughout the next decade. Salaries with a chemistry degree tend to be higher than average, at $79,300 per year for chemists and $99,460 for materials scientists.
Most people with a chemical science degree work in laboratories and offices. However, there are many other career paths you can follow. Here are some alternative fields to look for chemistry degree jobs:
Forensics
Pharmaceuticals
Physician's assistant
Agriculture
Teaching
Geoscience
Biological Sciences
Environmental quality regulation
Chemical engineering
People with a bachelor's degree in chemistry can continue their education further, earning a master's degree or Ph.D. in their field. With a Ph.D. in chemistry, you can become a medical scientist, biochemist, biophysicist or postsecondary teacher. The opportunities are endless!
Can You Earn a Chemistry Degree Online?
At The Mount, we offer a variety of online courses to make education accessible to everyone. Students juggling other important responsibilities can work toward their degree from their current location.
Many of the courses required for MWCC's Chemistry Degree are available online, including:
College Writing
Pre-Calculus
Apply for the Chemistry Degree Program at MWCC
At Mount Wachusett Community College, you can turn your dream of becoming a chemist into a reality. We understand the time and financial commitment that higher education requires, so we provide extensive student support services to help you make it work for your lifestyle.
Our Chemistry Degree program provides a well-rounded education to help you pursue a career or advanced degree in various science-based fields. Whether you're fresh out of high school, considering a career change or transferring from another institution, you'll feel welcomed and accepted at The Mount.
Contact us for more information or apply today to earn your associate degree in chemistry from MWCC!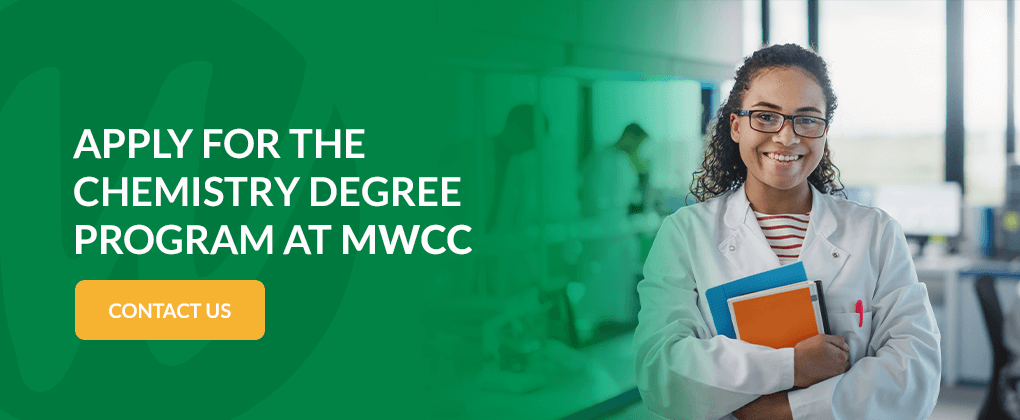 ---
Chemistry Department Chair
Carrie J. Arnold

Chair of Biology & Chemistry Department, Professor
978-630-9379
Devens Campus
carnold@mwcc.mass.edu
Teaches:
Microbiology
Industrial Microbiology
Anatomy & Physiology
Life Science for Allied Health