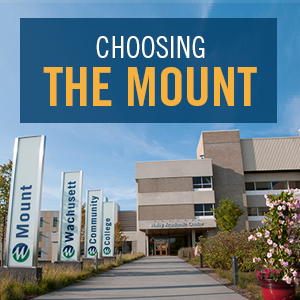 At home, I have a poster of Rosie the Riveter. For those of you who don't know who she is, she is a national heroine from the 1940's who empowered women and is known for saying: "You can do it." To keep myself motivated, I often find myself saying, "you can do it," several times a day.
Earlier in my life, I faced challenges that stopped me from continuing my education. Later, I was a single parent and felt that it was more important to support my daughter through college. She attended Rensselaer Polytechnic Institute (RPI) where she majored in biomedical engineering. Now it's my turn. I can do it.
Looking for personal growth, I made the decision to go back to school. Unfortunately, during this time I was diagnosed with Corticobasal Degeneration Syndrome (CBD). CBD is a progressive neurological disorder with no treatment or cure. It affects my speech and motor control and it will not get better.
Although my condition makes school harder, I find that my schedule makes me pay attention and helps me keep focus. My doctors and speech therapist are impressed I am even in school and encourage me to continue my education because it promotes brain health.
I will not let my condition stop me, I can do it.
Here at Mount Wachusett Community College, my fellow students have accepted and supported me despite my condition. You have all stood up for me and here at Mount Wachusett Community College, no one gets left behind.
I rely on a network of people to help me overcome some of my personal challenges. The Disability Services on campus help me set up my accommodations and advises me on which courses that I should take. All of the tutors in the Academic Support Center (ASC) are outstanding and I utilize them weekly.
I am also a member of the TRIO Leaders, a Visions leadership program, who has helped me establish my own leadership style. This allows me to communicate better and better support everyone I meet. I learned the responsibilities that I have as a leader at Mount Wachusett Community College and how to respect people for who they are. I can do it.
Here at Mount Wachusett Community College we are a community that supports each other, and together, we can do it!
As my condition continues to progress, it will become harder for me to be successful in school. Thankfully, technology can help me battle my condition. I am learning to use such technologies to assist with my speech. Such speech tools allow me to record my voice so that if I lose my ability to speak, I will still be able to communicate. I can do it.
Mount Wachusett Community College has given me the opportunity and courage to attend school again. I want to thank the staff and all my fellow students here at Mount Wachusett Community College, my doctors, my daughter, and my life partner. With all the support you have given me I found the strength to keep moving forward. I wouldn't be able to do it without you!
With the outstanding foundation that Mount Wachusett Community College has established, I plan to continue my education and major in business. Once I complete my final degree, I plan to hang a poster of Rosie the Riveter along with my diploma in my office.
Congratulations class of 2018! We did it!
---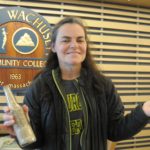 About the Author: Wendy Newcomb is a 2018 graduate with a Certificate in Manufacturing Technology – Mechatronics. She is also the owner of the Brew Dog Biscuit Etsy shop.