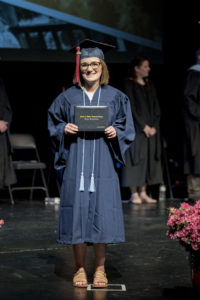 At the May 2018 Pathways Early College Innovation School and the Gateway to College graduation, four student speakers shared their story of having completed their high school degree and gotten college credits at the same time at MWCC. These speeches were given by the valedictorians from each program as well as a student from each program who was picked through an application process. We have gathered their full speeches together in a series we are calling Choosing MWCC Dual-Enrollment.
Student speaker Leah Swain entered the Gateway to College program in the Fall 2016 semester. She served as an at-large representative to the Student Government Association, is member of the National Society of Leadership and Success and is a recipient of the John and Abigail Adams Scholarship, based on her high academic achievement on the MCAS exam. Leah plans to complete an associate's degree in Early Childhood Education at Mount Wachusett Community College and then transfer to a four-year institution.
Her speech:
Good evening, thank you to all the friends, family, faculty, staff and administration for being here today; and of course congratulations to my fellow members of the class of 2018, we did it! If you're like me, you felt like this day would never come. No matter our backgrounds or history, we all made the decision to change our lives the day we chose Mount Wachusett Community College. Tonight I will share part of my story with you.
I always worked at a slower speed than my fellow classmates, and my grades were affected by those dreaded words "time's up" –but these grades were not reflective of my intelligence, only of my inability to get work done as quickly as my classmates. In 5th grade I was hit with the words, "You should just stop trying because you are going to flunk out of school anyways." These are the words of my teacher. Words that have stayed with me from that day on.
Fast forward to my freshman year of high school, and within the first few months I was diagnosed with a concussion, one that would last for at least six months. I was out of school, dropped many of my classes, and with the years to follow, fell into severe depression, which caused me to avoid attending class, and consequently, I fell behind in my credits. I was now on a 5 year track for high school graduation. As the perfectionist I am, I told myself that this is not the way it was supposed to go. I feared my 5th grade teacher's forbidden prophecy was about to come true. I should have just given up when I was told to.
In the spring 2016, my guidance counselor suggested Gateway to College, an idea I shut down immediately, it was not the way high school was "supposed to be." And yet that summer I was accepted into the program and made the decision to switch from my school and start at the Mount in the fall. I participated in Leadership Academy and literally made a break through—I successfully broke a board with my bare hand! I completed the ropes course for part of my orientation (although my foot did slip), and of course, once classes started I had FYE with David, and who could forget all your interesting stories during that class or the time in CPT class you ate the cricket I had brought back from Universal Studios—I will always be proud of you for this moment!) Spring 2017 semester starts and every semester David has a "speed mentoring" event for returning students to get to know incoming students. Anyone who was there may already know where this is going, but I made it through the whole event, before silly me decided I wanted to go over the desk instead of around. Next thing we all knew, the desk fell from under me, the back of my head hit the desk behind me, and I hit the floor—what a great first impression! I was rushed to Heywood Hospital, got released right at 5:00, "Just in time for my English class!" I thought; but as it turned out, not such a good idea to go from the Emergency Room directly to ENG102; and I had to, once again, drop many of my classes and go back on a 5 year track for high school graduation.
Fall 2017, was a completely different experience (Fagan this one is for you). Within my first week back, an event happened that tore me emotionally. After becoming scared enough to not want to go to class, Fagan, you were the first adult I ever opened up to about an event from my past, I hope you forever know how important that was for me, thank you. Though the semester did get better, I struggled, my emotional spiral led to, once again those relentless words: "You should stop trying."
But yet, here I am today with all of you on high school graduation day and couldn't be any happier to be a member of your class. I didn't stop trying, and I would like to tell that teacher, who made me doubt myself every day for the past nine years, that I made it, and I created my own story and my own truth. High school may have taken me an extra year and was not easy, but class of 2018, none of us who are here today chose the traditional or easy route. Always remember it is not about how you get there or the time it takes you, but only that you do get there. So with that, class of 2018, good luck in all you do from here on out!
Thank You!