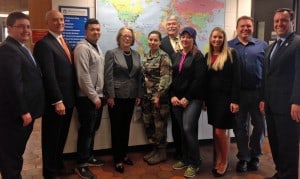 MWCC student veterans, college officals and community leaders had the undivided attention of Congresswoman Niki Tsongas, who stopped by to visit the college's Center of Excellence for Veteran Student Success and our neighboring partner, the Northeast Veteran Training and Rehabilitation Center, owned and operated by Veteran Homestead.
The Congresswoman, who serves on the U.S. House of Representatives Armed Services Committee and Natural Resources Committee, said she was impressed with MWCC's innovation and leadership in these and other areas.
She lauded the partnership between MWCC and the NVTRC, which provides housing and support services to veterans and their families.
"This is a great partenrship because it really does help veterans and their families move on. It provides  the families with access to education, homes and extended support. It's unique. Community colleges are rooted in the community and are always looking for ways to solve problems. the Mount is certainly an example of that."
Read more about her visit in the article below, published in the March 9 issue of the Sentinel & Enterprise, or click here to visit the newspaper's website for more great photos and video clips.
'Doing right by the veterans'
U.S. Rep. Tsongas impressed with work done at Veteran Homestead in Gardner (Sentinel and Enterprise, March 9, 2016)
By Jordan Tillery
GARDNER – Retired Army Sgt. Jason Wing and his wife, Kristi, welcomed U.S. Rep. Niki Tsongas into the living room of their Gardner condo Tuesday morning. Tsongas listened as Wing shared his journey since he was medically discharged after 15 years of service.
"When we exited, we were homeless with no jobs," he told Tsongas. "I was at a bad point in my life."
Today, the couple live with their children in one of the condos within the Northeast Veteran Training and Rehabilitation Center run by Veteran Homestead. The homes, just a short walk from Mount Wachusett Community College, are dedicated to rehabilitating veterans and reintegrating them into the community.
Tsongas, who represents the 3rd Congressional District, spent the morning speaking with the veterans who live in the community, as well as those who take advantage of the Veterans Student Success Center at Mount Wachusett Community College.
As an advocate for the GI Bill and a member of the Armed Services Committee in Washington, Tsongas came to Gardner to witness the services in action.
"We want to make sure we're doing right by the veterans and their families," she said. "It isn't until you get out that you see what's working and what isn't."
She was impressed by the work being done by the college and its partnership with Veteran Homestead.
When she spoke with some of the inhabitants of the neighborhood, they all thanked the program for helping them improve their situations regardless of whether it was through education or mental and/or physical rehabilitation.
"I can't say enough good things about the program," Jason Wing said.
He was able to receive his bachelor's degree in natural-resource conservation, and works seasonally for the state's Department of Conservation and Recreation.
Wing said he and his wife are actively looking for a new home to "open up" an available slot in the maxed-capacity center.
"It's not a handout, it's a hand up," said Ronda White, chief operating officer of Veteran Homestead.
There are currently 20 families and 17 children living on the site. A large facility on the premises has space for counseling, a room dedicated to physical rehabilitation, a current pool and a pool table — not only used for fun, but also to encourage hand-eye coordination, CEO and President Leslie Lightwood said.
"It's a symbiotic relationship between Mount Wachusett and Veterans Homestead," MWCC President Daniel Asquino said. "We owe it to our veterans."
Bob Mayer, veterans' services director at the college, said 232 veterans are enrolled at the school, a number that has increased slightly since he began working there nearly two years ago.
In the hallway next to the Veterans Success Center, there's a world map littered with pushpins marking where students have served.
"The support system here's great," said Air Force Senior Airman Nicholas DePaula of Leominster after finding his pin struck in Albuquerque, N.M. "I've been in touch with other veterans here. I'm very grateful."
He plans to graduate in May and continue his education to earn a bachelor's degree in criminal justice.
Matthew Casaubon, who attends MWCC and lives at the Veterans Homestead, plans to graduate and continue working toward becoming a social worker, something Tsongas said veterans need more of.
"I hear it all the time — veterans want to be counseled by other veterans," she said.
Tsongas said the shortage of mental-health counseling for veterans is the largest issue she has seen during her time in Congress, and stressed the importance of programs like the Veterans Homestead.
Photographs hang on the wall in Lightfoot's office, an homage to the men and women who have successfully graduated from the program and have since moved on.
"This must be very satisfying," Tsongas said as she looked at the images.
"Yes, but there is always more work to be done," Lightfoot replied.