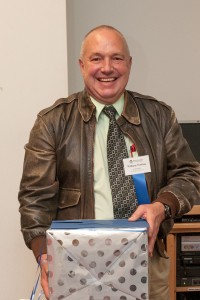 President Daniel M. Asquino and the Human Resources department honored employees who reached the milestone years of service with the college during the 18th Annual Employee Service Awards Ceremony on May 6 in the North Café. In addition to the service awards, MWCC announced the recipients of the 2013 Commonwealth Citation for Outstanding Performance and the recipients of the college's third annual da Vinci Parachute Award.
Building Maintainer Eleanor Gauthier, Facilities Maintainer Roland Meunier, Portal and Intranet Administrator Brett Moulton, and Academic Affairs Staff Assistant Cheryl Oliveri were presented with the Commonwealth Citation. The recipients of the group award were Debra Boucher and Liza Smith from the Academic Advising department.
MWCC introduced the da Vinci Parachute Award in 2011 as a means to recognize employees who demonstrate innovation and creativity in their field at MWCC. Devens Campus Laboratory Technician Jennifer Crandall, EDP System Analyst II Michelle Holman, and Director of the Center of Excellence for Veteran Student Success Kristine Larkin were presented with the individual awards. The group award was presented to Sharmese Gunn, Kathryn Larrivee, Louise Mercier, Natalie Mercier, Luis Uribe, and Jennifer Welch for their outstanding work with students within the Division of Access & Transition.
Professor William Nutting and Professor William Welch were recognized for 40 years of service to MWCC. Professor Paul Laverty and Professor Gail Steele were recognized for 35 years of service and Professors David Patterson and Paula Pitkiewicz, along with Maintainer II Richard Friberg and Administrative Assistant Charlene Sundstrom were recognized for 30 years of service.
President Daniel Asquino and Telecommunications & Data Systems Administrator Paula Davidson were recognized for 25 years of service.
Michael Boudreau, Janice Gearan, Zulma Melendez, Glenn Roberts, Melissa Sargent, Joseph Stiso, and Lisa Williams were recognized for 20 years; and Sandra Arsenault, Eileen Costello, Diane King, Heather March, Mary Petersen, Dale Sanborn, Marianne Stoy, William Swift, and Stephen Washkevich were recognized for 15 years of service.  Susan Blake, Jeffrey Boisseu, Norman Boudreau, Melissa Croteau, Judith Giacoppe, Gayle Jaillet, Kelly Morrissey, Jeremiah Riordon, Victor Rojas, Yong Saddler, Darren Senecal, and Denise Whitney were recognized for 10 years of service.
Employees recognized for five years of service include Leonard Charbonneau, Christopher Chouinard, Carol Cullins, Lara Dowland, Wayne Gallant, Ramon Gonzalez, Paul Grunditz, Michael LaDeau, Michelle Mackie, Jose Mangual, Benjamin Mertzic, Roland Meunier, Janice O'Connor, Cheryl Oliveri, Meghan Picone, Brenda Schelling-Biggs, and Michelle Smith.