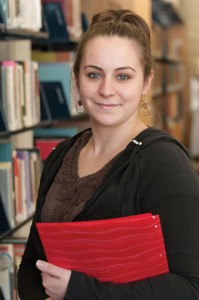 For decades, Mount Wachusett Community College has been the regional go-to site that helps adults who never completed high school begin a new chapter in their lives by earning their General Equivalency Diploma (GED).
The supportive environment at Mount Wachusett has helped thousands of students, like 23-year-old Brittany Brewer of Gardner, set and reach new goals. Brewer, who left high school at age 16, enrolled in MWCC's free Adult Basic Education classes at age 21 and earned her high school equivalency diploma in 2012. Since then, she enrolled in the college's ABE Transition to College program, where she is earning great grades in English and math courses in preparation for pursuing a college degree in business and accounting.
The first in her family to attend college, Brewer is determined to build a better future for herself and her two-year-old son, Leo.
"He's the reason I returned to school. I want him to have things in life that I never had. I don't have any footsteps to follow, but I want to leave some for my son to follow. I'm making my own way to clear a path for my son."
In January, the Massachusetts Department of Elementary and Secondary Education selected Educational Testing Service (ETS) to administer the new high school equivalency assessment in the state. The new assessment, called HiSET, will replace the GED credential in Massachusetts.
Mount Wachusett Community College has administered the GED exam for many years and will be certified to offer the HiSET assessment to residents of North Central Massachusetts.
MWCC's GED Test Center will now be known as the High School Equivalency Test Center. Adults who are 18 years old and older may take the high school equivalency test if they have not previously received a high school diploma. Sixteen- and seventeen-year-olds may take the test only if they are no longer enrolled in school. Testing will begin this spring.
MWCC is committed to providing adults and out of school youth the opportunity to obtain a high school equivalency credential in order to assist them in accessing post-secondary education and skills training programs.
Academic advisors are available to work with students on evaluating their options once they complete the Massachusetts High School Equivalency credential. This new activity has been added in all Adult Basic Education programs statewide, to provide college and career readiness for all HiSET graduates.
Extensive research has proved that in order for citizens to be more successful, they need to have some sort of post-secondary education or training.
MWCC's free Adult Basic Education courses to prepare students for the HiSET test are available at the college's campuses in Gardner, Leominster and Devens. These classes are funded through a grant from the Massachusetts Department of Elementary and Secondary Education. The college also offers classes for Winchendon residents at the Winchendon Community Action Center. The Winchendon Skills Program is funded through a generous grant from the Robinson-Broadhurst Foundation.
For more information, contact Pamela Dempsey-O'Connell at 978-630-9259 or email pdempsey-connell@mwcc.mass.edu. For general information about the new HiSET test, go to http://hiset.ets.org.