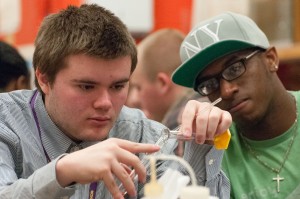 Approximately 250 students from several North Worcester County high schools sampled college life and STEM careers during Mount Wachusett Community College's STEM Starter Academy event on April 4. The event, coordinated by the divisions of Academic Affairs and Access, Transition & Development, featured a variety of science and health sciences demonstrations, hands-on experiments, and information about financial aid and college readiness, and served as a prelude to MWCC's STEM Starter Summer Academy.
Mount Wachusett is currently recruiting 30 students to participate in its STEM Starter Summer Academy, which will run July 7 through Aug. 21 from 9 a.m. to 3 p.m. at the Gardner campus. Participating students will receive two free college courses, textbooks, a $1,750 stipend, academic support, tutoring, and community service and industry tours.
Funded through a $300,000 grant from the Massachusetts Department of Higher Education, the summer academy is open to students who graduate from high school in 2014 or earlier; place into English Composition and Intermediate Algebra or higher; and enroll in one of MWCC's STEM starter qualifying majors in the fall 2014 semester.
Qualifying STEM majors include biology, biotechnology, chemistry, clinical laboratory science, computer information systems, dental hygiene, fitness leadership and exercise science, natural resources, nursing, physical therapist assistant, physics or pre-engineering.
Courses offered during the summer academy include intermediate algebra, statistics, introduction to functions and modeling, life science for allied health, introduction to biotechnology, and introduction to psychology.
For more information about the STEM Starter Summer Academy and other STEM programs at MWCC, contact the admissions office at 978-630-9110 or admissions@mwcc.mass.edu.