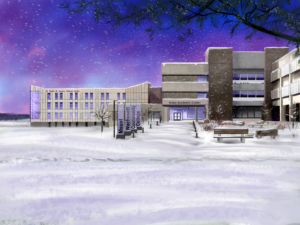 As we march closer to the end of this beautiful fall season, we would like to take a moment to refresh everyone on the MWCC inclement weather policies.
The decision to close or delay the opening of our campus is not taken lightly, and will be made based on the best information available. Every effort will be made to make this information available for day students by 5:30 AM, and for evening students by 2:30 PM.
Is the college closed? Where to go to find out:
mwcc.edu will have the alert at the very top of the page
MWCC Alerts Facebook page will be updated with details – be sure you are following this page as well as the main MWCC Facebook page!
Call 978-632-6600, Option 8 to hear the updated recorded message
MWCC iConnect Mobile App
Media outlets (may be delayed)

TV Stations: WBZ, WCVB, WHDH, WFXT 25 Fox, NECN, and WMUR (New Hampshire)
Radio: WTAG/WSRS 96.1 FM, WXLA 104.5 FM, WBZ News 1030 AM, WPK 105.3 FM and The Pulse 1280 AM, and Monadnock radio group – WINQ, WKNE, WKBK
What happens during a delay?
If there is a delayed opening, students will proceed directly to the first class scheduled after the time of the delay.
Example: A student has classes at 9:00 am and 11:00 am. The delay message indicates that the school will open at 10:00 am. The student will only have their 11:00 am class on that day.
Doors will be unlocked one hour before the college officially opens. Students participating in clinical, practicums, service learning or other activities at other sites may be required to report. Faculty and program coordinators will inform students at the beginning of each semester of their inclement weather protocol.
The full details of this policy and information for faculty and staff are found on the https://mwcc.edu/policies/closings/ page.