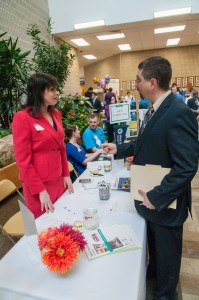 More than 30 companies and organizations participated in Job Fair 2014, held at MWCC's Gardner campus on April 2 and sponsored by the Career Services/Experiential and Service Learning Department. The event provided students with an exciting opportunity to explore career options and learn about job openings in a diverse range of fields.
Coordinator of Career Planning and Placement Patricia Brewerton said she was delighted with the employer support as well as the number of students who benefited from the fair. Close to 300 students and visitors attended.
Given a challenging job market, employers, students and faculty remain optimistic as students continue to land interviews and job offers, Brewerton said.
"The job fair provides an optimistic job outlook for students and it attracts a wide range of companies offering job openings for our students. Some students report having interviews already scheduled for next week. I've also heard encouraging and optimistic feedback from employers that our students are enthusiastic, dressed for success, well prepared, and have the courage to approach the tables and introduce themselves," she said.
There were full-time, part-time, temporary and summer positions available from a variety of employers including Great Wolf, Inc, TD Bank, MassLifeSciences, and UMass Memorial. There were also many human services options including Y.O.U Inc., LUK, and Devereux.