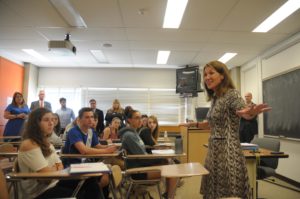 Lt. Governor Karyn Polito visited Mount Wachusett Community College's Gardner campus Thursday to discuss early college programs with a math class of high school students taking college-level courses at MWCC.
"We want to create an environment where there are no barriers for any student in this Commonwealth to continue their education," Lt. Gov. Polito told the students. "We need more programs like this to engage you, our future workforce, to want careers and to prepare yourself for careers within the STEM field."
The classroom was made up of students in the college's Gateway to College and Pathways Early College Innovation School programs. Through these two programs, students are able to accelerate the path of their education. Both programs allow students to earn free college credits toward an Associate degree or certificate while completing their high school degree.
That is what attracted Aria Flematti, of Orange, to the Pathways program, she told the Lt. Governor who was joined by Gardner Mayor Mark Hawke, Rep. Stephan Hay, Rep. Susannah Whipps, and Rep. Jonathan D. Zlotnik.
"If I could accelerate my learning and get a degree and do it all for free why would I not?" she said explaining that this offers a big savings on the overall cost of college.
Upon closing her visit with students, Lt. Gov. Polito said that she valued the time they had taken to talk with her about early college opportunities and how the administration can encourage more people to consider the option. The administration has been highlighting early college programs, she said, and the opportunities they offer for students to further their education.