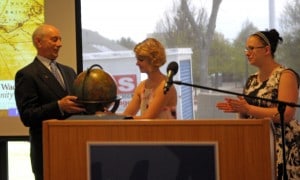 It was a quintessential Mount moment. After leading MWCC's decades-long commitment to civic engagement, President Asquino had an opportunity to pair his pride in student volunteerism with a song by one of his favorite musicians – Elvis – crooning one of his favorite anthems, "America the Beautiful."
More than 130 students, faculty and staff stood, many singing along, as the music filled the South Café during the college's annual Service Learning and Volunteerism Celebration. While the event marked the altruism of MWCC students, the Center for Civic Learning and Community Engagement paused to reflect on the president's dedication to the college and to the community as he prepares to retire early next year.
"Fifteen years ago President Asquino declared to this region a Decade of Civic Engagement. It was so successful, after that decade ended in 2011, he declared a subsequent decade," said retired Senator Stephen M. Brewer. "This incredible advocacy and successful effort resulted in the only endowment given to a community college for civic engagement in the entire nation."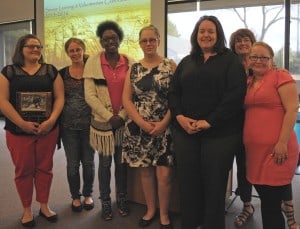 "There is a value and a virtue for what you do," Senator Brewer told the students. "We know government cannot do it all – no entity can – but we can do our part. That is the value. The virtue of what you do is as old as the Chinse proverb, 'Those who sheld light onto others can only have it reflect back onto themselves.' As leaders of our future, you are lighting the way as you go forward."
The May 17 event, organized this year by student leaders, recognized a wide range of campus and community service learning and volunteer initiatives throughout the academic year. As of last year, MWCC students annually completed over 157,000 hours of experiential learning, volunteerism, community service, internships, co-ops, practicums and field experience, which carries a value of over $3.6 million to the region, said Fagan Forhan, Assistant Dean of K-12 Partnerships and Civic Engagement.
Dozens of graduating students received pins or medallions to wear during commencement in recognition of their extensive hours of service.
The United Way of North Central Massachusetts was presented with the Community Partner of the Year Award in appreciation for its efforts to establish MWCC as a "Day of Caring" site, which has enabled students, faculty and staff to volunteer for the annual service day during their free time on campus. During the event this past September, the college community packaged more than 21,000 meals for area residents in need.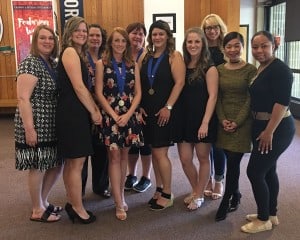 Service learning scholarships were presented to Tatijana James and Bonnie Veilleaux and Rafaela Lopes was honored in recognition of receiving the national Newman Civic Fellows Award from Campus Compact.
Professor Janice Gearan, who is retiring this spring, was presented with the Civic Engagement Career Achievement award and Assistant Professor Daniel Soucy was presented with a civic engagement medallion. The event also featured a slideshow of murals created throughout Gardner by MWCC art students.
The Above and Beyond Award was presented to the Parent Support Group, an active club that has sponsored numerous events and initiatives to benefit students and families, and students who serve through the Students SOS office and SLiCE program (Student Leaders in Civic Engagement) were also recognized.