Massachusetts Secretary of Education Dr. Matthew Malone was the keynote speaker during the Massachusetts Educational Opportunity Association's 29 annual scholarship luncheon on Oct. 29 in Devens. Educators from MWCC's Division of Access and Transition, including several who serve in leadership roles with the state organization, were among the participants.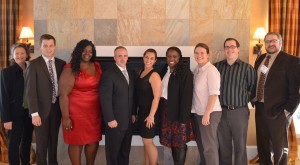 In his address to more than 100 MEOA members and guests, Dr. Malone focused on the increased statewide focus on Science Technology Engineering and Math (STEM) and highlighted the innovative programs at MWCC, such as the Pathways Early College Innovation School.
MEOA works to advocate for and support the work of TRiO and GEAR UP Programs hosted in the state. The non-profit, tax-exempt organization was founded in 1984 and is comprised of educators, policy makers, professionals in the private sector and other individuals committed to ensuring that secondary and post-secondary educational opportunities are appropriate and accessible to students from disadvantaged backgrounds.
Angele Goss, Director of MWCC's Upward Bound Math and Science and North Central Massachusetts Talent Search programs, serves as president of the MEOA board. Resource Specialist Sharmese Gunn serves as scholarship chair; GEAR UP Director Andrew Goodwin serves as secretary; and Ralph Hogan, student activities officer with UBMS and NCMTS, serves on the professional development committee. Assistant Dean Deb Bibeau was among the event's presenters.
Five $750 scholarships are awarded annually to students who have demonstrated the ability to overcome great obstacles and strive for educational excellence. In keeping with MEOA's long time commitment to ensuring that all individuals have access to an appropriate higher education, the scholarship recipients represent the diversity of students, both traditional and non-traditional, who are served by the TRiO and GEAR-UP programs in Massachusetts.